I've been taking a little break from Reach for the Stars (see previous post) to make a new kaleidoscope runner, a second version of the one in fall fabrics I showed you a few weeks ago. This runner features some delightful new Paris-themed fabrics from Michael Miller with a contemporary vibe. Take a look:

This close-up of one block gives you a better look at the fabrics: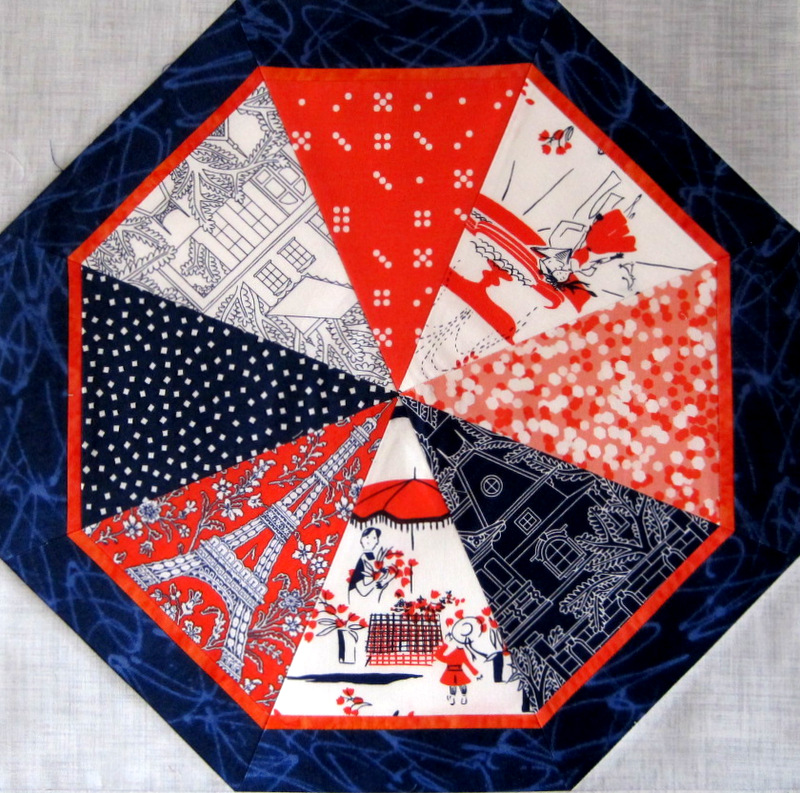 The Parisian street scenes were fussy-cut from Gay Paree, the new line from Michael Miller, as was the Eiffel Tower, an older Michael Miller line. The navy-on-white and white-on-navy house prints are from the Maison line by Michael Miller, companion prints to Gay Paree. Fans of Violet Craft's Waterfront Park collection for Michael Miller will recognize the two bright orange pieces from that line, and the remaining white-on-navy geometric is a Mini Mike from Michael Miller.
That bright orange accent strip is a batik and the outer sashing strip is Tangle by Marcia Derse for Windham Fabrics. My background fabric is a pale grey Color Weave by P&B Textiles. I usually piece my backs but I'm going to put an uncut length of the Gay Paree fabric on the back so that the Parisian street scenes can be seen in their entirety.
I'm going to quilt this little table runner/wall hanging with straight lines or maybe simple cross-hatching and bind it in the same orange batik I used for the accent strips.
Over the last few years I've made at least a dozen kaleidoscope quilts featuring octagons, all made from eight repeats of one fabric carefully stacked, pinned, and cut. This is the first time I've used eight different fabrics in a block. What fun!