I tried to resist, really I did. For several years I was the only one in my quilt group, the Quisters, who didn't do wool appliqué. Not that I wasn't tempted or didn't admire it. I just didn't want another hobby on top of my quiltmaking obsession. Nor did I need another category of fabric — wool — vying for space with my quilting cottons.
All that changed when I saw Bertie's Year on display at the Pine Needle's Open House earlier this year: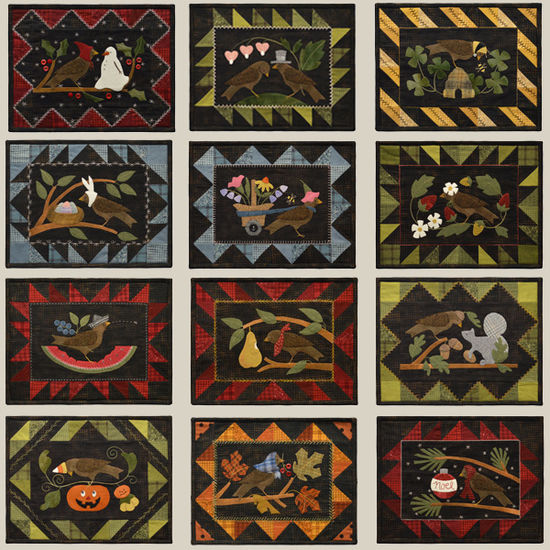 Designed and made by fellow Oregonian Bonnie Sullivan of All Through the Night ("Folk Art designs with a bit of whimsy"), Bertie's Year is made up of a dozen 13″ x 17″ wool applique projects, one for each month of the year. The projects are bordered by different designs of half-square triangles made of Woolies flannel (designed by none other than Bonnie Sullivan for Maywood Studios). The monthly projects can stand alone or be combined into a quilt.
So am I going to make the entire quilt? Heavens, no! I'm just dipping my toe in the water. I'm going to make one month's project to see how I like it. My Quisters promised I could raid their wool stashes, which are ample because they are also rug hookers.
The hard part was choosing the month. Every single one of the projects is absolutely charming. I finally decided to make the July project for the simple reason that it makes me smile every time I look at it. Here is Bertie perched on a slice of watermelon spitting a seed. He's sporting a jaunty hat (probably made from a folded newspaper) and tucked under his wing is a little branch loaded with blueberries: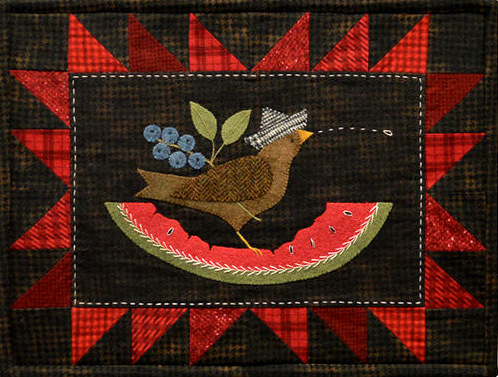 This little vignette speaks to me of summer, sunshine and good times with friends and family. Can you see now why I gave in to temptation?
This is how far I've gotten: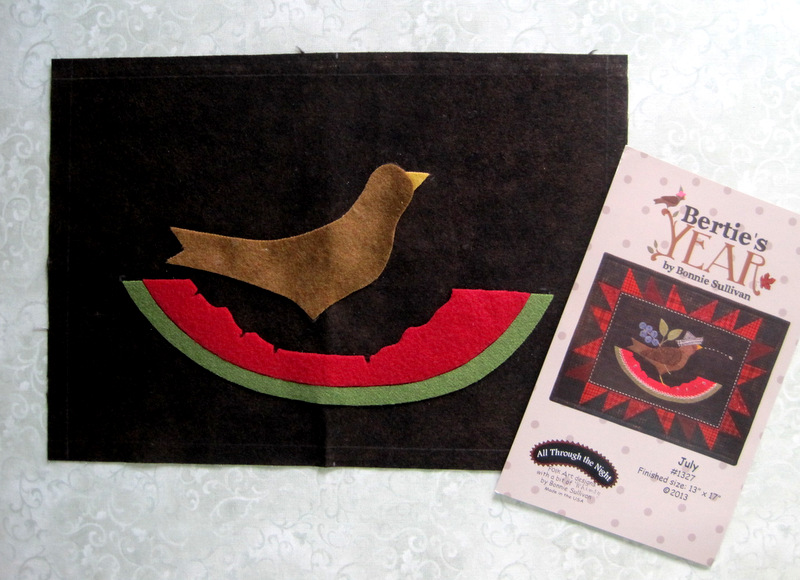 The background is flannel the color of espresso and the appliqué pieces are wool scraps courtesy of my Quisters. Bertie is looking a little bare at the moment but that's only temporary.
Of course I had to get a bundle of fat quarters in the Woolies flannels: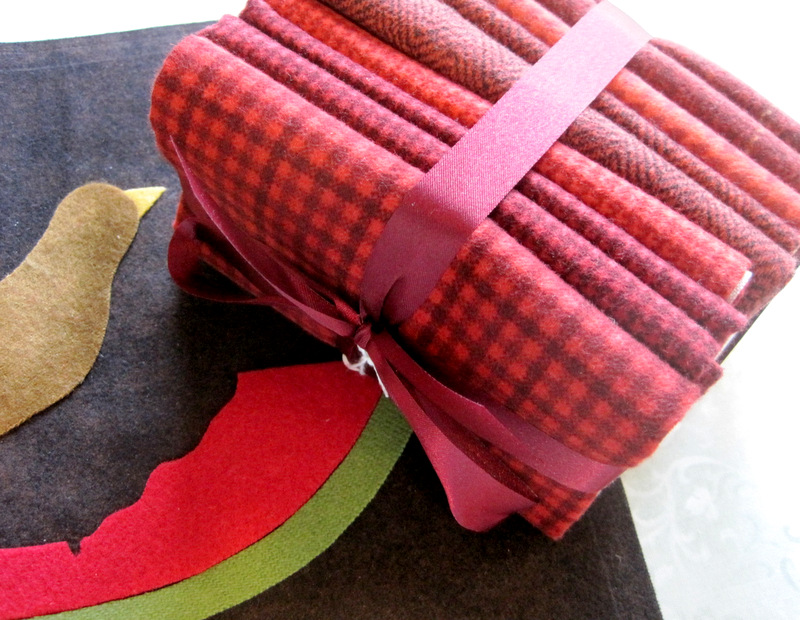 Bertie is coming along with me on an upcoming trip so I hope to have something to show you in the next few weeks. I am eager to get started!
Tell me, have you been bewitched by Bertie, too?