Would you like to see more pictures of Catch a Falling Star, my series sampler quilt based on Terri Krysan's Reach for the Stars? Ah, I thought so.
Let's start with a shot of the entire quilt (you'll see close-ups of longarm quilter Loretta Orsborn's beautiful work in subsequent photos):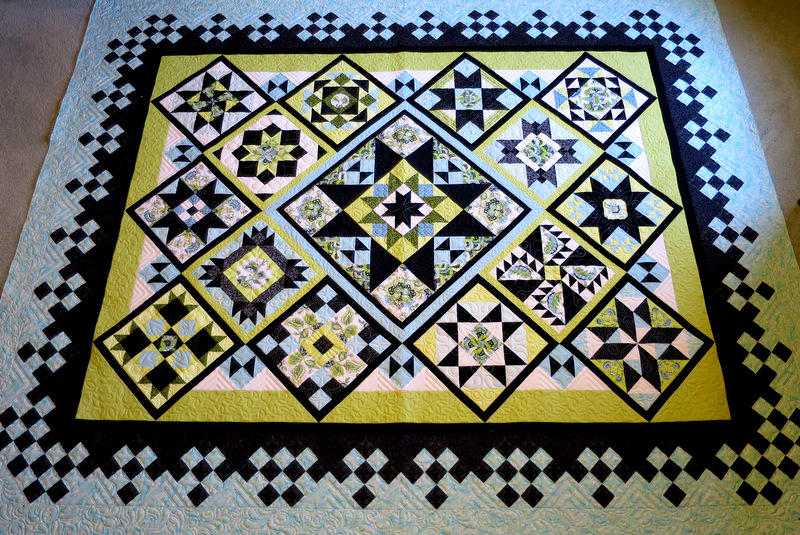 You're looking at it from the side because I couldn't squeeze myself into the room in order to take a proper shot looking at the quilt from top to bottom.
Here's the center medallion . . .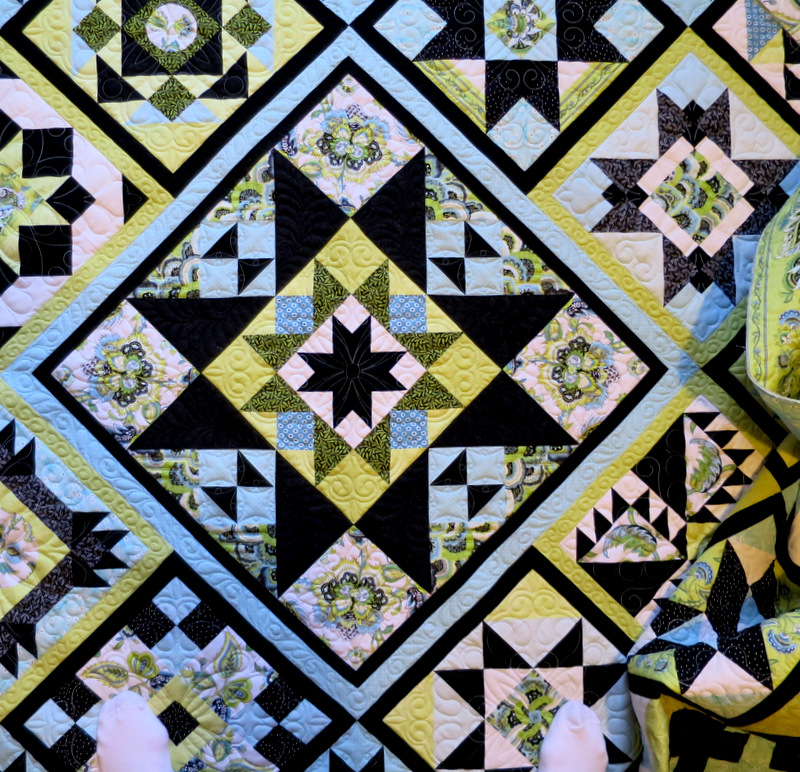 . . . with a close-up of the free-motion feathers quilted in the black star points: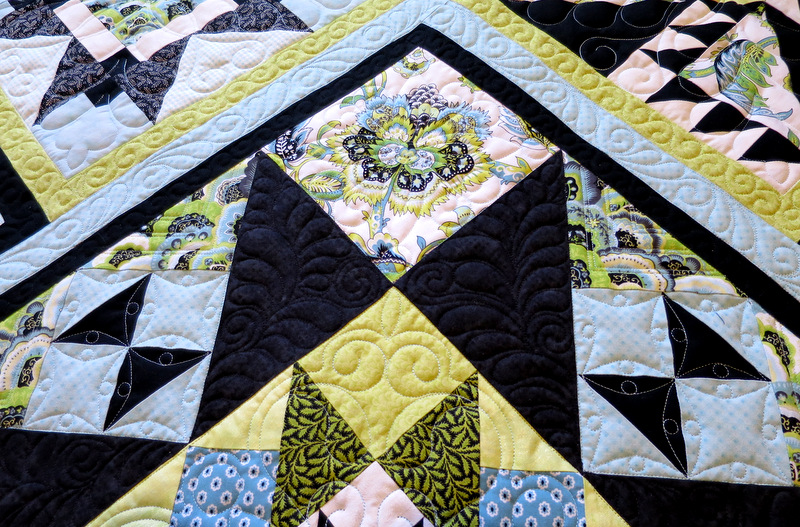 The 10 blocks sashed in black and the center of the medallion have one digitized motif and the four blocks sashed in green have a different one. Here is Block 2, sashed in black. . .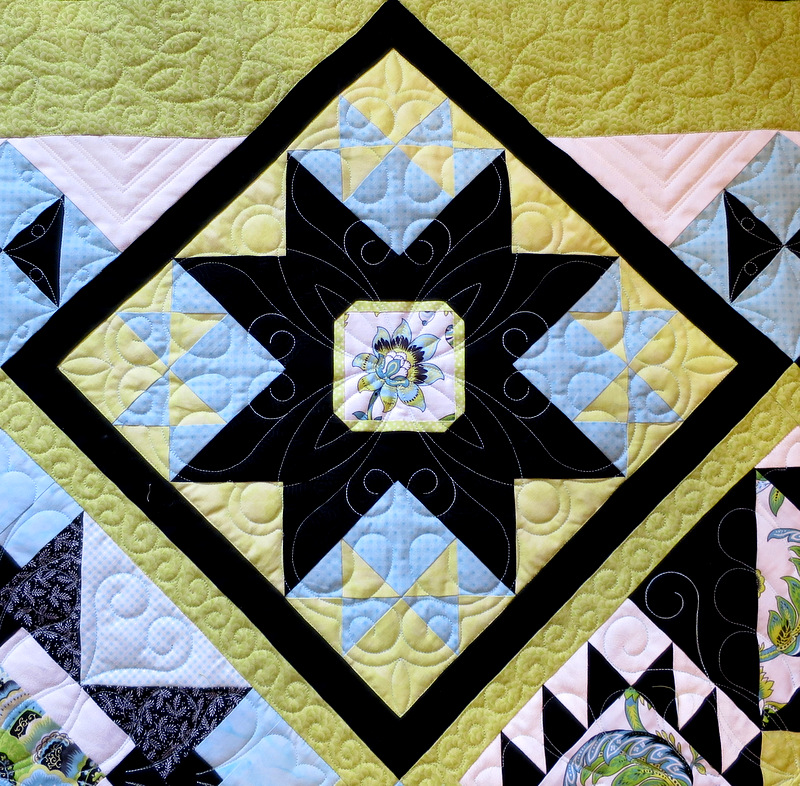 . . . and Block 10 sashed in green: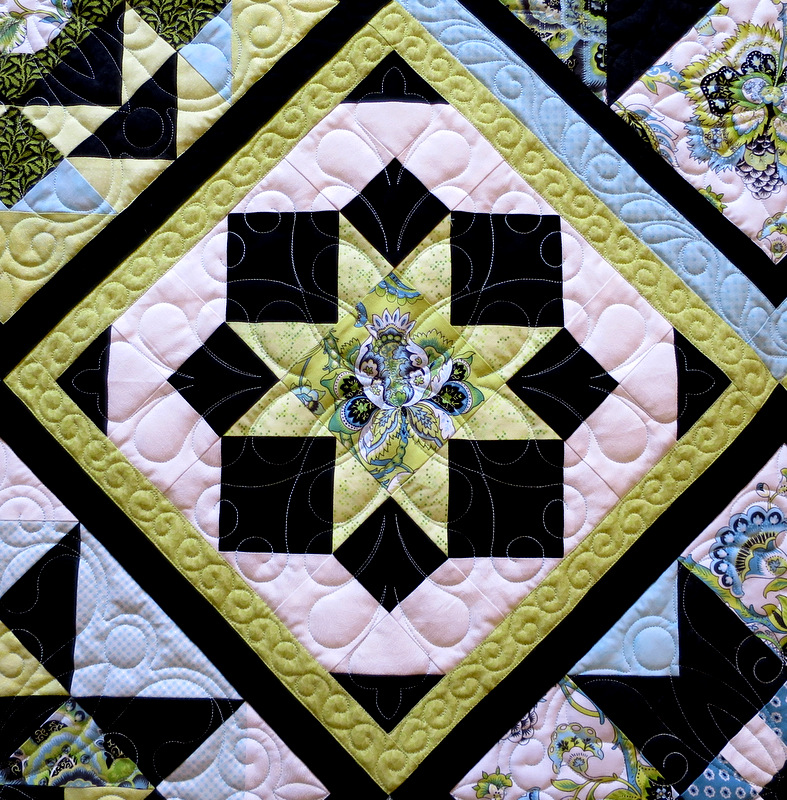 All of the quilting in the sashing strips is free-motion.
This is one of the side setting triangles: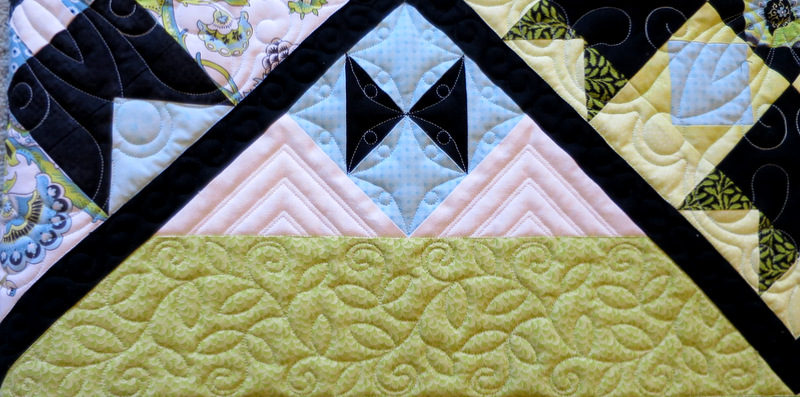 Notice the design quilted in the hourglass blocks (there are four in the center medallion and one in each of the side setting triangles):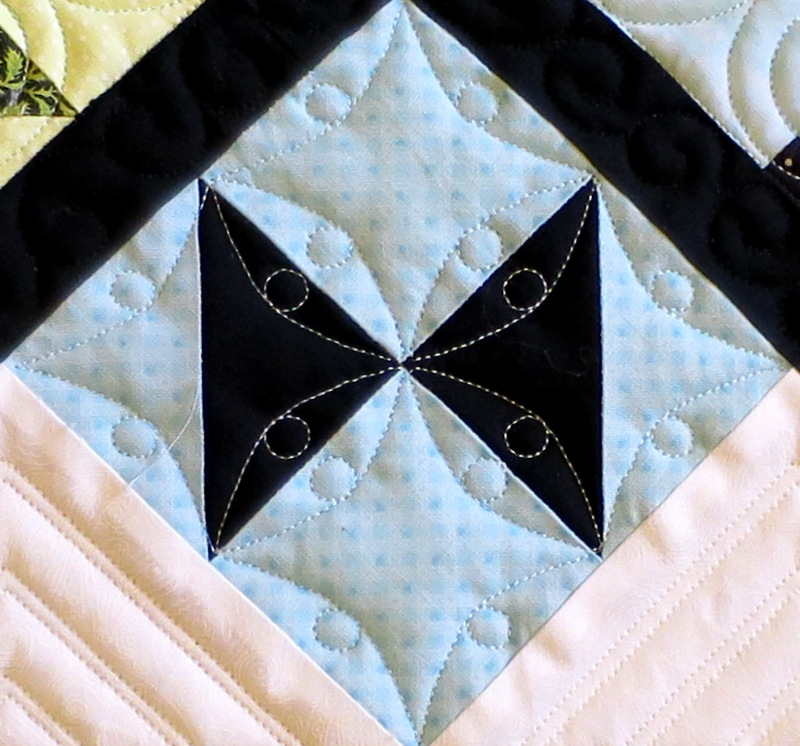 Loretta used the same motif in the border squares: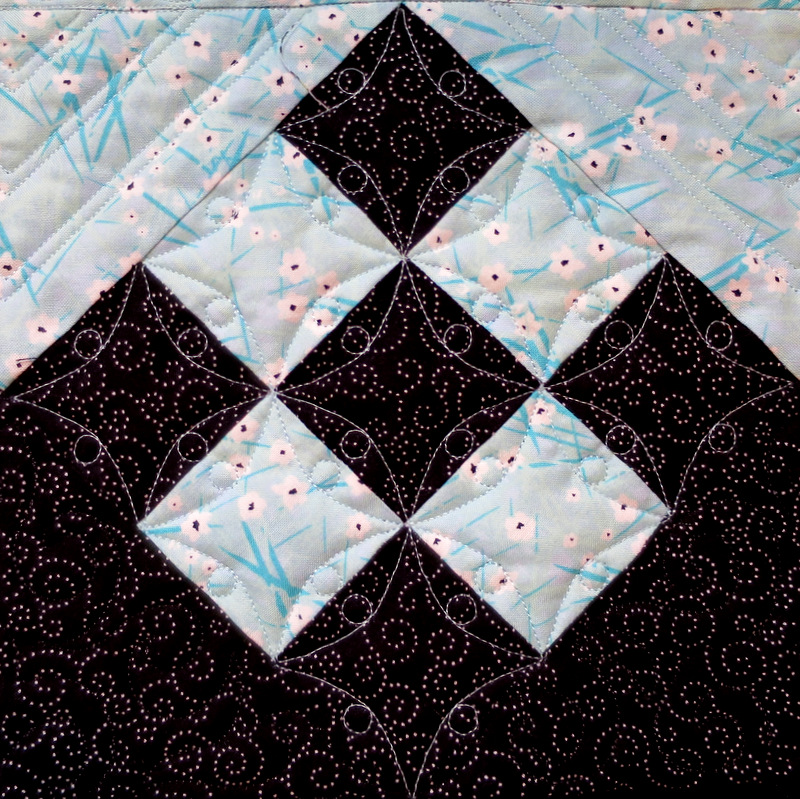 She free-motion quilted feathers all around the outer border: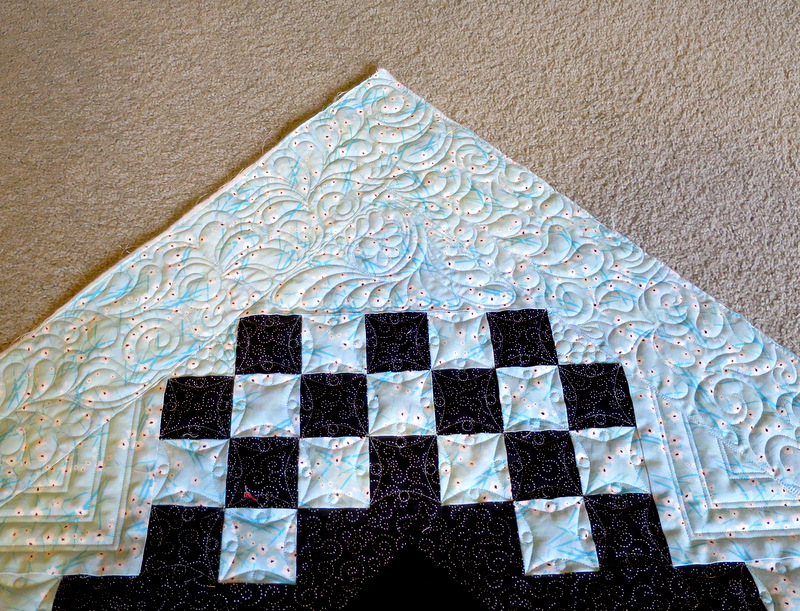 The straight lines in part of the border give the eye some visual relief from all the quilted curves. Those straight lines are used in the interior of the quilt as well, tying the quilting elements together. You'll see what I mean when you take another look at a side setting triangle: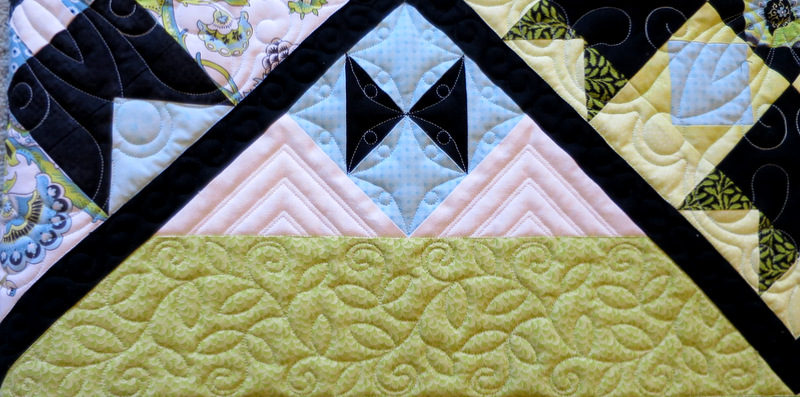 And isn't that vine motif graceful? Here it is in one inner corner: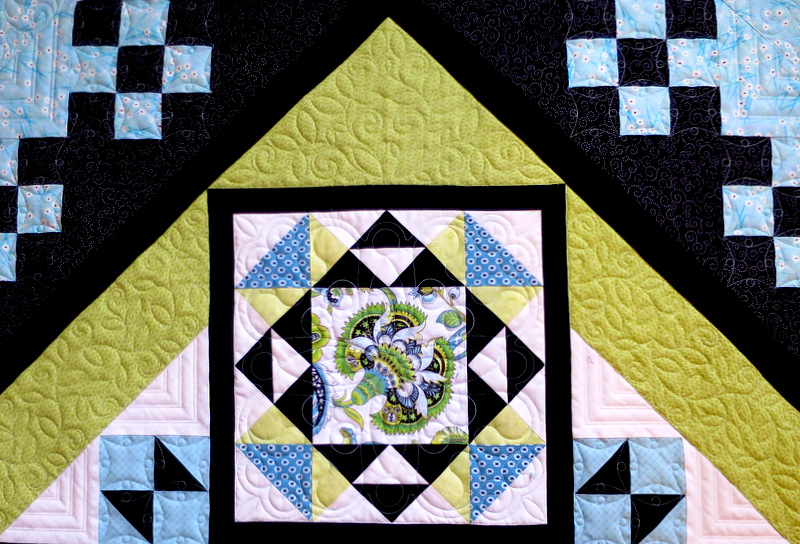 Finally, here is a portion of the back of the quilt, where the black fabric allows you to see lots of quilting detail. You can also see the two focus fabrics I used for the fussy-cut images in each of the blocks on the front: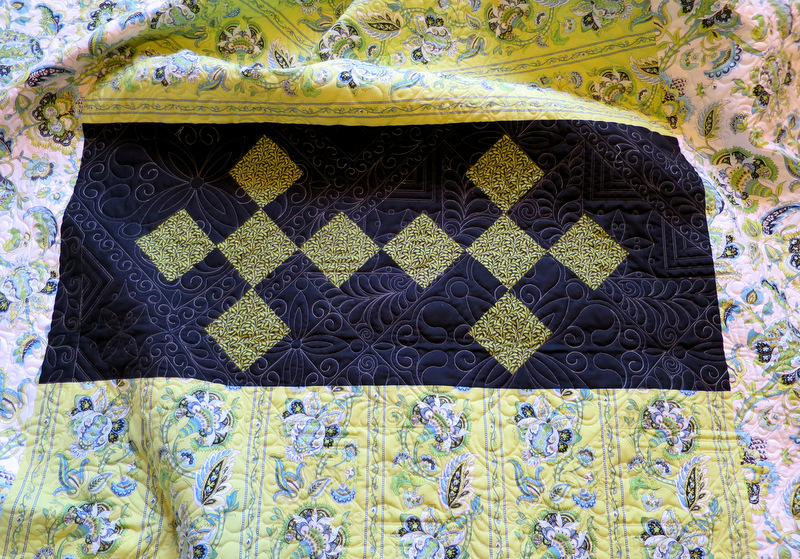 Once Catch a Falling Star is bound, I'll take proper full-length photos of both sides. The binding is attached, by the way, and I'm now gearing up to stitch it down by hand . . . all 378″ of it.