I teach at Montavilla Sewing Center's Lake Oswego, Oregon location, former home of the Pine Needle Quilt Shop. I also also teach and do trunk shows for quilt guilds. If you are interested in having me teach or do a trunk show, please email me at dawnwhitepdx(at)gmail.com.
*Due to the coronavirus pandemic, all classes at Montavilla Sewing Centers,  including the one in Lake Oswego, Oregon where I teach, are canceled for the time being. When classes resume, I will update my teaching schedule.
Upcoming Classes at Montavilla Lake Oswego
Sew with Dawn
Need help starting or finishing a quilt? Stuck on an ongoing project? I'll offer suggestions and advice while you work on any project you like in a relaxed and supportive setting. You'll build skills and develop new friendships. All skill levels are welcome! Classes meet once a month for three hours.
Four Sections — Spring 2020 (May-July)  *to be rescheduled
Monday evenings, 6 – 9 pm: May 4, June 8, July 6
Mondays, 11 am – 2 pm: May 11, June 8, July 13
Wednesdays, 11 am – 2 pm: May 20, June 17, July 15
Sundays, 1 – 4 pm: May 24, June 21, July 19
Cost:  $45 for three sessions

Quilter's Tote Accessories  *to be rescheduled
originally scheduled Sundays, June 14 and 28, 2020, 12 noon – 4 pm, $45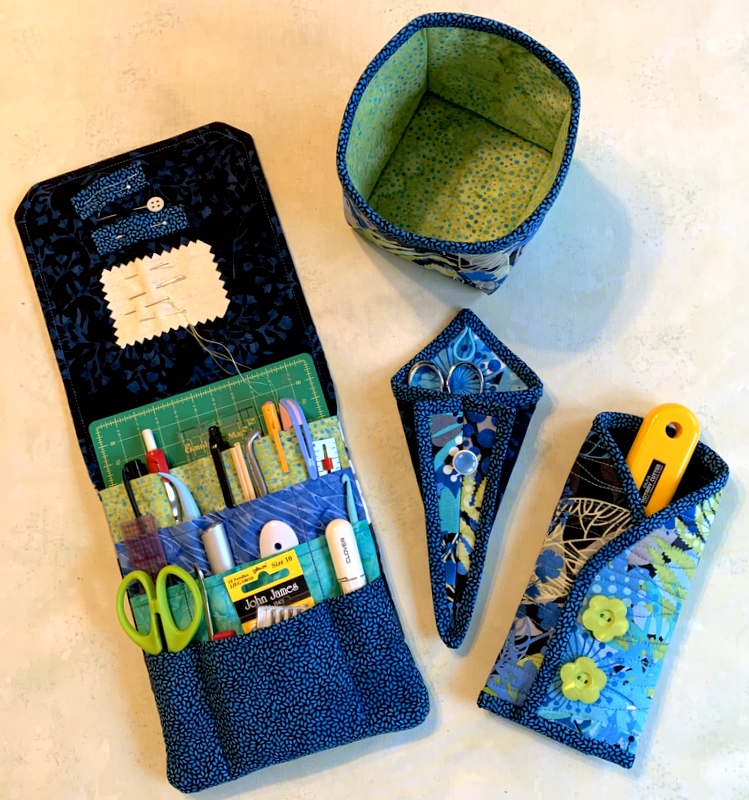 How about a suite of accessories to go with your favorite quilter's tote? In the first class you'll make a rotary cutter "coat" and a 4″ x 4″ x 4″ fabric box that makes a great threadcatcher and doubles as a small storage container.
In the second class you'll make a stylish scissors case and a quilter's tool caddy to hold your favorite small tools. Not only are these wonderful accessories to make for yourself, they also make great gifts.
Pattern required: Travel Case by Pearl Pereira of P3 Designs.
Upcoming Lectures/Trunk Shows/Workshops
Tuesday, Feb. 16, 2021:  "Trunk Show: Latest Quilts from Dawn White of First Light Designs," for the Tualatin Valley Quilt Guild, King City OR. Postponed due to the pandemic.
Tuesday, June 22, 2021: "Give Me the Simple Life: The Story Behind the Quilt," lecture for the Metropolitan Patchwork Society, Beaverton OR
Thursday, Sept. 9, 2021: "Give Me the Simple Life: The Story Behind the Quilt," lecture for the Oregon Coastal Quilters Guild, Newport OR
Friday, Sept. 10, 2021: Wonky Dresden Neighborhood, workshop for the Oregon Coastal Quilters Guild, Newport OR. Pattern required: Dresden Neighborhood by Persimon Dreams