Yes, it's done! My Junior Billie Bag, the quilter's tote I've been working on these last few weeks, is now ready to travel. It's full of my favorite quilter's tools and supplies — and there's room to spare.
Let me show you a few pictures, beginning with the front and back. Actually, the front and back are interchangeable; I think of them as the pink side and the orange side.
Let's start with the orange side, with the long handles showing:
Here's another look at the orange side, this time showing the shorter handles: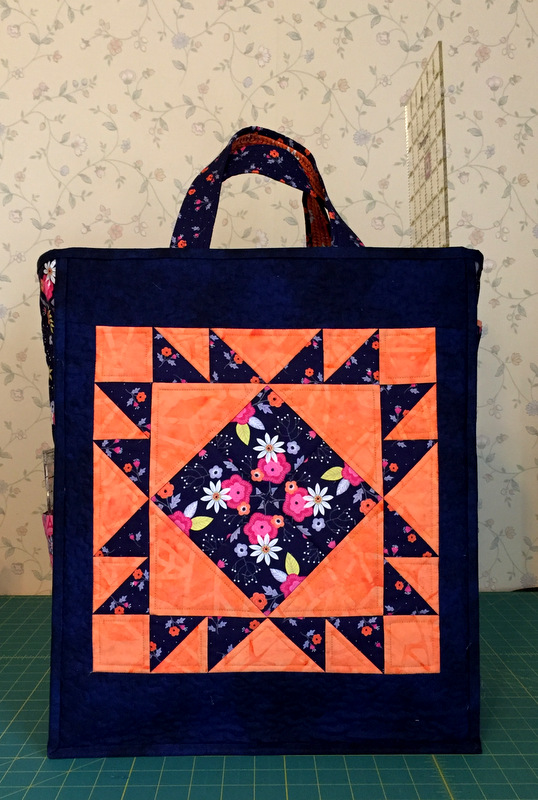 And now the pink side with long handles . . .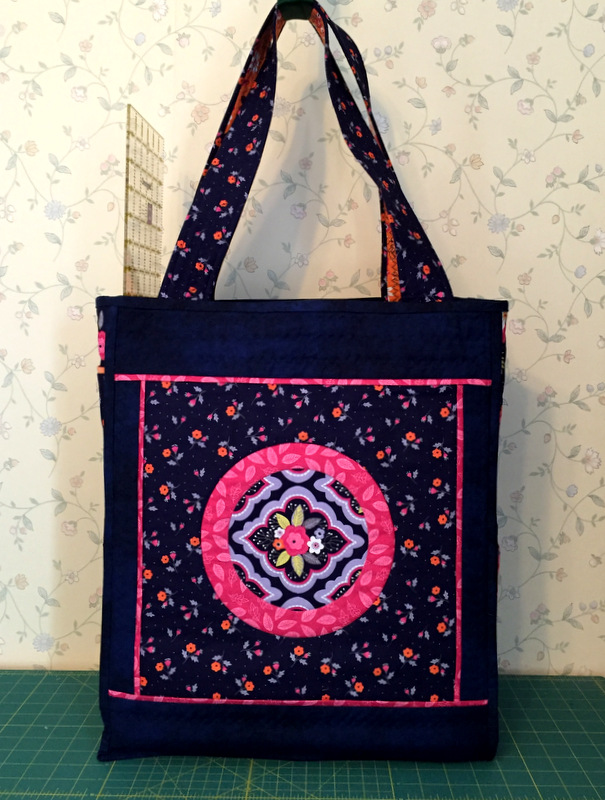 . . . and the short handles: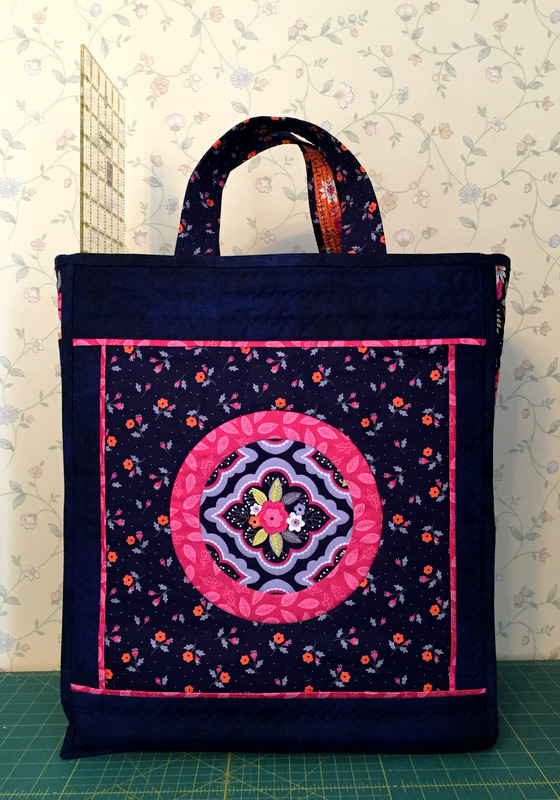 Having two sets of handles gives you choices in how to carry the bag — over your shoulder or in your hand.
Here's a shot of one of the side panels, the one with a single pocket: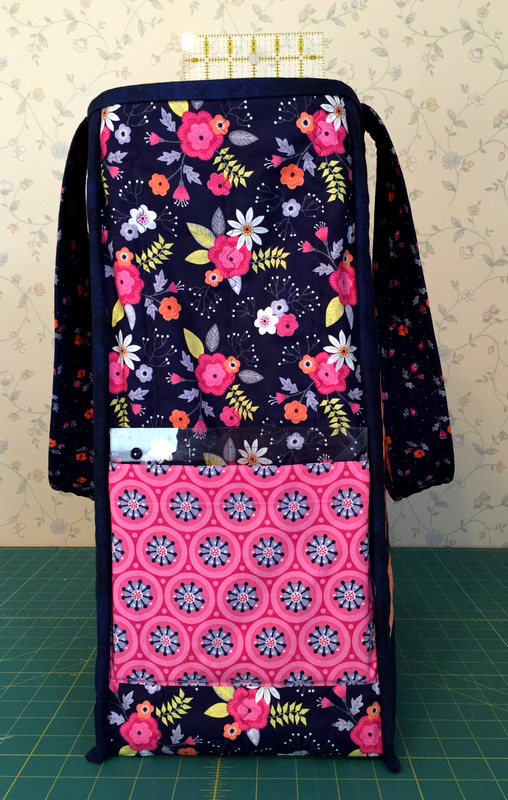 (That reflection you see is from a specialty ruler.)
Now have a look at the other side panel. Just for fun I added contrasting bands of color at the top and bottom of the two pockets on this side: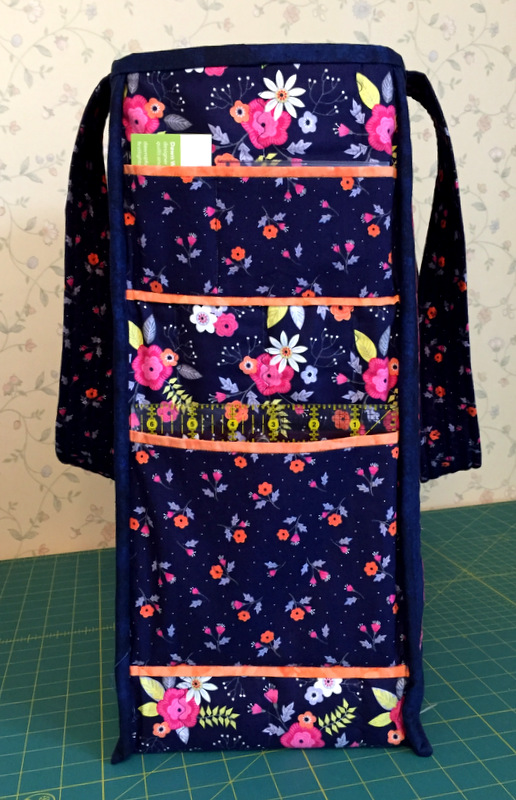 The small pocket was sized to hold my business cards on one side and a name badge on the other. That's one of the great features of this bag: you can customize the pockets for whatever you want to put in them.
In these three-quarter angle shots, both sets of straps are tucked inside the bag: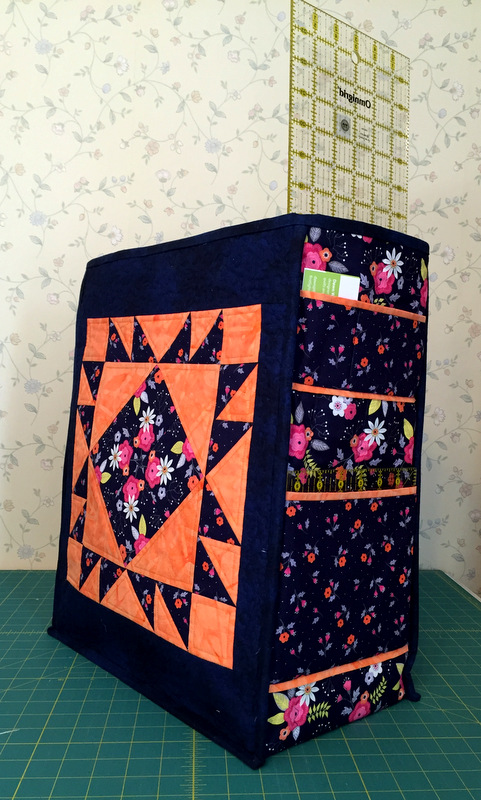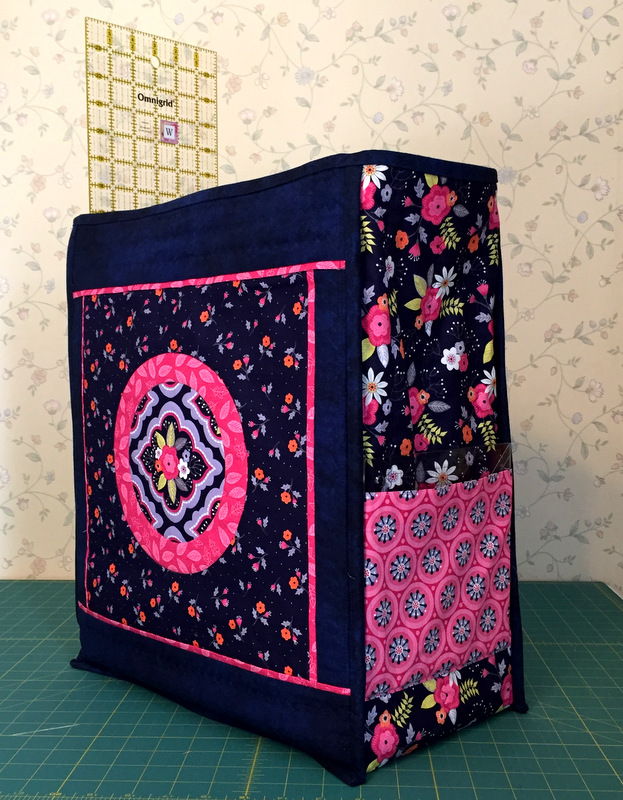 Which side do you like better, the orange or the pink?
Except for the orange batik and navy Maywood Shadowplay fabric used on the front and back of my Junior Billie Bag, all of the fabrics are from the Paradise line designed by Alisse Courter for Camelot Cottons. Several more Paradise prints are inside the bag in multiple pockets. It's hard to get a good shot of the pockets now that the bag is done; this photo shows the pockets before the bag was completely sewn together: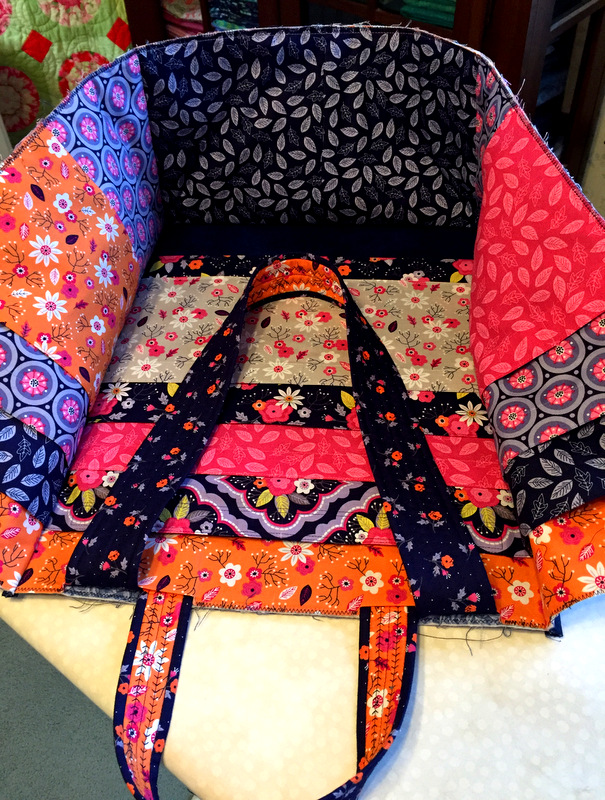 (I went wild for these fabrics and bought almost the entire line, so you will be seeing more of them in future projects.)
Measuring 14″ in width, 17″ in length, and 7½" in depth, my Junior Billie Bag is a slightly downsized version of the original bag designed at least a decade ago by Billie Mahorney, a popular quilt teacher in the Pacific Northwest, now retired. You can read more about Billie and my earlier progress on the bag in these previous posts:
Dec. 29, 2015:  Billie's Blessing
Dec. 31, 2015:  Update: Junior Billie Bag
Jan. 4, 2016:  The Third Dimension
It feels good to report a finish on this, the sixth day of the New Year.
Linking up with Kelly of My Quilt Infatuation on the eve of NTT (Needle and Thread Thursday).