It's been a couple of months since I posted photos of our kitchen remodel. It was almost complete by mid-June and for all practical purposes it's complete now, although there are a couple of technical issues to resolve regarding a lower cabinet. I'm still planning to do a "before and after" post but for now I'll show you pictures of the kitchen so you can see some of my decorating choices.
Here's the view looking toward the southeast corner: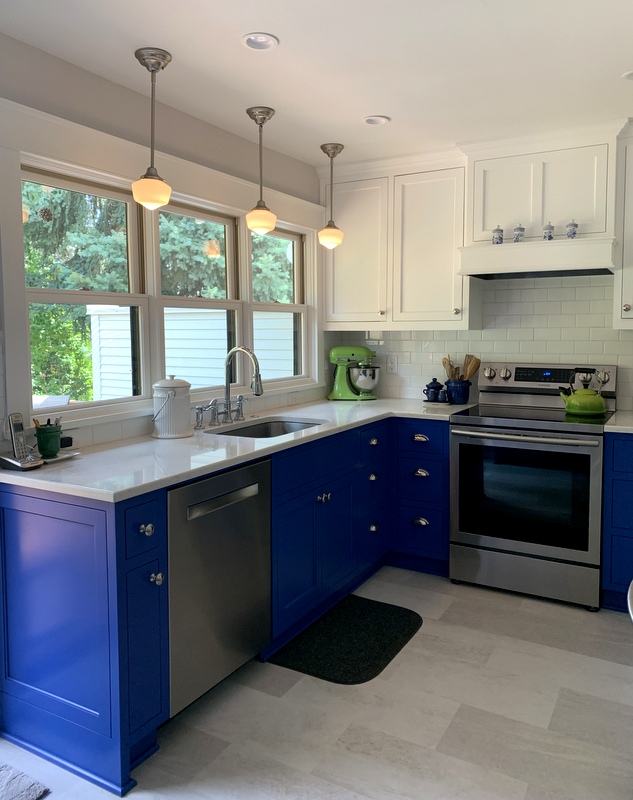 The kitchen faucet was one of the very first things I bought and I was a little nervous about how big it seemed: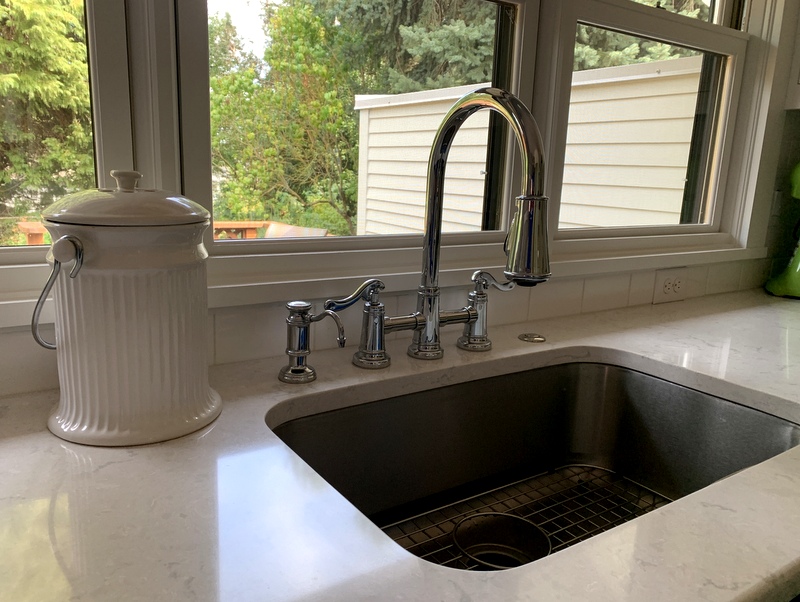 My husband and I were on the same page about wanting hot and cold faucets rather than one faucet that has to be adjusted to hot and cold. Once installed the fixture seemed to fit just fine. The first soap dispenser I chose was so wobbly I sent it back and the replacement almost looks like it's part of a kitchen faucet set.
Opting for a single sink was such a good decision. Our old sink was divided. It's so much easier to wash large pots and pans in this one, and anything not going into the dishwasher gets washed and dried and put away.
Here's a straight shot of the south wall: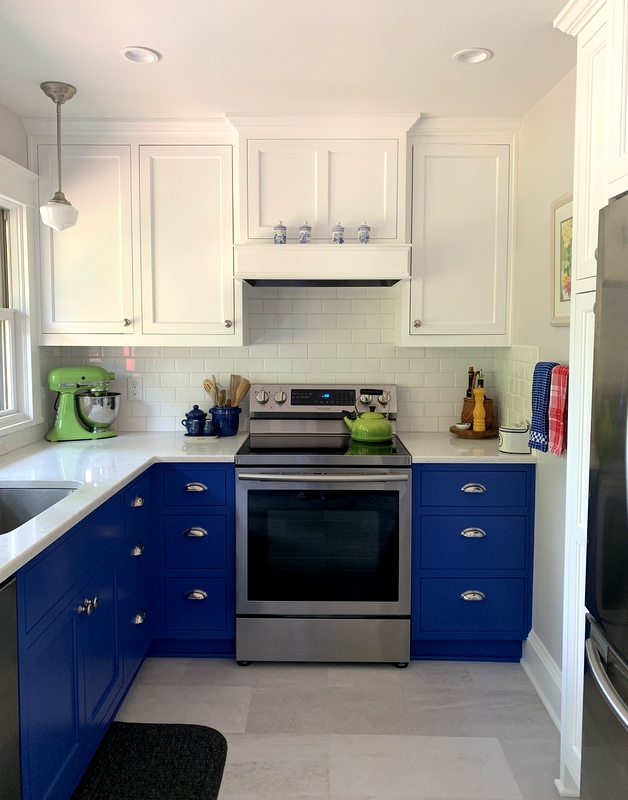 You can probably tell from this photo that my blue and white color scheme is punctuated by splashes of primary colors.
Looking toward the southwest corner: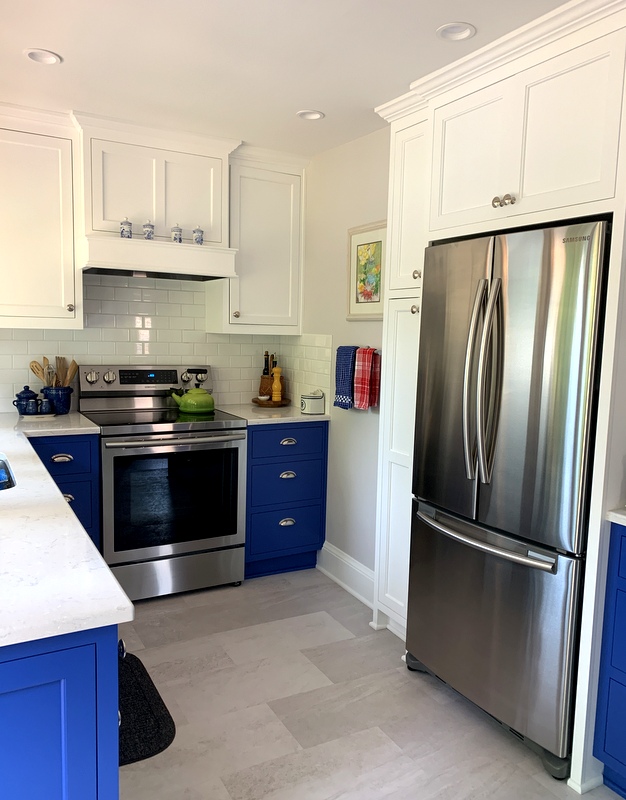 Here's a peek into the broom closet to the left of the fridge: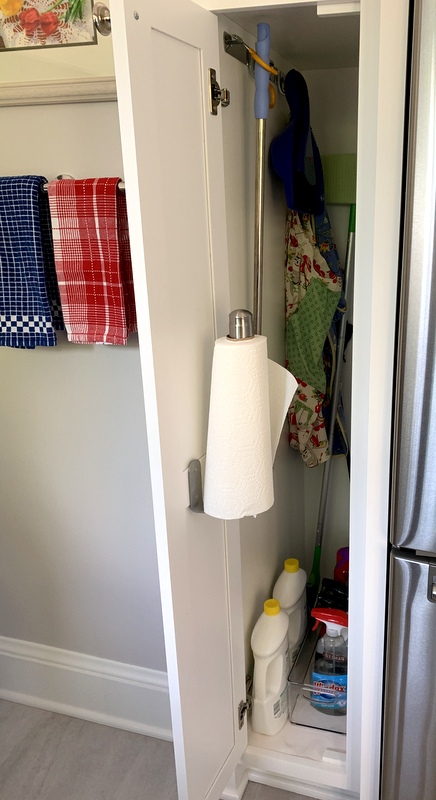 Notice the paper towel dispenser mounted on the inside door? One less thing taking up space on the kitchen counter!
The rest of the west wall: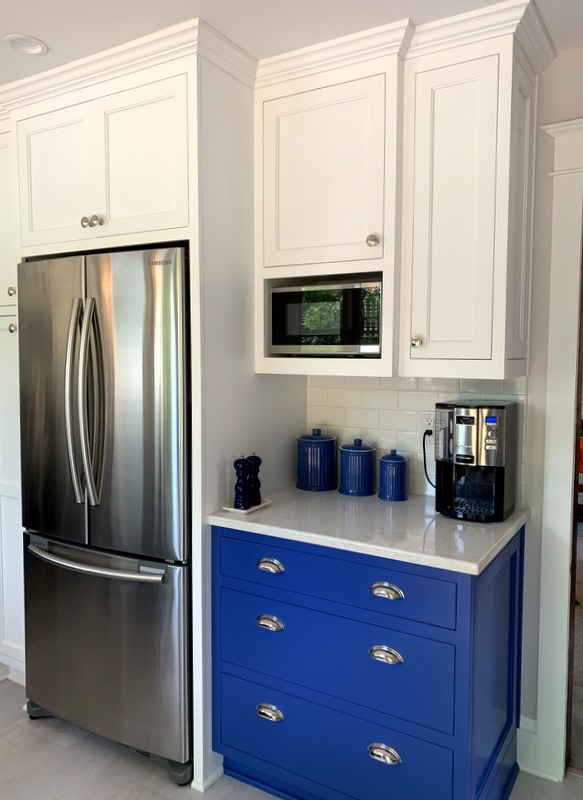 The blue ceramic canisters were chosen not just for their color. They are shaped along the lines of the white ceramic composter to the left of the sink (see second photo).
Circling around to the north wall:
There's my new cookie jar. And how do you like the retro-style kitchen step stool? It arrived in a flat box a few weeks ago but didn't get assembled until last night, which tells you something about the timing of this post. It's a happy coincidence that the green of the step stool is repeated in the watercolor above it.
Speaking of which, I must tell you that the three pieces of artwork in my kitchen are by my talented daughter-in-law, Jeanne Ann White. Here's a close-up of the original watercolor to the left of the glass-fronted upper cabinet . . .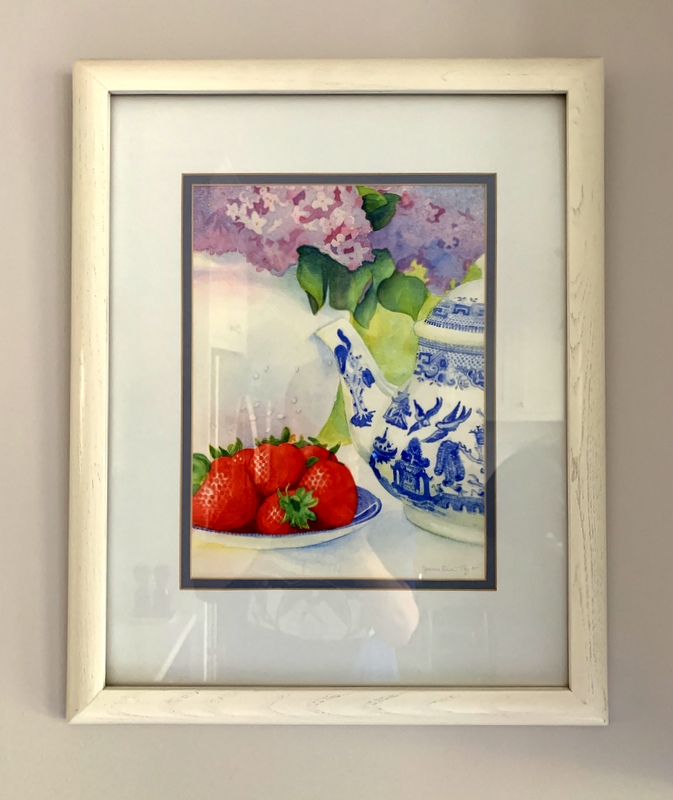 . . . and the linocut print on the right side of the upper cabinet . . .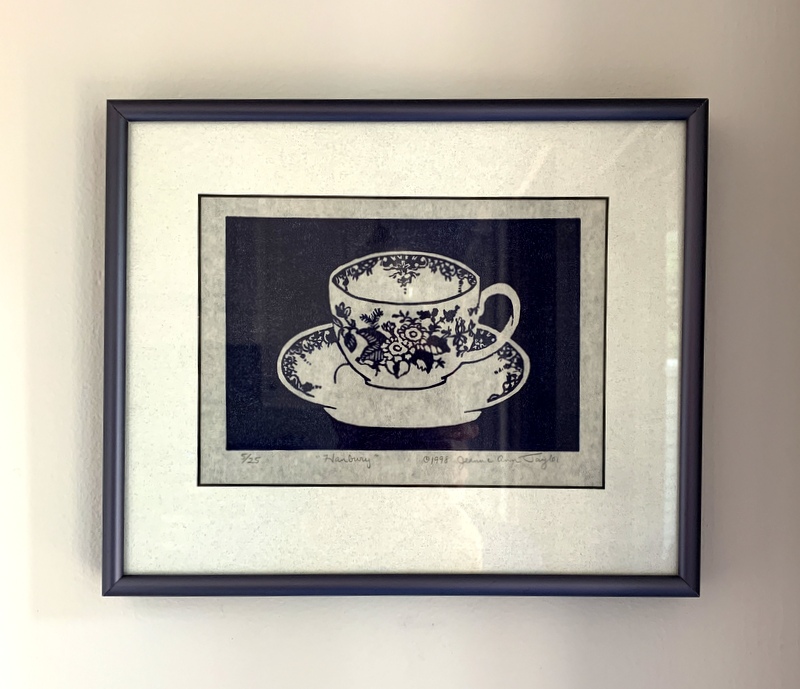 . . . and the original watercolor to the left of the refrigerator: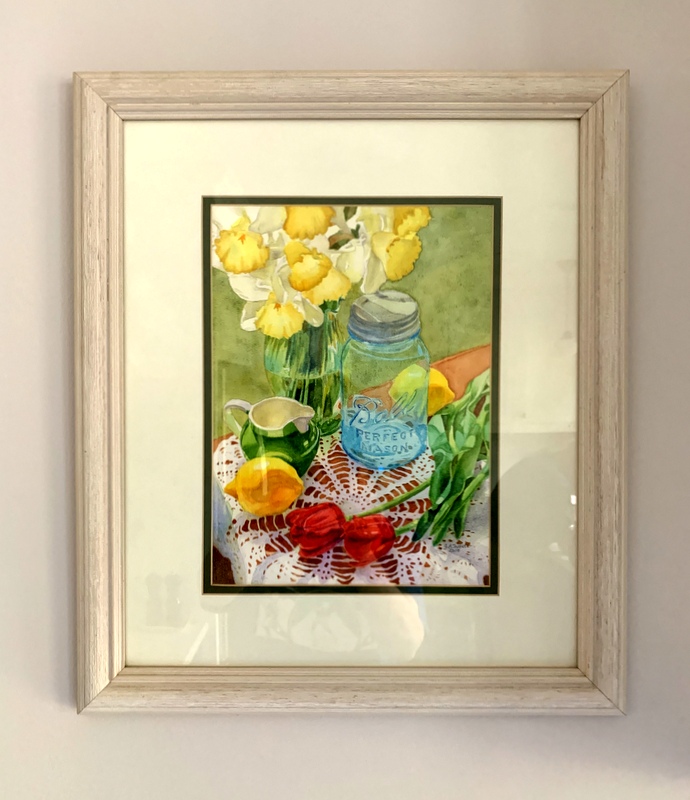 I love what Jeanne Ann's artwork adds to the kitchen!
So what's left? Well, in addition to the aforementioned cabinet issue — happily not noticeable in any of these photos — I still plan to make a tailored valance for each window. That project was put on hold while I labored on my Hazel's Diary Quilt top. And I have something in mind for the glass-fronted cabinet I think you're going to like.
Before I embark on those, I have a certain project to finish up that I've been working on periodically for months but haven't written about yet. Although not connected in any way to Hazel's Diary Quilt, it does involve needleturn appliqué. I hope you'll check back in with me to see what it's all about.
Thanks for stopping by the Portland White House to see my new kitchen!