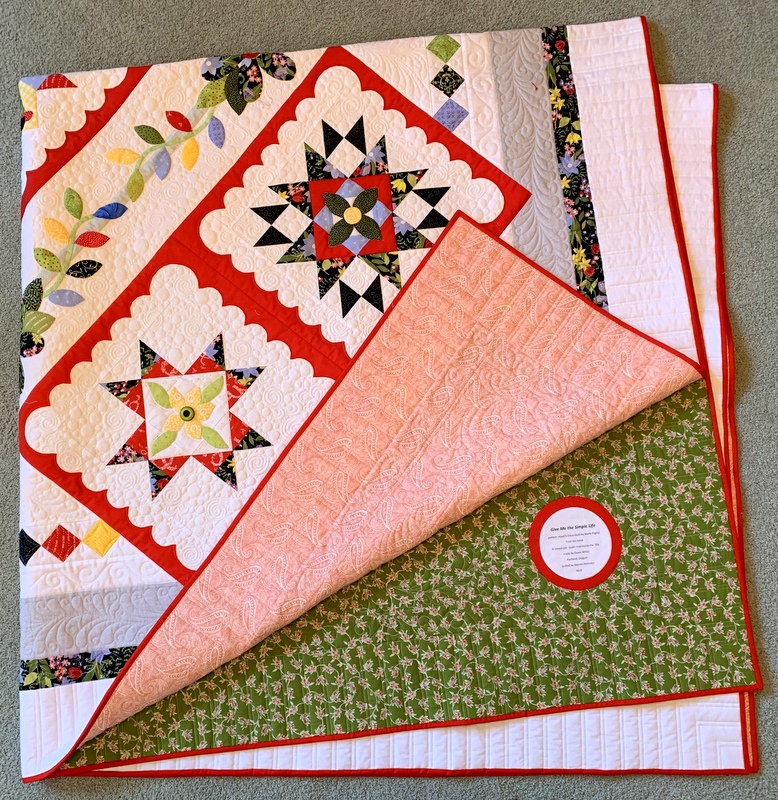 It didn't take forever to bind my version of Hazel's Diary Quilt; it just felt like it. This quilt is big. After trimming and binding, it measures about 95″ square. That's 380″ inches of binding to tack down. I take about three stitches to the inch so I figure there are close to 1200 stitches in my binding.
This quilt is also heavy. Think about it: queen size to begin with, it contains eight blocks with lots of little pieces (which means lots of seam allowances on the back side), appliqué in the center of each block, reverse appliquéd scalloped borders around the blocks, and more appliqué in the center medallion. Even with wool batting, which I specifically chose because it's the lightest of the batts, the quilt packs quite a heft.
I usually hand print my quilt labels but this time I printed one on my inkjet printer using instructions from a fellow quilt guild member. (Thanks, Marcia!) Here's the label ready to be tacked down on the lower right side of the back . . .
. . . and here it is stitched in place: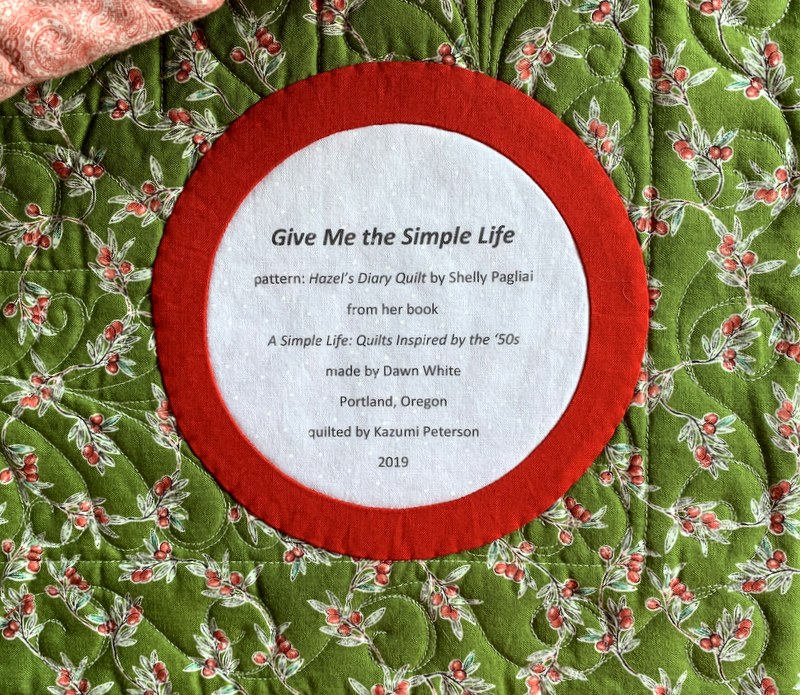 I named my quilt Give Me the Simple Life, though the making of the quilt was anything but simple. As the label indicates, the quilt pattern is from the book A Simple Life: Quilts Inspired by the '50s by Shelly Pagliai of Prairie Moon Quilts. The name I gave my quilt is both homage to Shelly's mother Hazel Ilene, who was the inspiration for Shelly's book and the quilts and projects in it, and a nod to the 1945 song of the same name, with music by Rube Bloom and lyrics by Harry Ruby. For you music trivia lovers, the song was first recorded by Bing Crosby singing with Jimmy Dorsey and his orchestra. To hear it, click here.