You must be wondering what on earth a pair of socks has to do with quilting. Let me explain. The pattern on these socks is one of the prints from designer Katarina Roccella's new line, "Capri," which is in quilt shops right now. If you missed my recent post about it, here's a look at the line of quilting cottons from Art Gallery Fabrics: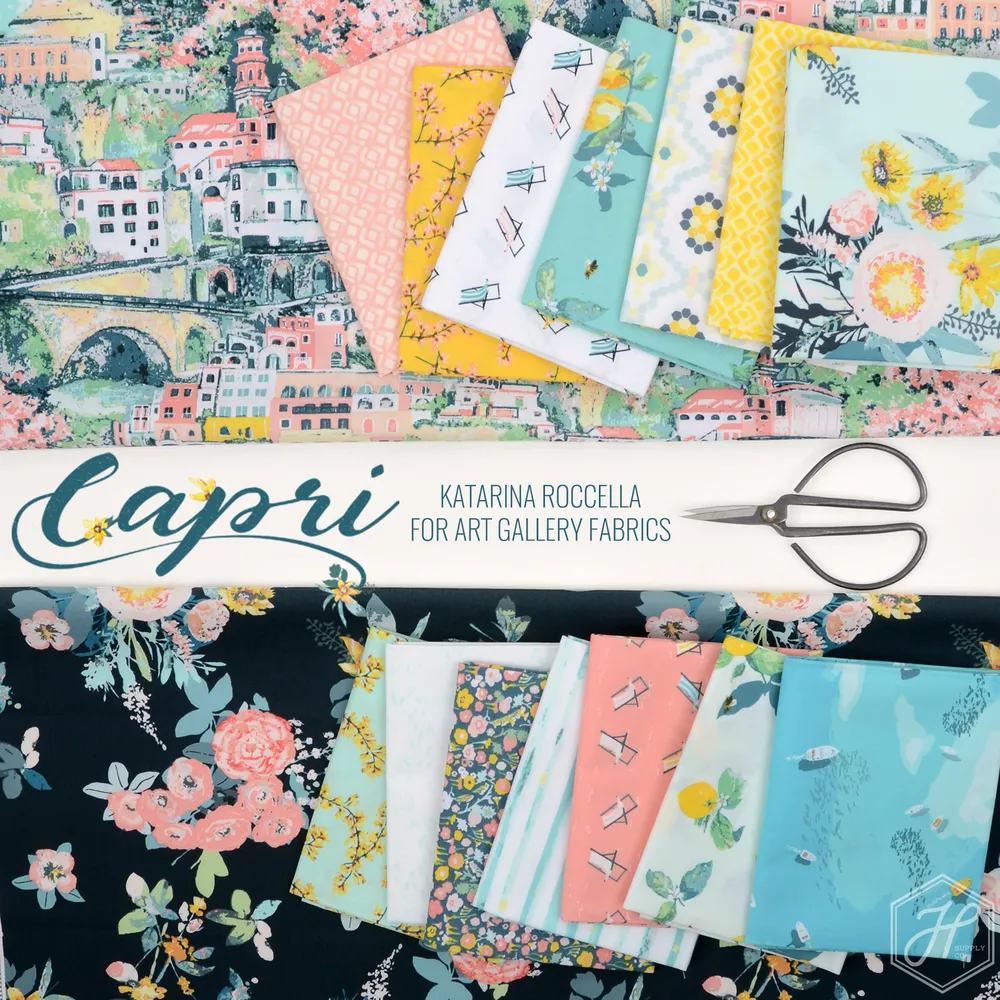 (You don't see the lemons-on-stripe print in the photo above because it's one of two designs in the line that were printed on fabrics other than cotton.)
If you're a regular reader you know that I ran off in high spirits last month and bought 10 prints from the line. So far I've only made a pair of pillowcases using three of the fabrics. I'm still dreaming about what to do with the remainder.
In her March 27 post on Instagram (instagram.com/katarinaroccella), Katarina mentioned that several designs in the "Capri" line, including lemons-on-stripes, were available on a huge range of products through a website called redbubble.com. I was intrigued. Following a link in her profile, I visited the website and learned that Redbubble is a global online marketplace for print-on-demand products based on artwork submitted by independent artists. An image isn't printed on an item until an order comes in so there's no waste from overproduction. When someone orders a product, the artist gets a portion of the proceeds.
I decided to give Redbubble a try, ordering a pair of socks and two coffee mugs with the lemons-on-stripes design. My socks arrived six days later! (The mugs are supposed to be delivered tomorrow.) I'm very pleased with the quality of the socks, which are made from a blend of recycled polyester, nylon, cotton, and spandex. They're super soft and fit very nicely. Based on the quality of the socks, I placed an order today for a travel mug with the same lemons-on-stripe design — you know I have a thing for lemons! — and a mouse pad with the main fabric in the "Capri" line, a landscape of the Amalfi Coast.
If you are intrigued, too, you can click here to see Katarina Roccella's designs on everything from leggings to smartphone cases to shower curtains to journal covers. It's pretty amazing! By the way, I don't have a financial interest in Redbubble nor do I accept any sponsorships on my website/blog. I'm writing about this because I believe making purchases that support artists like Katarina Roccella is a worthwhile thing to do and the items are things I will enjoy using.
I made another purchase recently that benefits a different but infinitely worthy cause. I saw the March 18 post on Instagram of Pat Sloan (instagram.com/quilterpatsloan) wearing a t-shirt featuring a beautiful sunflower image designed by Kate Spain. The tees are for sale on Kate Spain's website, with proceeds going to support Chef José Andrés and the World Central Kitchen for relief efforts in Ukraine and Poland.
Kate's design is called "Sunflowers in My Heart" and quilters who purchased t-shirts were encouraged to post photos on Instagram wearing theirs. Here's the photo I posted: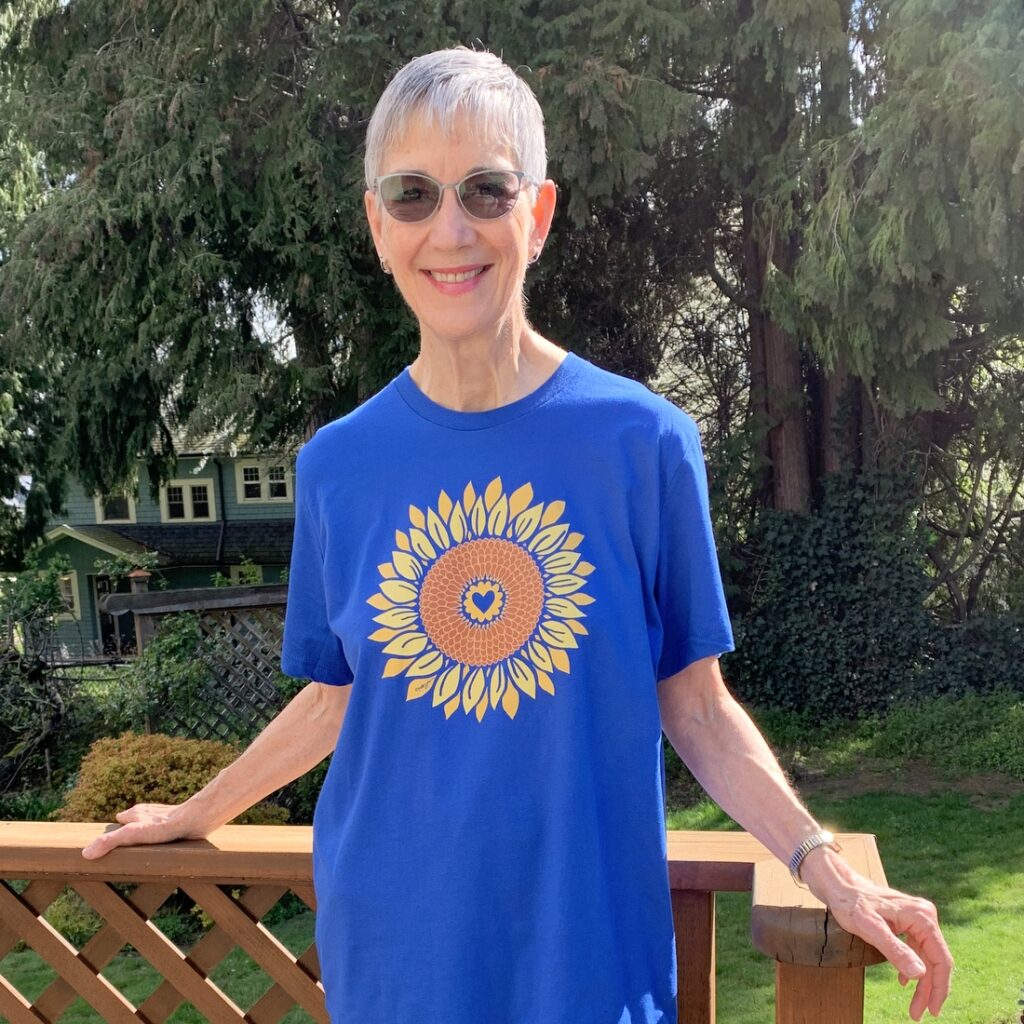 Kate Spain herself commented on my post! You can check it out here.
Thank you for stopping by!