It's been more than a minute since my last post, that's for sure. The year has flown by but September flew by faster than usual. Between working alongside the Dear Husband in the garden (and harvesting the results), resuming classes at Montavilla Sewing Center after a break during August, taking visiting relatives around Portland and through the Columbia Gorge, and continuing my usual everyday pursuits of reading, trying new recipes, and playing Scrabble, very little time has been spent in my sewing room.
I thought for sure I'd have the borders added by now to the 1930s reproduction quilt started by my friend Vivienne years ago but all I've managed to do is cut the strips. I can claim only one accomplishment: a prototype of the tailored valances I'm making for my stepmother. Here's a look at the beautiful furnishing fabric and a rough sketch: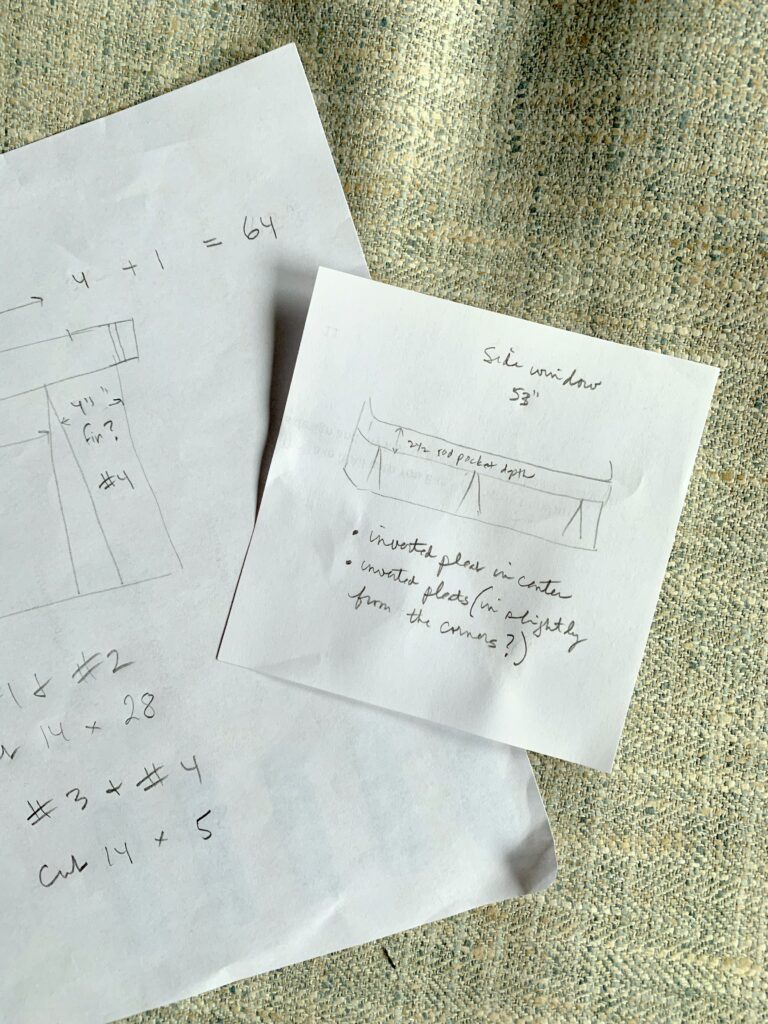 This home dec project was actually launched a year ago. My stepmother bought new upholstered furniture for her living room and asked if I would make valances for the three windows plus one in the hallway. This is just the kind of home dec challenge I love so of course I said yes. Then, during my annual November trip last year to my twin sister's home in Georgia, we found this lovely tweedy herringbone fabric.
Finding the proper drapery hardware after I got home proved unsuccessful. Good thing my stepmother is a patient soul because I dithered for months before finding the right curtain rods online. I ordered only one so I could test it first with the valance design.
The math indicates we have enough furnishing fabric for four valances but not enough to cover a mistake, hence the need for a prototype. I used some old fabric I had on hand from a home dec project years ago. It was important to test my sketch because I'm departing from the usual way of making inverted pleats. I'll fill you in later on my plan. At the moment, the DH and I are getting ready to head over to my stepmother's home in Central Oregon to test the mock valance in place along with the drapery hardware.
More anon!