Last week I was predicting that the shower glass would be installed and that the bathroom remodel might actually be completed. Alas, it was not to be. The shower glass did get delivered but two of the three panels were not beveled at the correct angle, so back they went.
Thankfully, we don't have a pressing deadline for completion of the bathroom. The contractors predicted an eight-week job, and here we are approaching Week 11, but I don't really mind. I think the wait will be worth it. And I do have something new to show you: the vanity!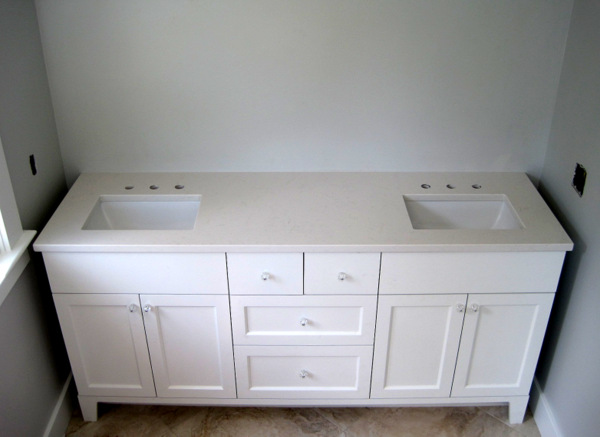 As you can see, the countertop is on and the sinks have been installed. The countertop is Pental quartz; the color is "lattice," a creamy white with very subtle beige-y grey markings. The knobs on the cupboards and drawers are clear glass. The drawers glide open and closed ever so smoothly. (I know this because I keep wandering into the bathroom to try them out.)
You  may be wondering why the vanity isn't wall-to-wall. In the original plan, it was. But early in the project my contractors found a remnant of the quartz countertop I wanted which was a few inches shorter than the full space between the walls. One option they presented was making the vanity look like a piece of furniture (i.e. free-standing) in order to use the remnant. I am very pleased with the result.
Since I don't have a lot to show you this week, I'll end this post with a preview of a coming attraction: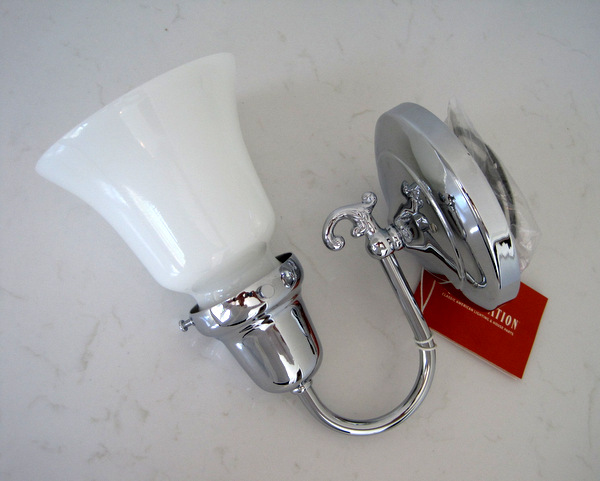 Isn't that a lovely sconce? There are going to be three of these mounted on the wall above the vanity. But before that happens, Erik (the tile guy) is coming back to install the backsplash on the vanity. I hope you'll come back for a look.