That's the name of this quilt I recently finished based on the pattern Urban Tiles by Jenny Pedigo of Sew Kind of Wonderful. It's such a cheerful little quilt!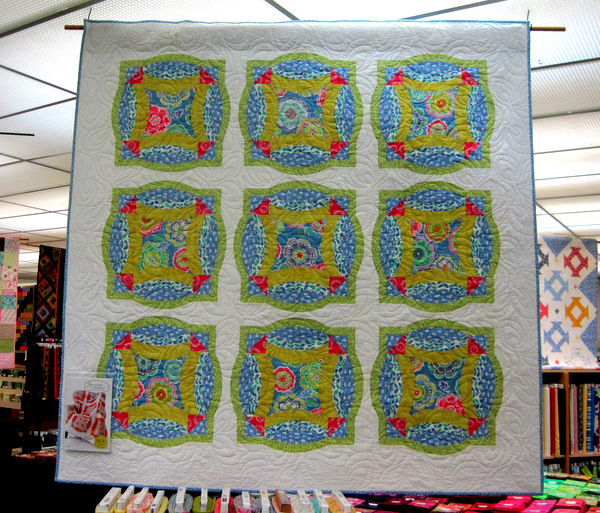 Why the name Hunky-Dori? You've probably heard the expression "hunky-dory," which essentially means "fine and dandy." Well, that's how this quilt makes me feel! Four of the fabrics, including the focus fabric in the middle of each block, are from the Dori line by Mitzi Powers for Benartex. Just a little play on words.
Of the remaining fabrics, the chartreuse fabric next to the focus fabric is by Windham and the white-on-white background fabric is by P&B Textiles. Fans of Violet Craft's Madrona Road line for Michael Miller will recognize the small blue and white print next to the outer green curves. The fabric on the back of the quilt is also part of the Dori line.
Just for fun, I made a label for the back shaped like the tile block on the front: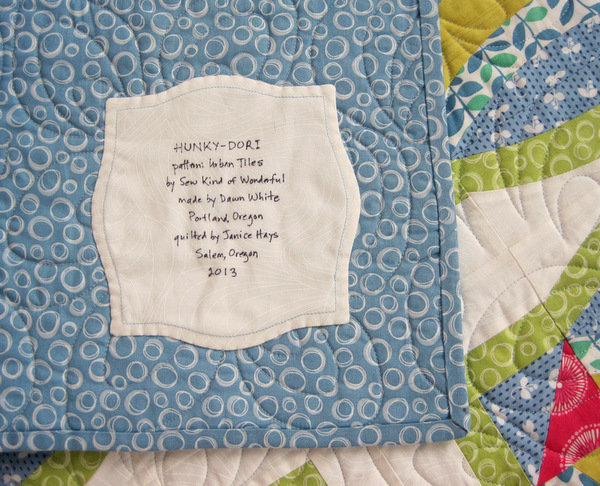 The photo above also gives you a better look at the lovely edge-to-edge quilting done by longarm quilter Janice Hays.
Hunky-Dori is on display at the Pine Needle Quilt Shop in Lake Oswego, Oregon. If you're in the neighborhood, please stop by for a look. And if you're inclined to make your own version of Urban Tiles, I'm teaching a class in October at the Pine Needle. Kits available!