Jennifer Varney of Hudson, New Hampshire — one of several quilters I have become friends with over the last few months through our shared desire to make a sampler quilt called Reach for the Stars — revised her center medallion recently.
You may recall from an earlier post that Jennifer plans to arrange her center medallion and blocks in a straight set, rather than on point as called for in the original quilt. Jennifer's fabric choices include some elegant border prints and metallics in a palette of pewter, soft blue, gold, and black. Before I show you the revision, take a look at her original medallion block  (and take note of the four corner squares):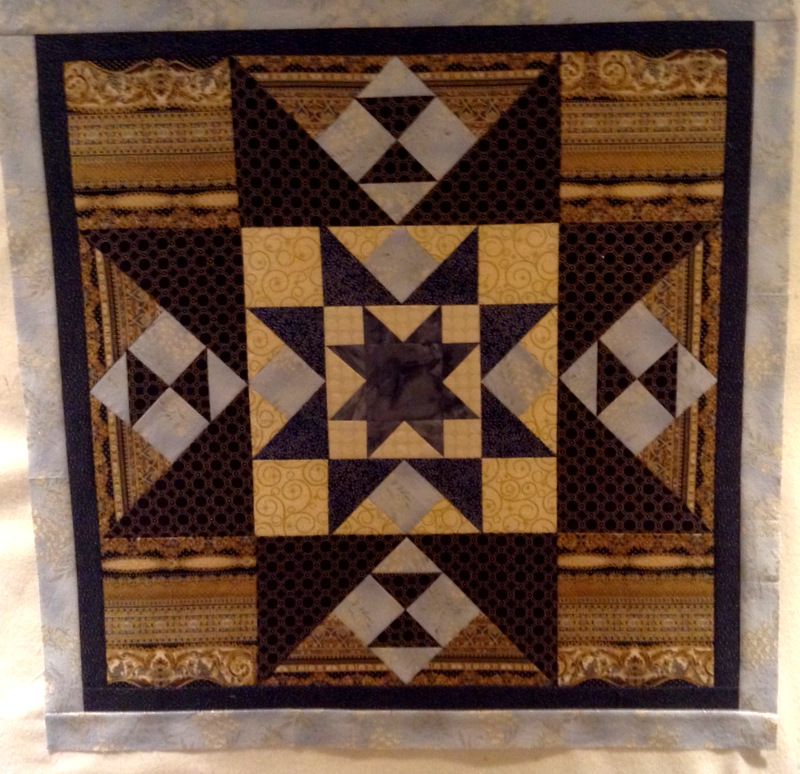 Nothing wrong with that medallion at all! In fact, it's beautiful. Now take a look at the revised block: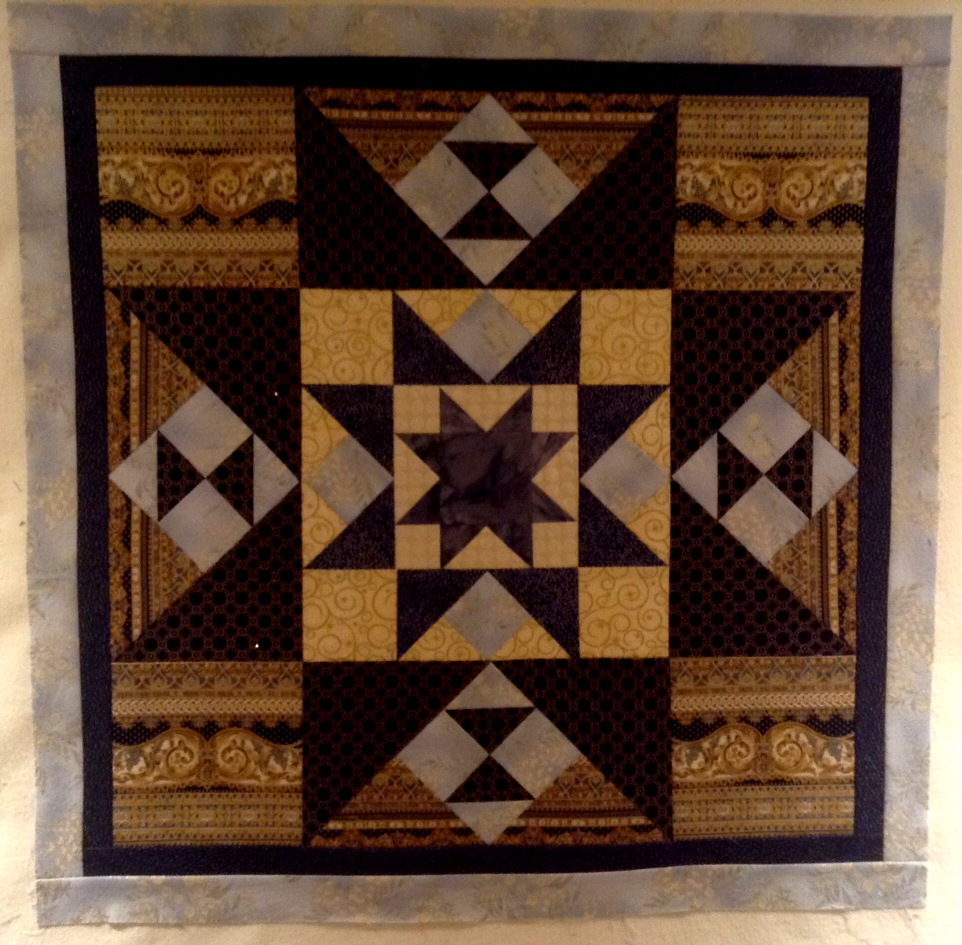 It's better, isn't it? Jennifer used the same fabric in the outer blocks that she used in the first version but fussy-cut the squares to highlight a different motif in the fabric. I agree with her that the change brings more light and balance to her medallion.
Directions for Reach for the Stars are coming in serialized fashion from Quilter's Newsletter magazine. Thus far the magazine has provided directions for 12 blocks (plus the medallion). Jennifer fell a wee bit behind on the blocks but for a very good reason: she was getting another quilt ready for her local guild's spring show — and it won a second place ribbon!
Allow me to present Lady Guinevere's Quilt, designed and made by Jennifer Varney: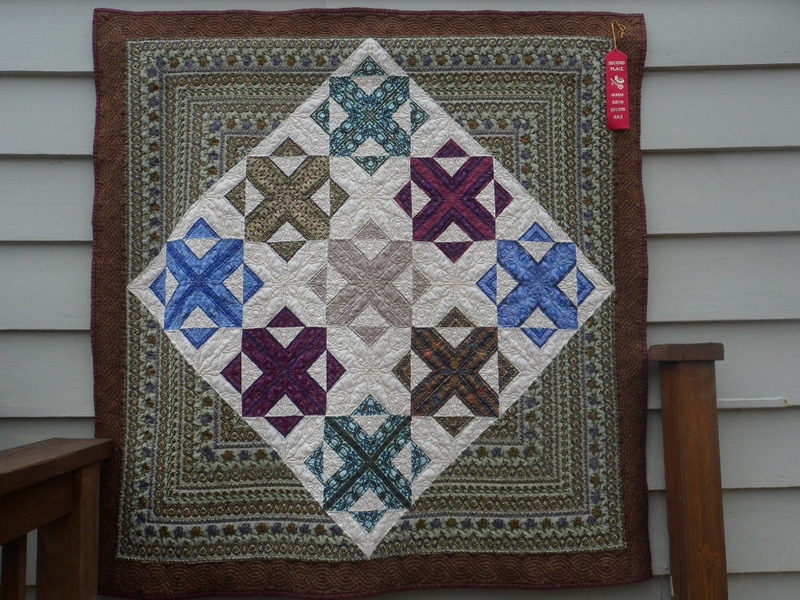 Jennifer fussy-cut border prints and pieced them into Night and Day blocks, which she then set on point. The outer edges of the quilt feature a gilded tapestry-look border print.  Lorri Wurtzler of Seventh Heaven Quilting in Nashua, New Hampshire custom quilted Jennifer's quilt. Here's a close-up of Lorri's beautiful quilting: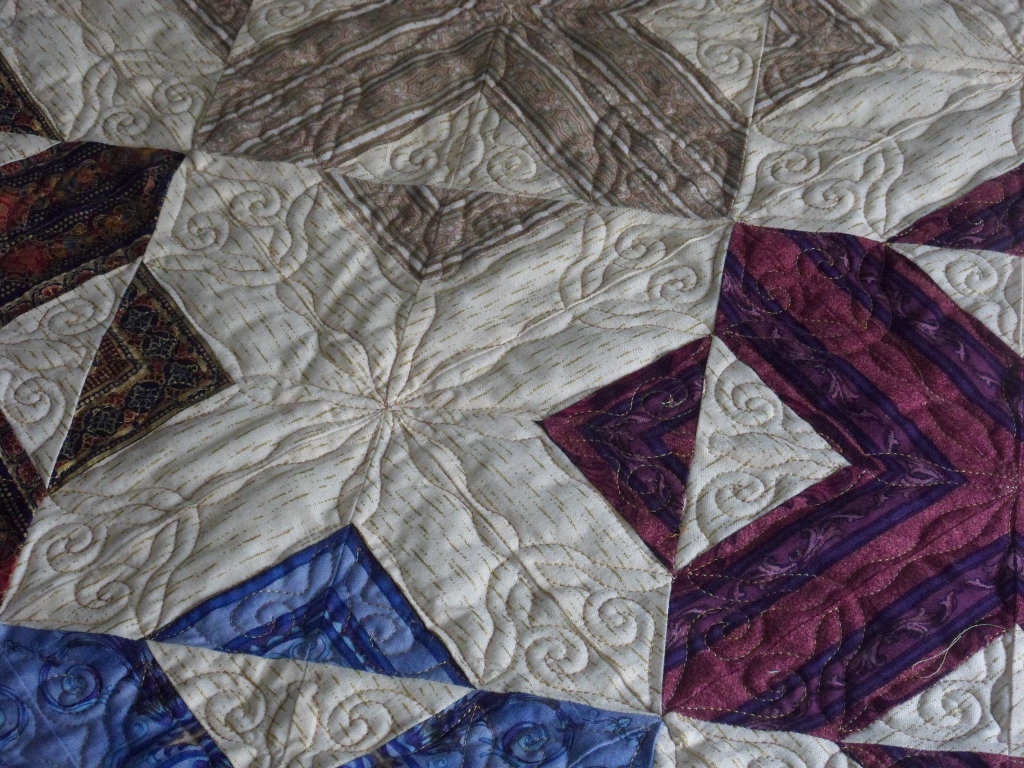 The finished quilt measures 53″ square.
Congratulations, Jennifer! Now: back to work on Reach for the Stars?