The setting triangles and corners have been added to my Reach for the Stars series sampler quilt. Do take a look: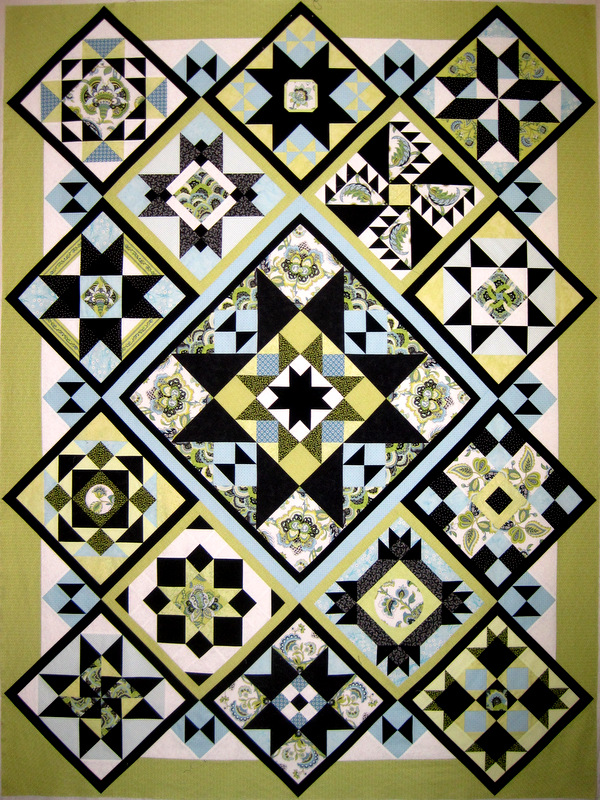 In my last post about Reach for the Stars, I was debating whether to set the hourglass blocks in the setting triangles vertically or horizontally along the long sides of the quilt. To refresh your memory, here's another look at my two choices: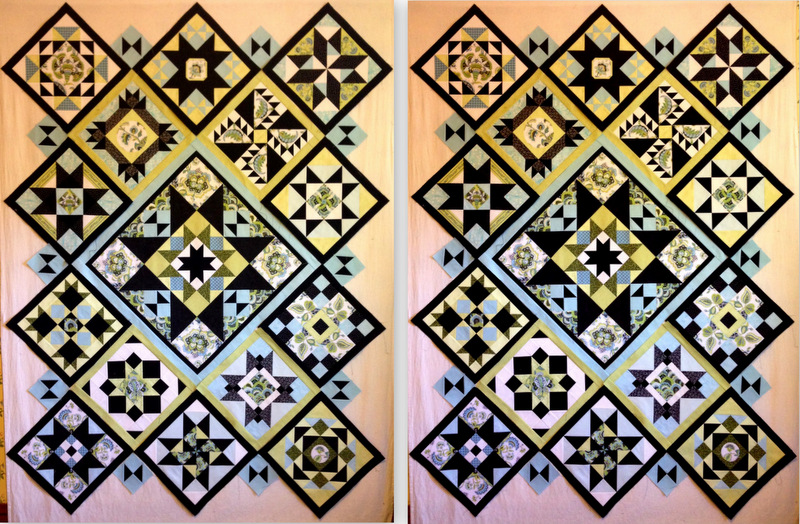 I was leaning strongly toward the horizontal placement and asked for feedback. Thanks to all of you who responded! The vast majority liked the hourglass blocks set horizontally. If you scroll up and look at the first photo again, you'll see that I wound up setting them vertically along the sides.
Oddly enough, it was a nonquilter who helped me make up my mind. My nephew Gary suggested I rotate the photo 90 degrees and view the quilt along the long sides. When I did that, I realized I wanted the hourglass blocks to be horizontal when viewed that way — exactly the way they would look if the quilt were on a queen-size bed.
If I knew for sure I would be displaying the quilt on a wall, I would probably have left them all horizontal. Alas, I have no wall in my 1913 Craftsman house large enough for a quilt that will measure about 86″ x 106″ when finished. I do, however, have a queen-size bed.
Right now my version of Reach for the Stars measures about 60″ x 80″. How exciting to be at this point! I started this quilt at the beginning of the year after seeing Terri Krysan's original design on the cover of the Oct./Nov. 2013 issue of Quilter's Newsletter magazine. Directions for the quilt began with that issue and continued for the next six issues. Starting with the center medallion and then making 14 blocks over the better part of a year allowed for a somewhat relaxed sewing schedule — a boon for someone like me who likes to work on multiple projects at the same time.
Now all that's left are the borders. I say "all that's left" but in fact there's much more to the border than four strips of fabric. You'll see what I mean when you look at Terri's beautiful quilt: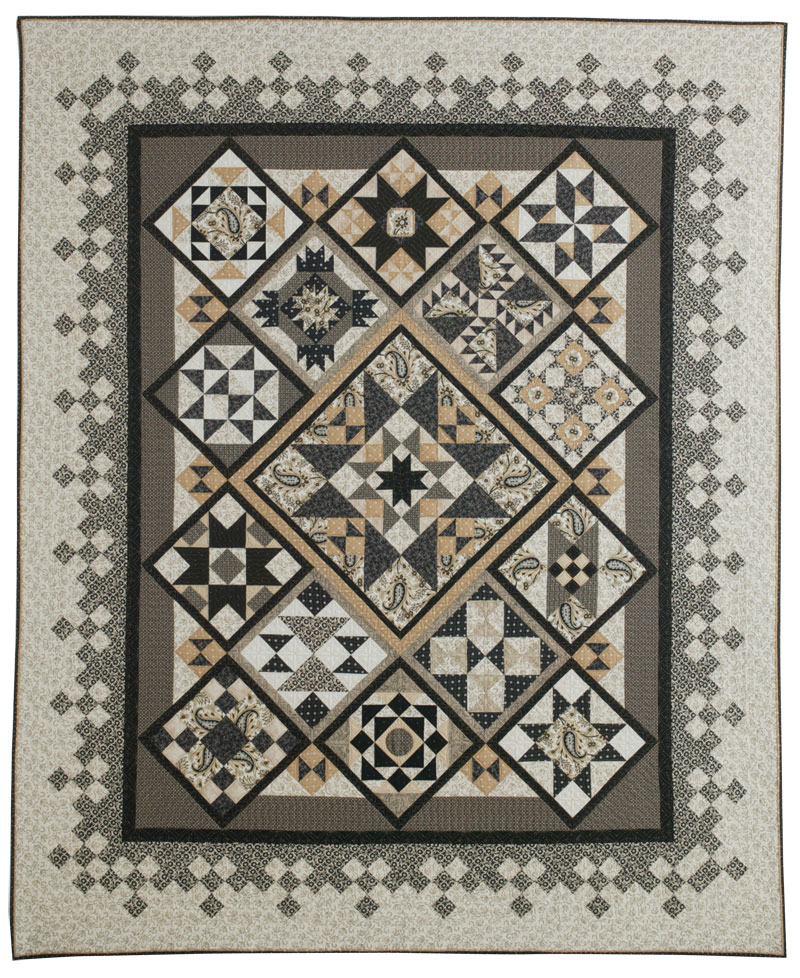 (Copyright Quilter's Newsletter. Used with permission. Photo by Melissa Karlin Mahoney.)
Viewed from afar, the border design looks almost like lace, doesn't it? That effect is cleverly achieved by setting nine-patch units on point. For some reason, though, the lacy design is not the same in all four corners. The upper right and lower left corners are the same, and the upper left and lower right corners are the same. To me this quilt is all about symmetry. That means I have to figure out a way to make all four corners on my border the same while maintaining the lacelike effect. Just the kind of challenge I relish!