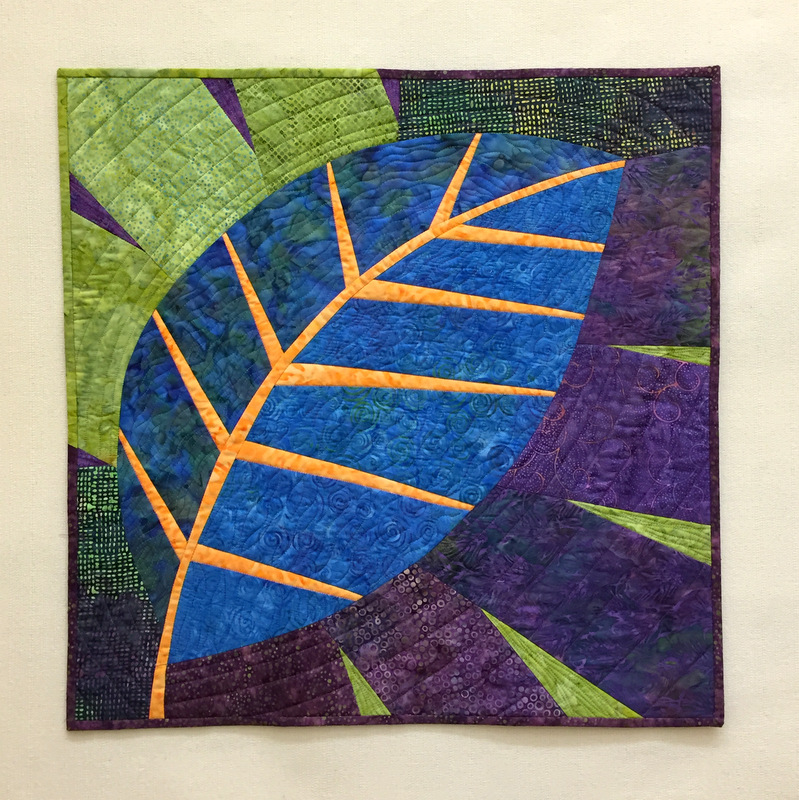 Under two weeks, from start to finish. That must be a record for me, as I am more like the hare than the rabbit. Granted, my New Big Leaf is a small project — but hey, every finish counts, right?
I started this on Oct. 28 in a workshop with Pat Pauly, a renowned fiber artist from New York who came to Portland to teach her "New Big Leaf" design using freezer paper templates. A week later my top was pieced. Now on to the quilting.
This is the point at which my projects usually get tucked away. Like so many other quiltmakers, the actual quilting is my least favorite part. It is oh so easy to procrastinate. This time I vowed not to do that. I geared up to tackle not only this new project but also the table runner of my own design that I had put aside eight months ago. (I quilted that one first and wrote about it in my last post.)
After pin pasting my New Big Leaf, I stitched in all the ditches. That enabled me to remove the safety pins for the rest of the quilting: free motion quilting in the blue parts of the leaf and gentle curves around the leaf using my walking foot. A few close-ups: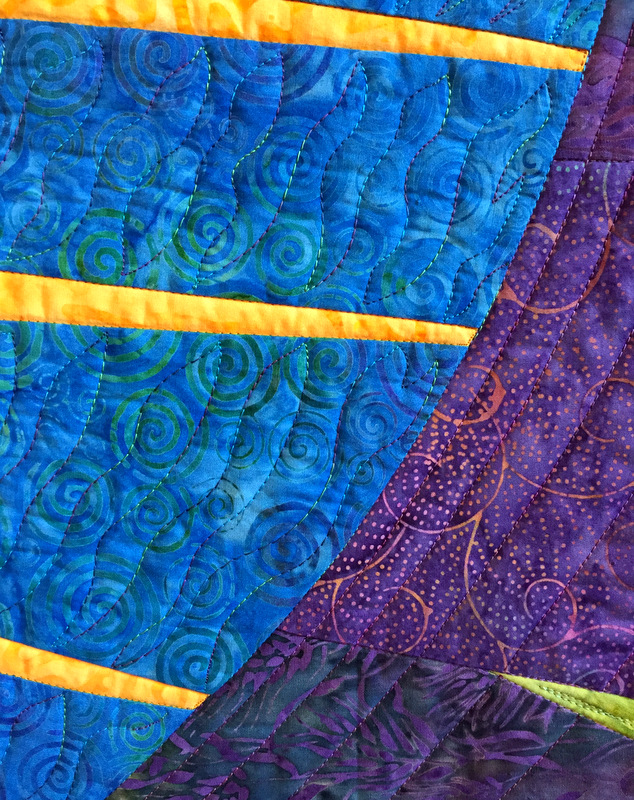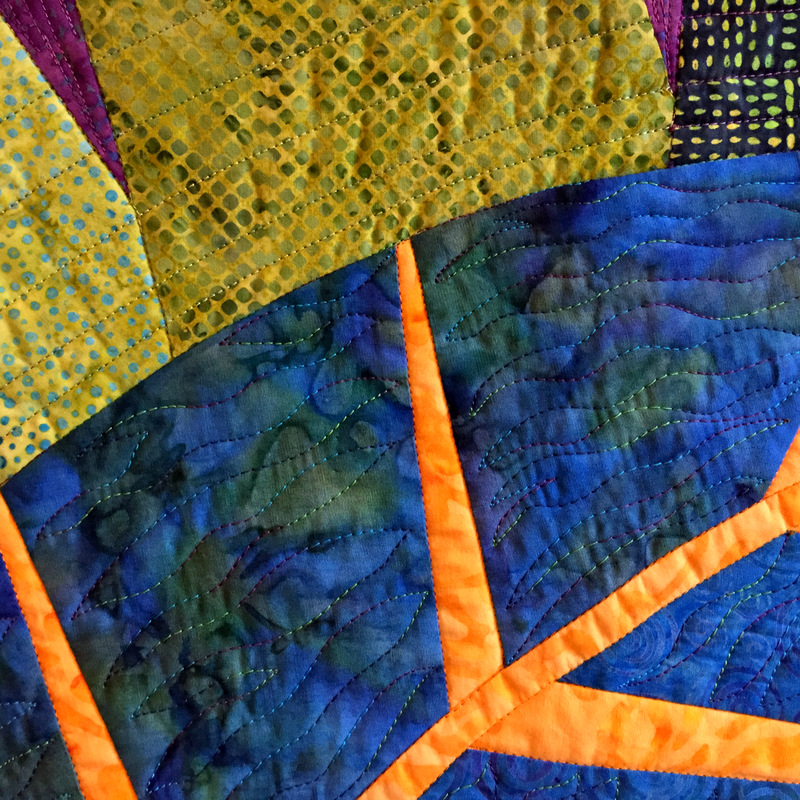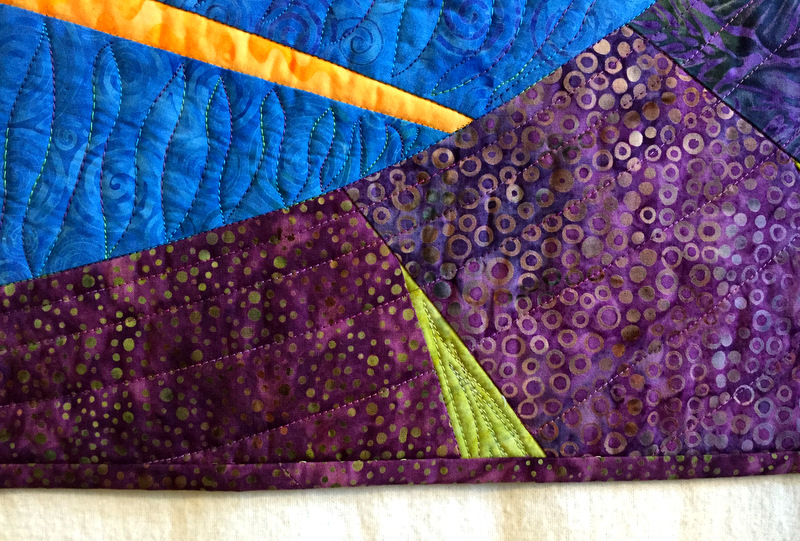 I used variegated threads that blend with the background, the goal being to add texture without adding color.
When it came to the binding, I didn't want it to provide a frame around the leaf. I wanted the greens and purples to flow right into the binding. The solution: two fabrics in the binding. Here you can see where the green binding changes to purple on both sides of the upper left corner: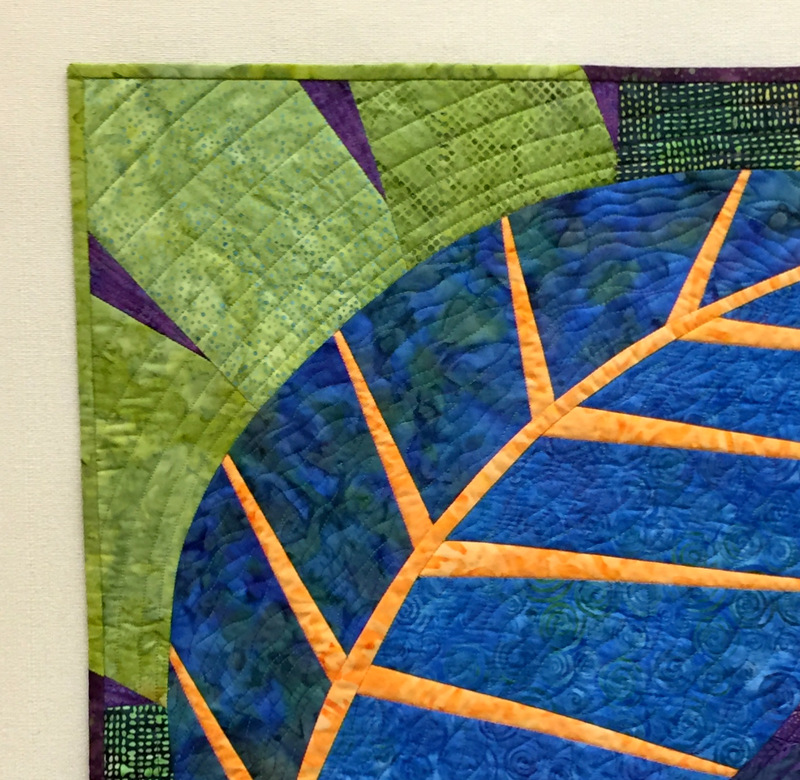 The back of the quilt is one piece of fabric (a departure for me). Although I used four different threads on the front of the quilt, I used the same purply-blue variegated thread in the bobbin so there's just one thread on the back. The plan was for the thread to blend in completely on the backing fabric. That it did, but it also provided an outline of the leaf that both surprised and pleased me: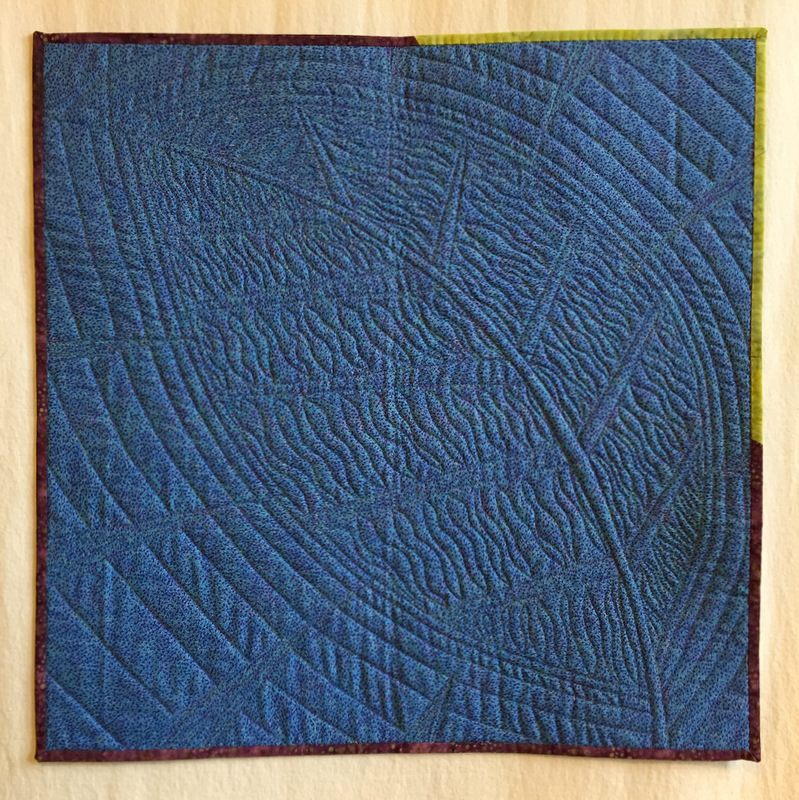 I finished hand stitching the binding Tuesday morning, 13 days from the day of Pat Pauly's workshop. What a triumph!
Oops, not so fast. Now comes the confession: my project is not truly finished. Did you notice? No label on the back yet. And no name, for that matter. I was so eager to show it to you that I fudged a bit on my pronouncement that it was done.
I am still musing on a name. As for the label, I'm thinking about making one in the shape of a leaf, using the freezer paper technique I learned from Pat. Wouldn't that be a fun touch?