Can you picture Frank Sinatra crooning the lyrics to September Song?
"Oh it's a long long while from May to December . . ."
[never truer than in the time of COVID!]
"But the days grow short when you reach September. . ."
We've actually reached the end of September. And until today I hadn't worked on a single quilt the entire month. Can you believe that? Oh, I did some sewing in September: a few face masks, a pair of pillowcases, a bucket hat. I also worked on a fun home decorating project over the weekend that I'll tell you about in a bit.
But a quilt? Not until today, when I pulled out this throw-sized quilt top I pieced a dozen years ago: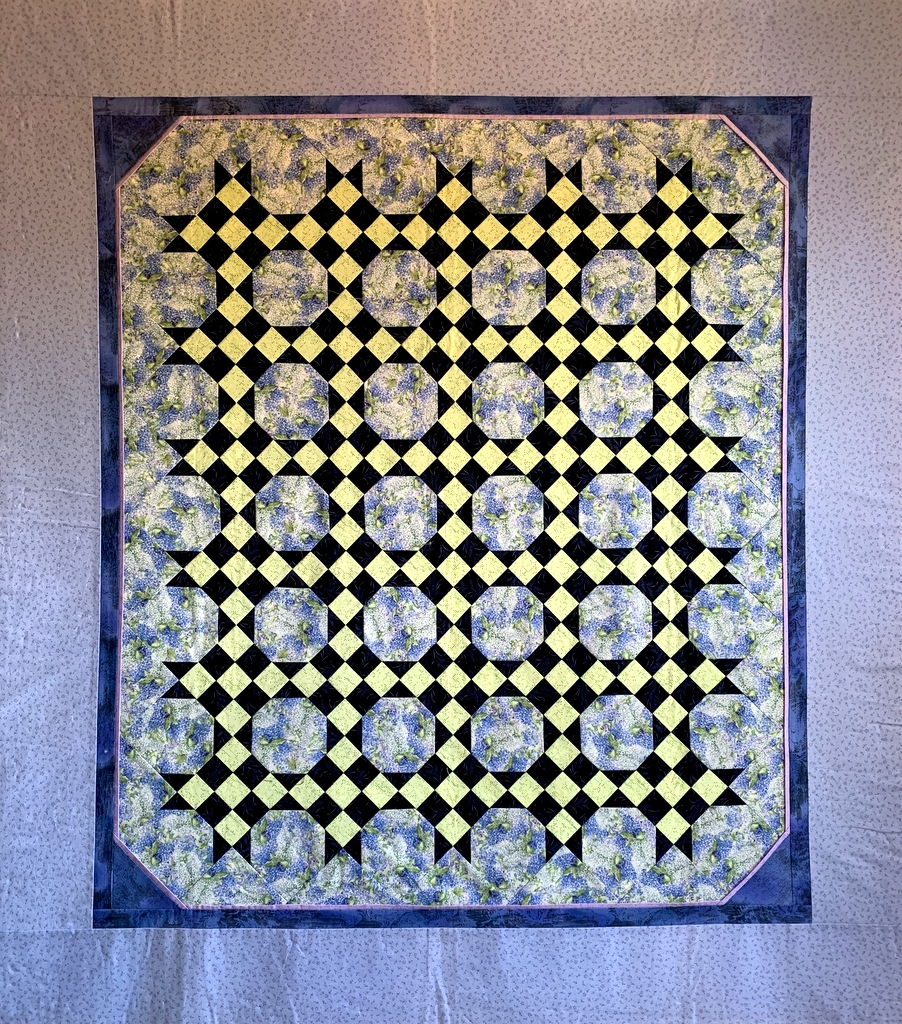 This little quilt came into being because I had a stack of 9-patch blocks left over from another project. (That's a lot of leftover blocks, right? A confession: I had pressed the seams in the wrong direction while strip-sewing.) I combined the 9-patches with some snowball blocks, set them all on point, and created this 52″ x 58″ throw.
This project was ready to quilt back in 2008. I had pin-basted it to the batting and backing and had actually sewn a single line of stitching. One line! I have no memory of why I didn't continue but I have no desire to finish quilting it myself now. My "quiltmaking" today consisted of removing all the basting pins and getting the layers ready to deliver to a longarm quilter.
My plan was to have it quilted with a simple edge-to-edge design. Then I realized that because I added a flange to the interior, the quilt will probably need to be custom quilted. Here's a close-up of the flange: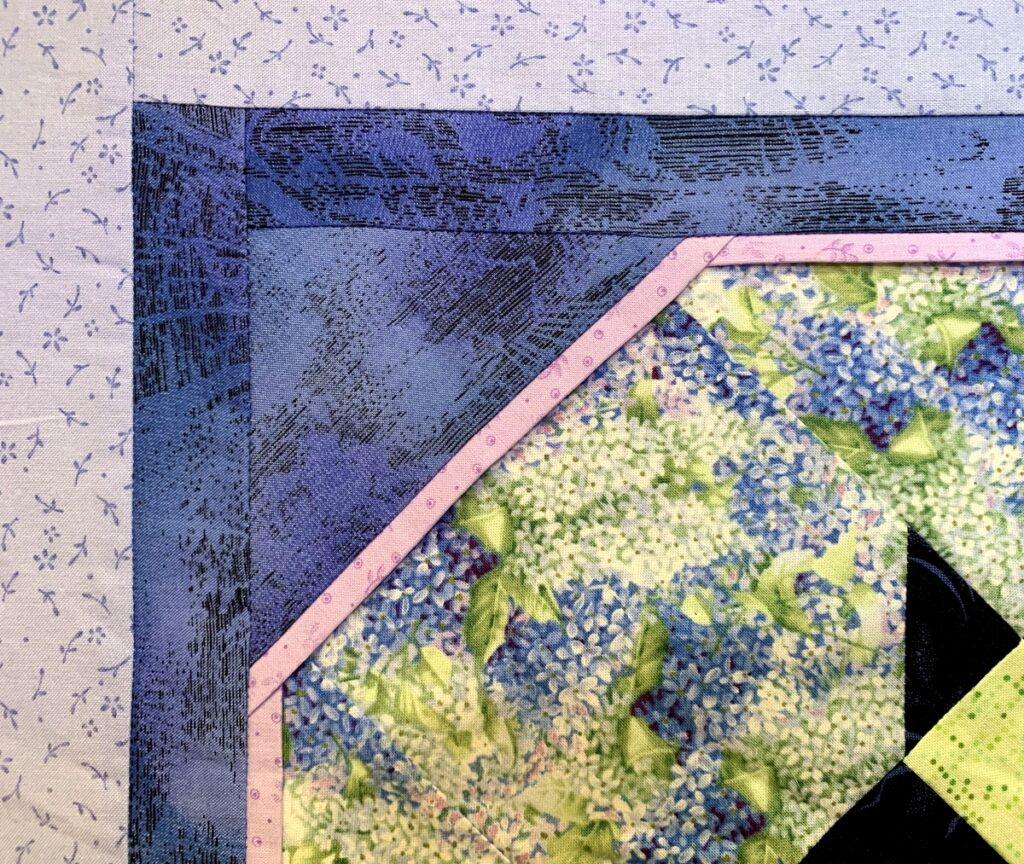 Some of the fabrics are ones I would probably not buy now but I like the top well enough to want to finish it.
Now about that home dec project:
My husband and I took our first trip since the pandemic arrived on our shores, driving from Portland to Bend last Thursday to spend a delightful long weekend with my stepmother Shirley. While there I made two tailored bedskirts for her extra-long twin beds. Shirley recently bought new bedspreads with a nautical theme featuring navy and aqua images on a white background. We decided on a solid navy fabric for the bedskirts.
Here's a look at the pattern I made on graph paper along with the fabric, a navy blender (almost a solid) called "Shadowplay" by Maywood that I like so much I buy it by the bolt: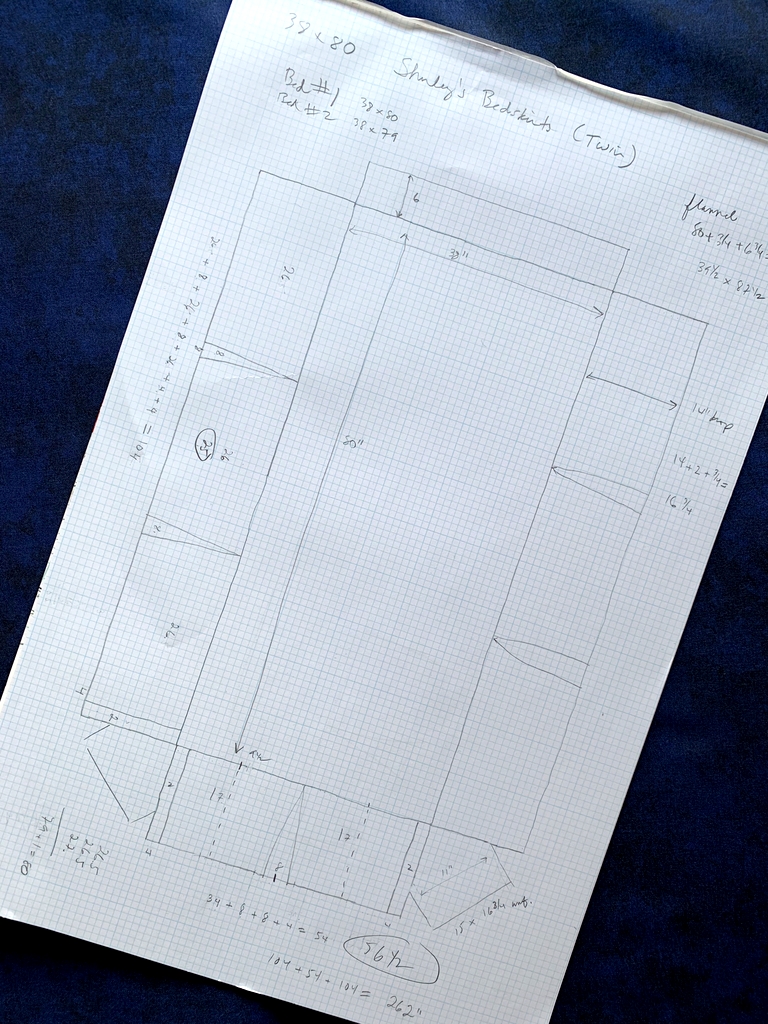 You may be able to tell from my pattern that the bedskirts have one inverted pleat along the end and two on each side. Because of the dark fabric and the lighting in Shirley's bedroom I wasn't able to get good pictures of the completed bedskirts but they did turn out beautifully. You'll just have to take my word for it!