My quilt group, the Quisters, met at my house last week on a perfect summer day. Between bites of marionberry pie, we had quite a show-and-tell session. Here is Peggy's Paperweight quilt top, started last summer in a class taught by Pamela Dinndorf of Aardvark Quilts: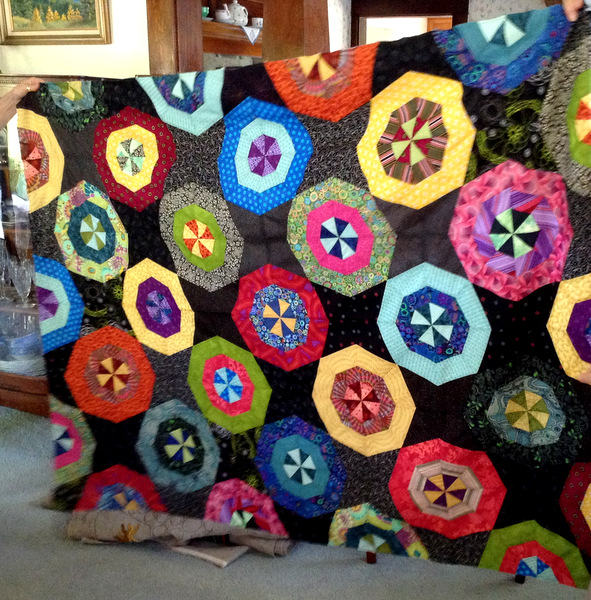 Such a happy and colorful top! Peggy also designed and hooked this fabulous rug, perfectly capturing the charm of her beach house on the Oregon coast: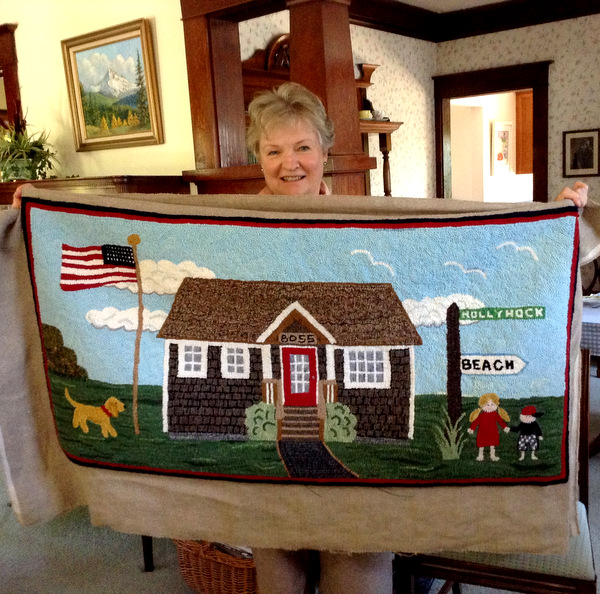 The scene includes her goldendoodle, Lucy, on the left, and her grandchildren on the right.
Peg is already at work hooking another rug, Cat's Paws, designed by Sharon Smith of Off the Hook Wool Rugs: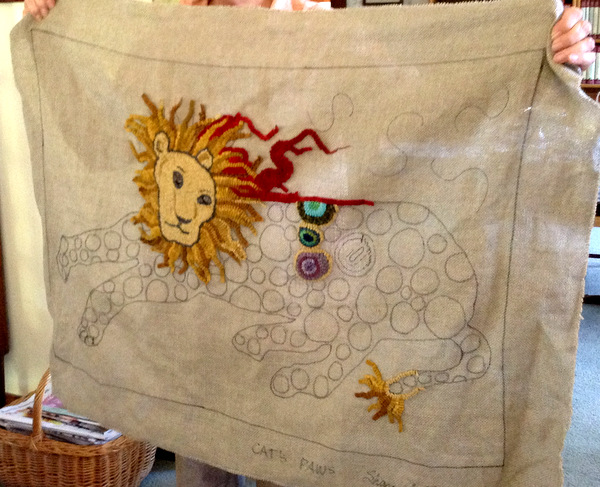 Deborah recently competed a quilt she started a few years ago in a class taught by fellow Quister Lee Fowler.  This is Sushi Rolls: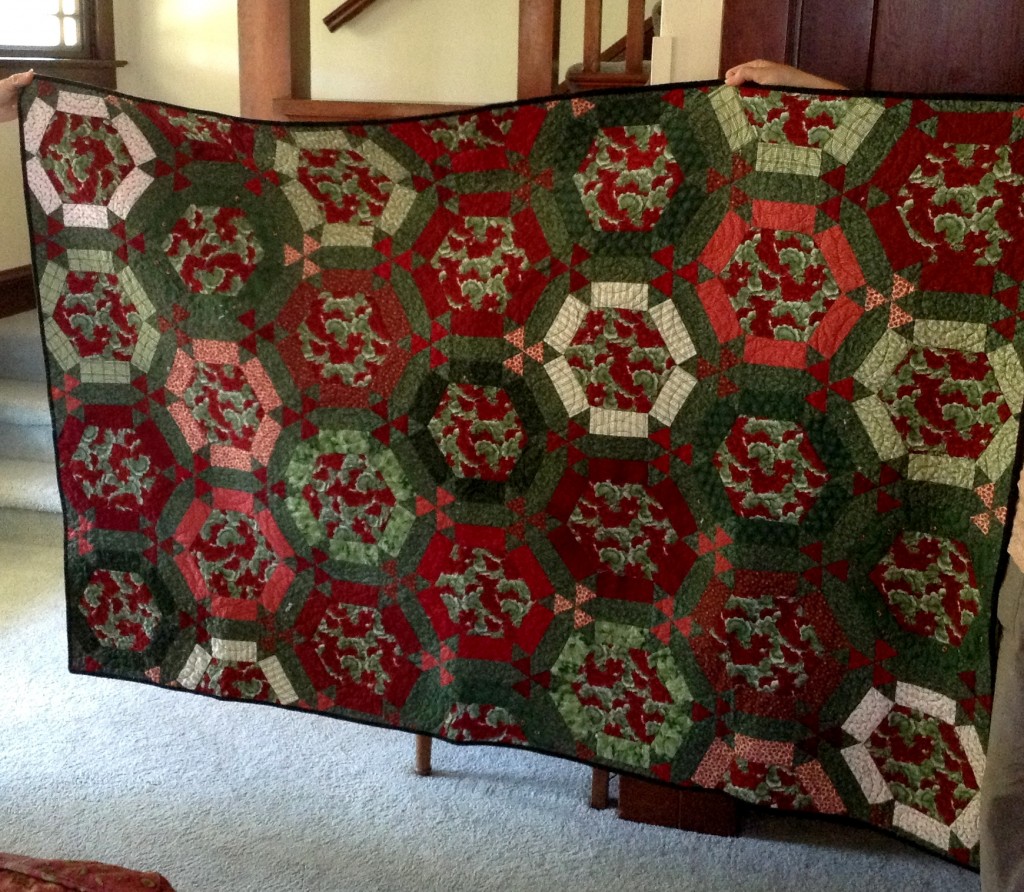 Love the red and green color combo! I can see this on the back of Deborah's couch at Christmas but it would work all year round.
Here is Lee's newly completed Pickle Dish quilt: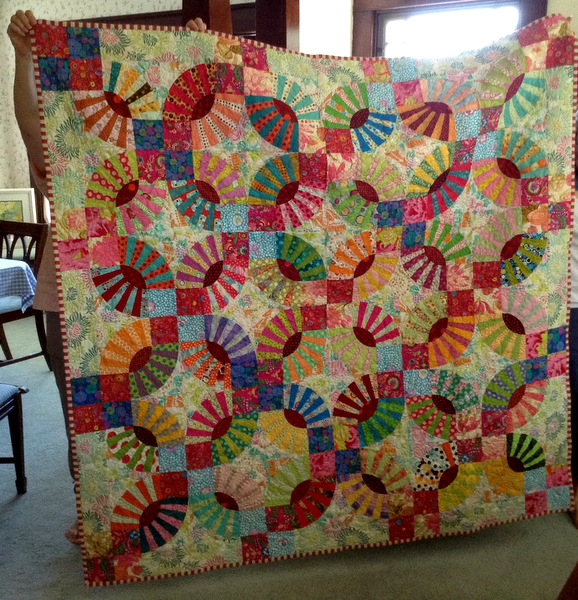 Twenty-five of Lee's friends contributed one or more paper-pieced arcs, and Lee put the rest of the quilt together with fabric from her stash (and a little more help from her friends). I spy lots of polka dots — one of Lee's favorite design elements — and quite a few Kaffe Fassett prints.
Lee has also been making blocks for a Scrappy Trip Around the World quilt. Here are some of those blocks: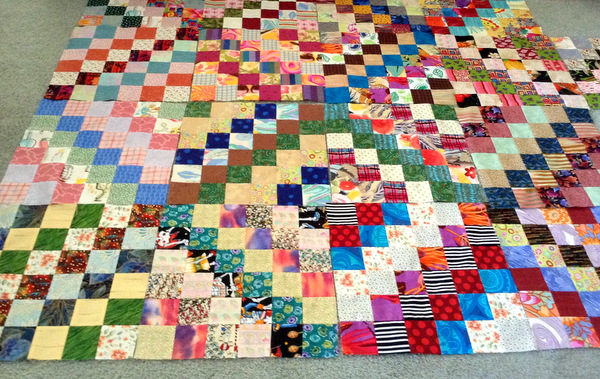 What a great way to use up strips left over from other projects!
Vivienne is currently working on a strippy diamond quilt: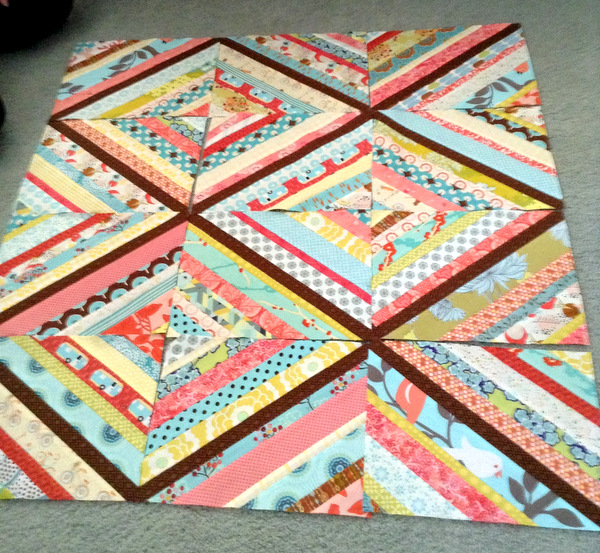 Isn't that a luscious combination of colors and fabrics?
I spent much of June working on my Sewing Machine Dust Cover pattern. Here's a picture of the dust cover I made as a class sample: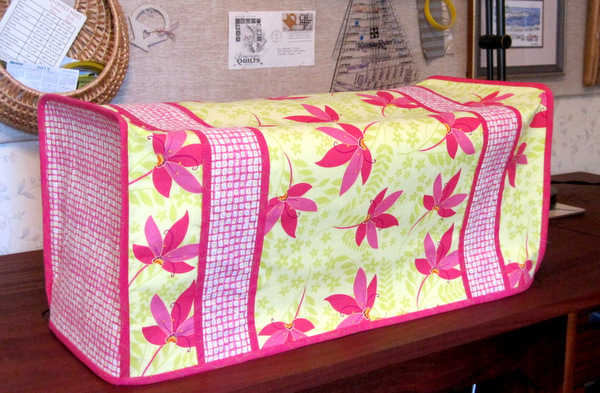 By the way, I'm giving away a custom sewing machine dust cover and some patterns as part of my first Giveaway, which ends this Saturday, July 6. If you'd like a chance to win, just leave a comment at the end of my previous post, telling me what projects you're working on this summer.
Have a safe and happy Fourth of July!