Here it is, my entry in the Spring 2015 Blogger's Quilt Festival hosted by Amy Ellis of Amy's Creative Side: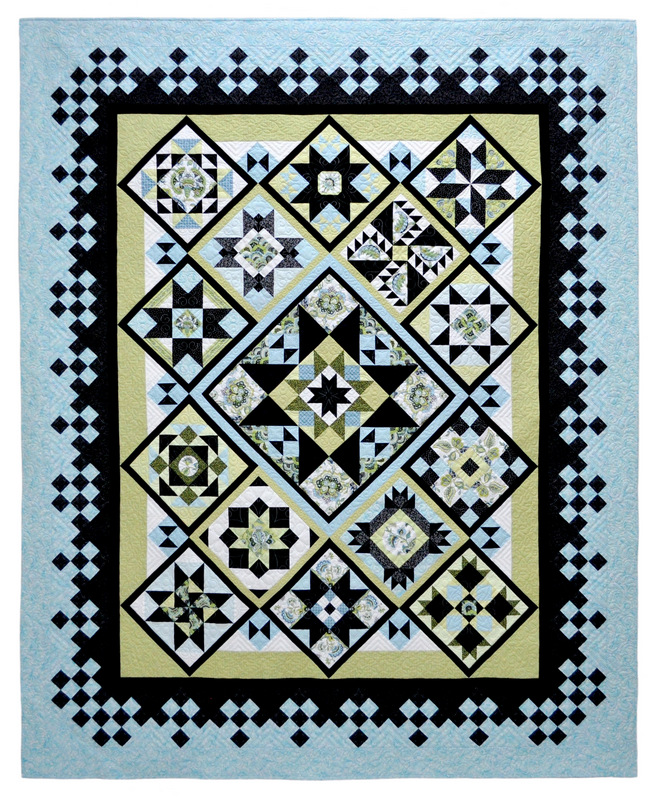 My regular readers know all about this quilt. A year in the making, Catch a Falling Star is based on a design by Terri Krysan called Reach for the Stars that was offered in Quilter's Newsletter over the course of seven issues, beginning with Oct./Nov. 2013 and ending with Oct./Nov. 2014.
Using my own color scheme, which is quite different from the original, I replaced three blocks and made a few changes to some of the other blocks. I also challenged myself to incorporate a fussy cut image into every block and redesigned the border to make it symmetrical.
The Jacobean floral fabric and a few others in the quilt are from the Ainsley line by Northcott Fabrics. The remaining fabrics came from my stash.
Many of my blog posts in 2014 are about the creation of this quilt. If you are interested in seeing how it came together, block by block, simply click on the "reach for the stars sampler quilt" link at the bottom of this post. All of the posts will come up in reverse  chronological order. In particular I hope you will look at some of the close-ups of longarm quilter Loretta Orsborn's beautiful free-motion and digitized quilting designs.
My quilt is entered in the large quilt category. To see some of the other large quilts entered in the festival, check out this link: http://amyscreativeside.com/bloggers-quilt-festival-large-quilts/.
But wait, there's more! There are 10 other categories of quilts in the festival: mini, small, appliqué, art, hand quilted, home machine quilted, original design, ROYGBIV, scrappy, and viewer's choice. Be sure to check them out. And prepare to be inspired!