Remember WanderLust, the king-size bed runner I finished last month? It was based on Heather Mulder Peterson's Spinners block, from her book On the Run Again.  I finally got the bed runner in the mail to my sister Reigh in Idaho, and she has just sent me photos of it in her bedroom.
It looks terrific, don't you think?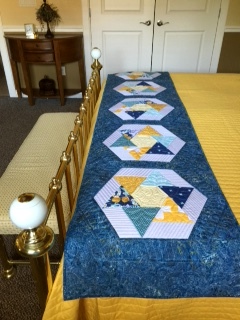 Here's another view, with the diffused light from the shuttered windows setting in relief the beautiful free motion quilting of Coleen Barnhardt: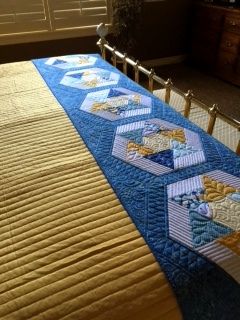 When I initially thought about giving the bed runner to Reigh, I was remembering a slate blue comforter she had from Pottery Barn. I'm guessing the spread pictured here is a new one, selected to match the gold fabrics in the runner.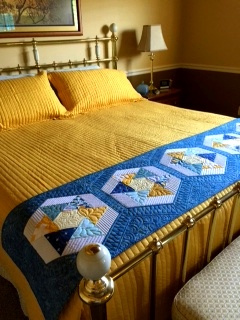 A folded quilt looks nice at the end of a bed but I must say I really like the look of a bed runner. Don't you?