I'm excited to share pictures of four more versions of Reach for the Stars, Terri Krysan's stunning star sampler quilt that was featured in Quilter's Newsletter magazine three years ago. By writing about the construction of Catch a Falling Star, my own version, on this blog throughout 2014 and into 2015, I became acquainted with other Reach for the Stars quiltmakers locally and from as far away as Australia.
We have all become fast friends, bonding over our love of quiltmaking and our fascination with Terri's design (even if some of us decided to modify it a bit, swapping out certain blocks or making changes in the border, for example.)
Candy L. from Colonie, New York, is one of my newer cyberspace quilting friends. She recently finished this beautiful version of Reach for the Stars in blues, yellows, and greens on a crisp white background: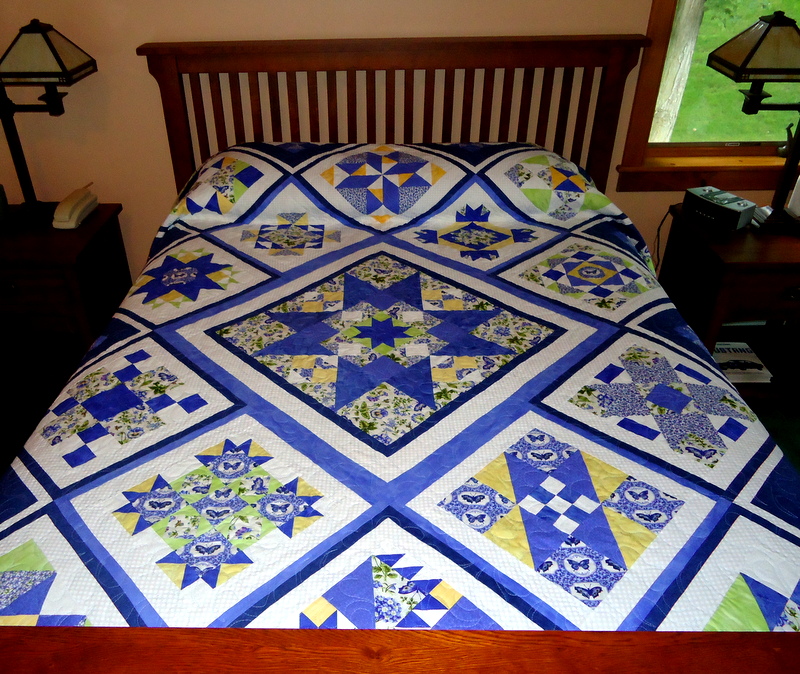 Did you notice the fussy-cut butterflies? If you look closely, you can also see the feather quilting motif in this close-up of the center medallion: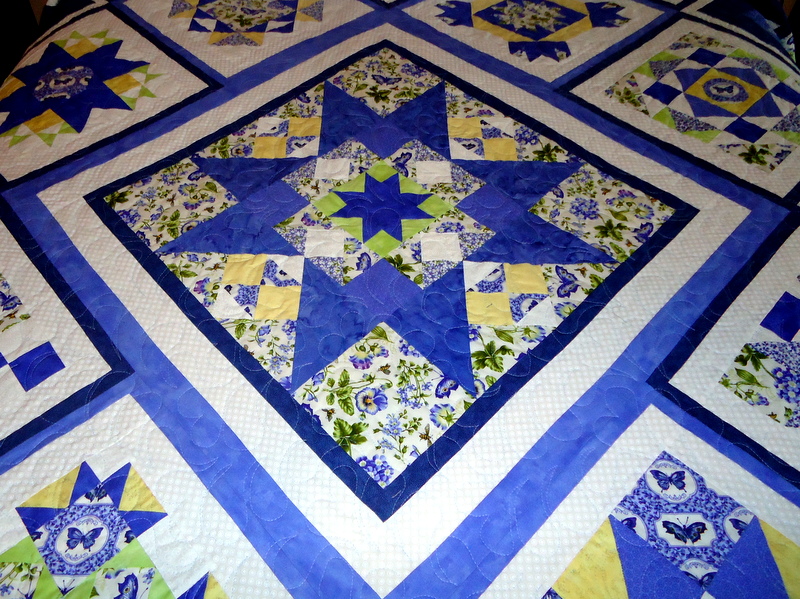 The next three Reach for the Stars (RFTS) quilts were made by quilters I know from teaching at the Pine Needle in Lake Oswego, Oregon. First up: Lana K., who started with a lovely floral print that allowed her to expand her color palette to include a range of colors. Note how just a few touches of pink and gold act as foils against the main blue and green color scheme: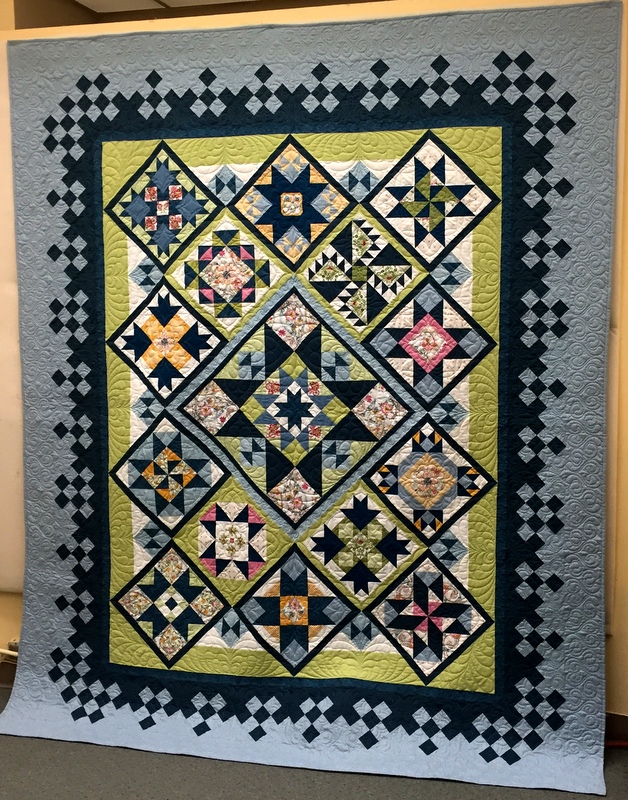 Lana made this quilt as a raffle item for her grandson's school. The winning bid came in at $2,000! I know how much time, effort, and money went into the making of that beautiful quilt. What a generous heart Lana has! If I had made that quilt, it would have been very difficult for me to part with it.
Joie L.'s quilt features a deep purple and forest green color scheme, with pops of fuchsia and lime to liven it up. Joie wanted her quilt to be wider and not quite as long as the original design, so she modified the borders in a clever way to make that happen: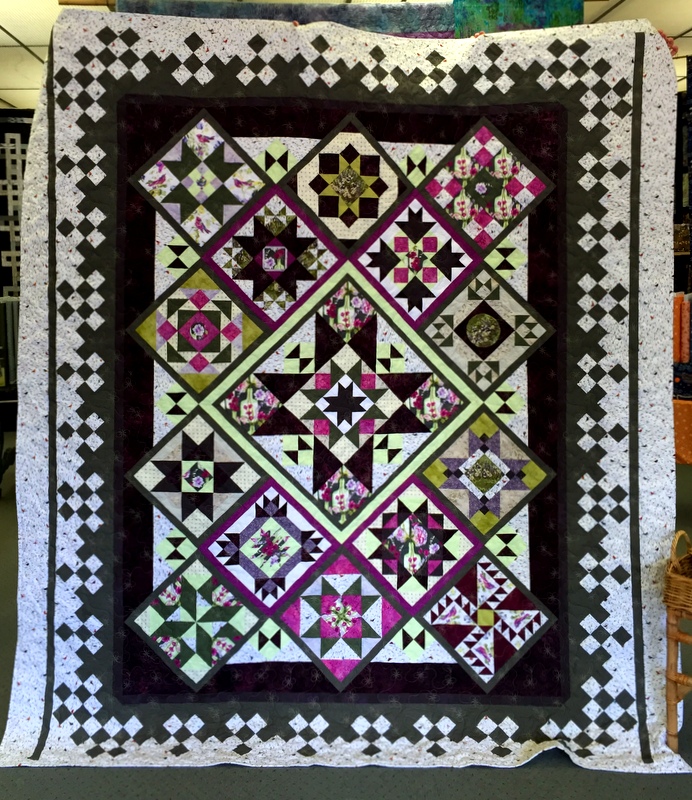 Sharon R. did something unexpected and wonderful with her version of Reach for the Stars: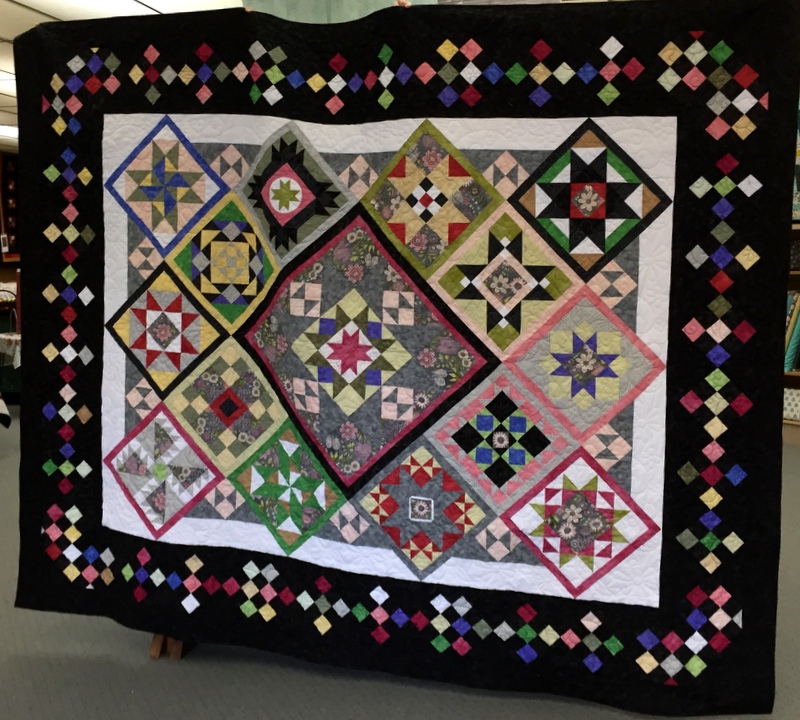 Doesn't her multicolored checkerboard border make you think of harlequins, those colorful characters from Italian commedia dell'arte dressed in checkered costumes? Sharon's border ties all of the colors in the individual blocks together in a bold and innovative way.
I'll continue to publish photos as more of my friends from near and far finish their versions of Reach for the Stars, so please stop by from time to time. If you type in "reach for the stars" in the SEARCH ME box on the right side of my home page, you will be taken to all of my RFTS posts in chronological order.