There's just something about blue and white kitchens. I adore blue and white quilts so it makes perfect sense. The kitchen we just demolished was primarily blue and white. My new kitchen will be the same — but quite different from its predecessor.
This fabric swatch — and the accompanying paint swatch — were my color inspiration: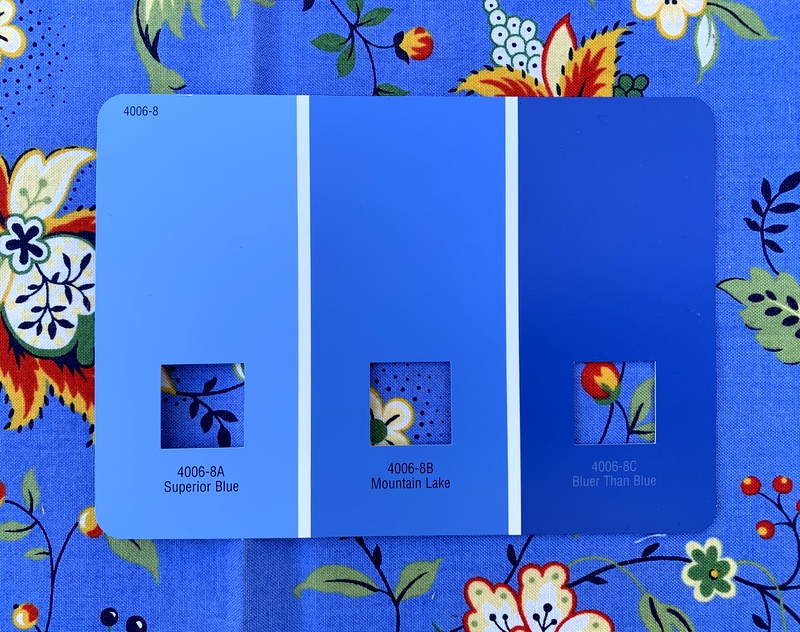 The fabric is from the "Breath of Avignon" line designed for Moda Fabrics some years ago by Sandy Klop of American Jane Patterns. It's been in my stash for years. I've even used some of it: for an apron and a Quiltmaking 101 class sample. Happily, I have lots of this fabric left because I want to make a big quilt out of it someday.
And I may want to use some of it for tailored window valances in the new kitchen. That's why I looked for shades of blue paint that matched the fabric. After some searching I found the perfect shade. The blue on the far right ("Bluer than Blue" by Valspar) will play a prominent role in the new kitchen. Walls? Nope. The lower cabinets will be painted this medium dark blue (actually a bit darker than it looks in the photo above), with white upper cabinets.
Clean and crisp. Can you picture it?