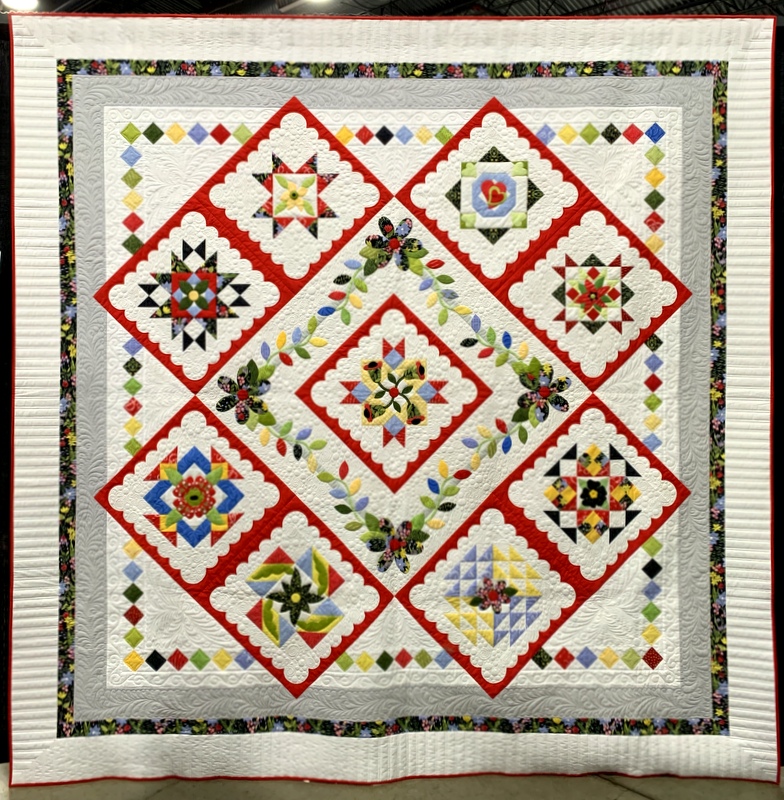 Give Me the Simple Life, my version of Hazel's Diary Quilt, is home again after hanging for three days at last week's Northwest Quilting Expo. I entered my quilt for judging in the traditional category and received the judges' comments when I picked my quilt up this morning.
Here's what the judges said:
"A very compelling combination of a primary color palette. Presentation inside scalloped sashings is so appealing and beautifully executed." Credit is due Shelly Pagliai of Prairie Moon Quilts, who designed Hazel's Diary Quilt and cheered me on every step of the way as I posted my progress on Instagram and on this blog.
"Hand appliqué stitch is very well done." This comment means a lot to me because I took on the challenge of making this quilt to become proficient at needleturn appliqué.
"Machine piecing is precisely done." Thank you, judges.
"Quilting motifs are well chosen to fill the spaces." Kudos to Kazumi Peterson, whose free motion quilting skills and precise ruler work greatly enhanced the finished product.
"Outside edge of quilt should be straight and corners square." This comment caught me by surprise. Were the corners really not square? I used a square ruler to trim my quilt before attaching the binding.  Of course I got out that ruler and checked the corners. The first three were perfectly square. But guess what? The fourth corner was an eighth of an inch off!
I know there are many other imperfections in this quilt but all in all, I am very happy with how it turned out. Most of all, I am glad that it's done!!