Back in November of last year – my gosh, where does the time go? – I received an email from a woman in Canada named Tammy asking if I could help her track down a dahlia quilt pattern. She included photos of a quilt that her mother-in-law, then 89, had given her in the 1990s. Tammy's mother-in-law thought she might have received the quilt as a wedding gift when she got married in 1952 and that her husband's sisters might have made it.
Here's a photo of a block with sashing strips and cornerstones: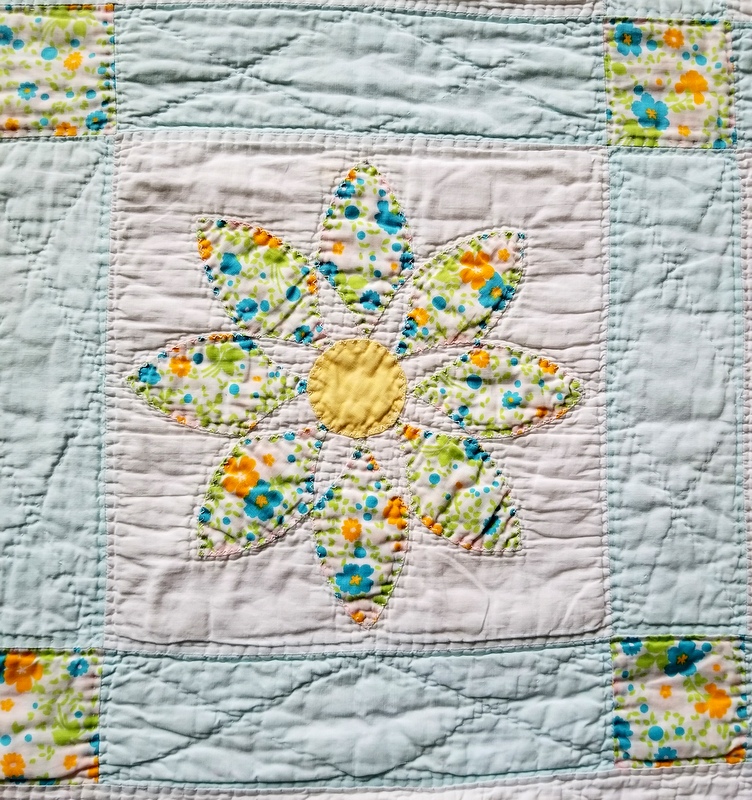 The block measures 10½" square and the dahlia blossom measures 9½" from tip to tip. You can see that the appliqué pieces were turned under and zigzagged in place by machine. Here's a detail of the appliqué: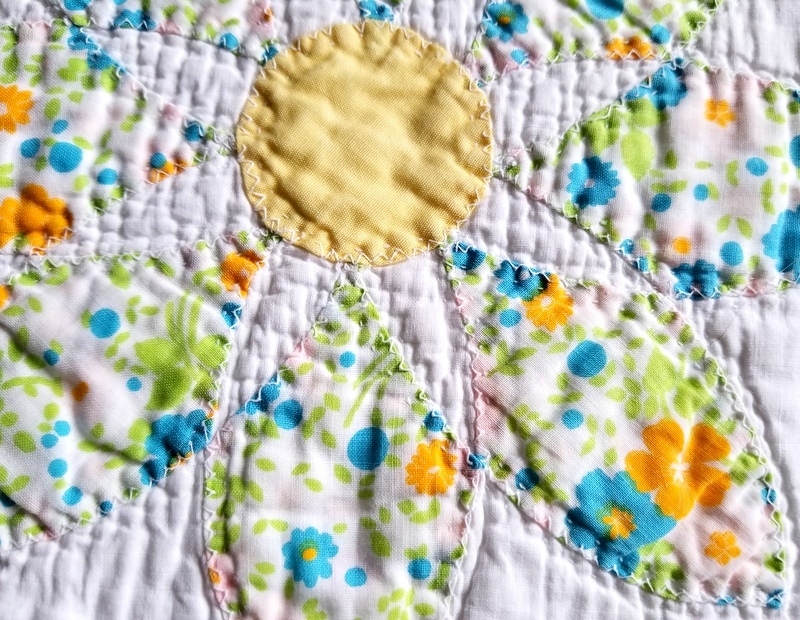 Tammy searched the Internet and Pinterest as well as several quilting websites and blogs but could not find the exact pattern. She did find somewhat similar blocks like the Friendship Dahlia and the Star Dahlia but no block in which the white "star" formed between each of the printed fabric petals is the background of the block rather than actual pieces appliquéd in place.
She reached out to me because she had seen my posts on a mystery quilt my husband's niece inherited. It turned out to be a Star Dahlia quilt but Tammy thought I might have come across her version during my quest. Tammy is not a quilter herself but her birth mother is and would love to make a quilt using this block. That was a great incentive to help.
If I couldn't find the exact block, I thought, perhaps I could create it. Having embarked in early 2018 on a huge needleturn appliqué project – Hazel's Diary Quilt – I thought it would be fun and useful to reproduce Tammy's mystery block while practicing my needleturn skills. "This is just the kind of challenge I love!" I told her.
I too searched online but could not find a block exactly like the one in Tammy's quilt. I did find a couple of dahlia blocks that seemed to match the outline of what I was already thinking of as "Tammy's Dahlia." The Friendship Dahlia Diagram on FieldGuidetoQuilts.com was a good start: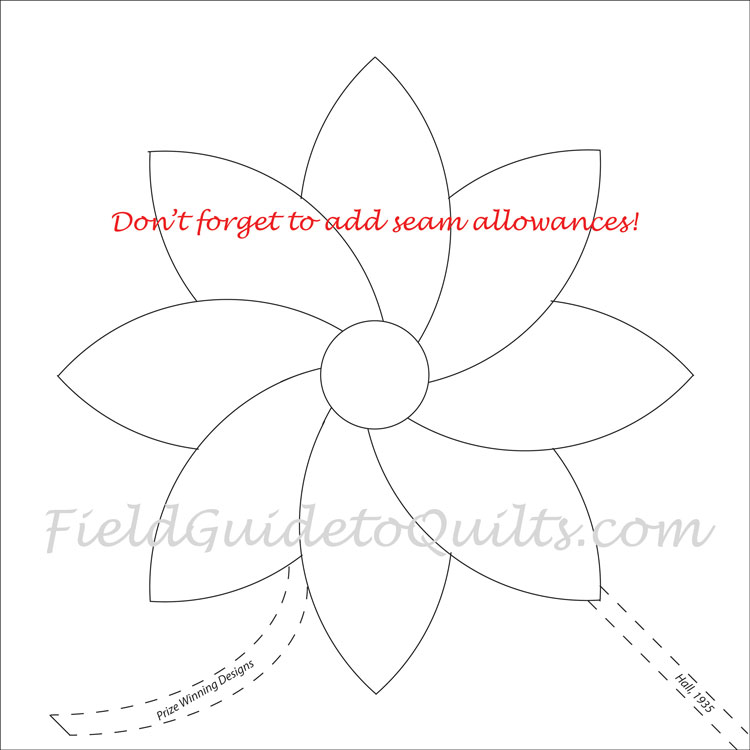 I also found a lovely version on Barb's Block and Border blog of a Friendship Dahlia quilt made by her mother in the 1950s using a pattern in Aunt Martha's Favorite Quilts: 17 Quilt Patterns Pieced and Appliqued, first published in 1935.
In both versions I could see that if the lines of the petals were continued to the center circle, the block would look very much like Tammy's Dahlia. Using the software program EQ7 (in which I am not very proficient), I attempted to draw the design . . .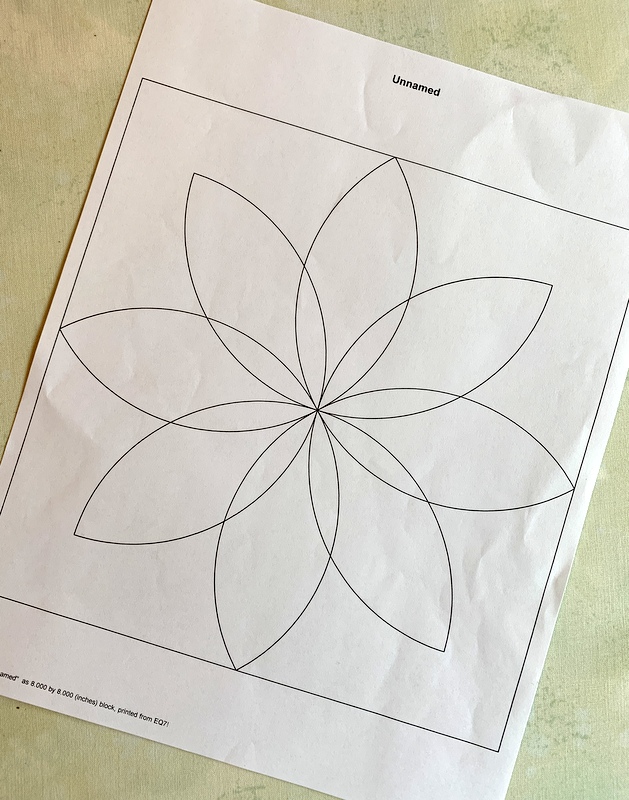 . . . and then created a mock-up using "fabric" made of paper. What I mean is that I photocopied a piece of fabric (in this case a print from Fig Tree that I've been hoarding), cut out the shapes, and glued them onto freezer paper: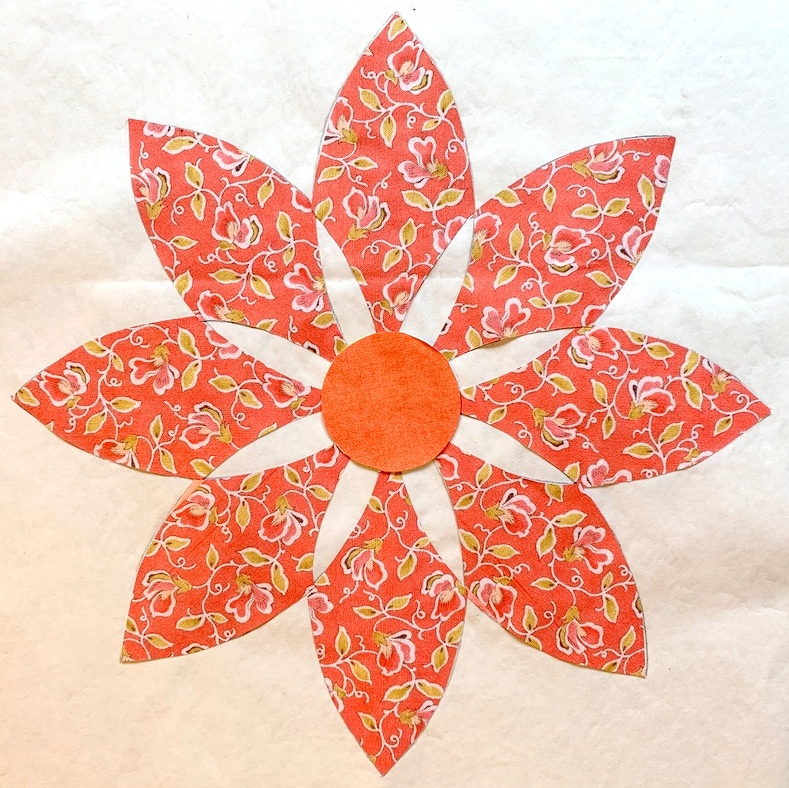 Right away I could see that the white star shapes were too narrow compared to Tammy's version. Every few weeks I would head back to the computer and play around with the software. Here are just two more of numerous versions I worked on: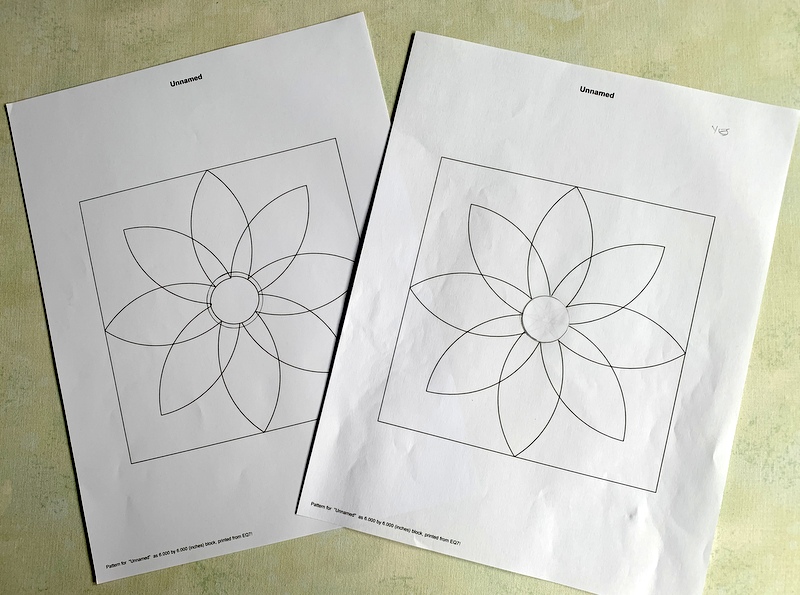 And here is my first test block made using actual fabric: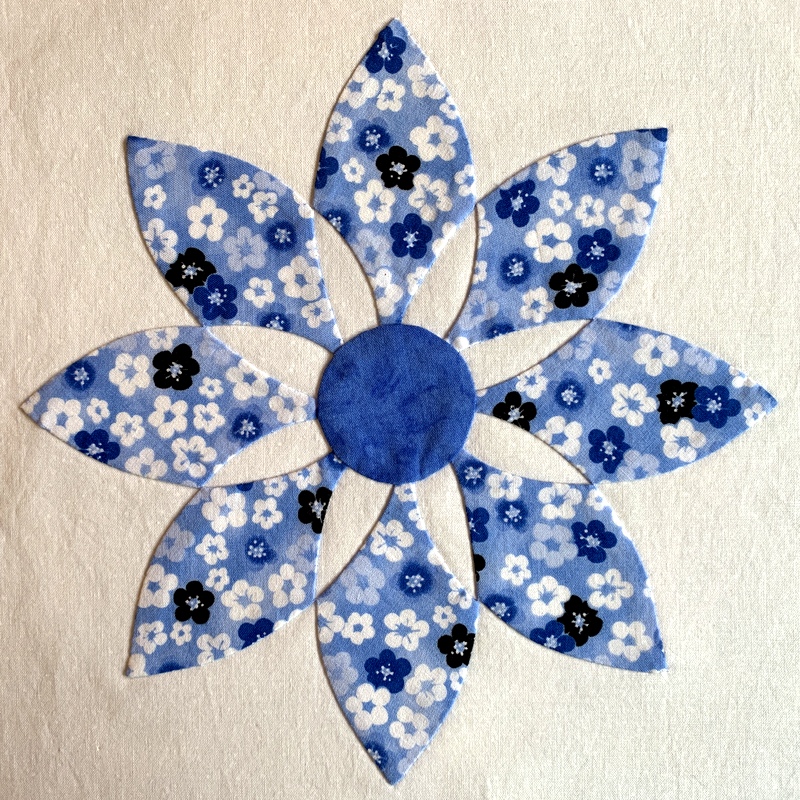 This block measures 9½" from tip to tip so it's the same size as the one in Tammy's quilt, sized for a quilt block that finishes at 10½" square.
My second test block measures 11″ from tip to tip, sized for a 12″ finished block: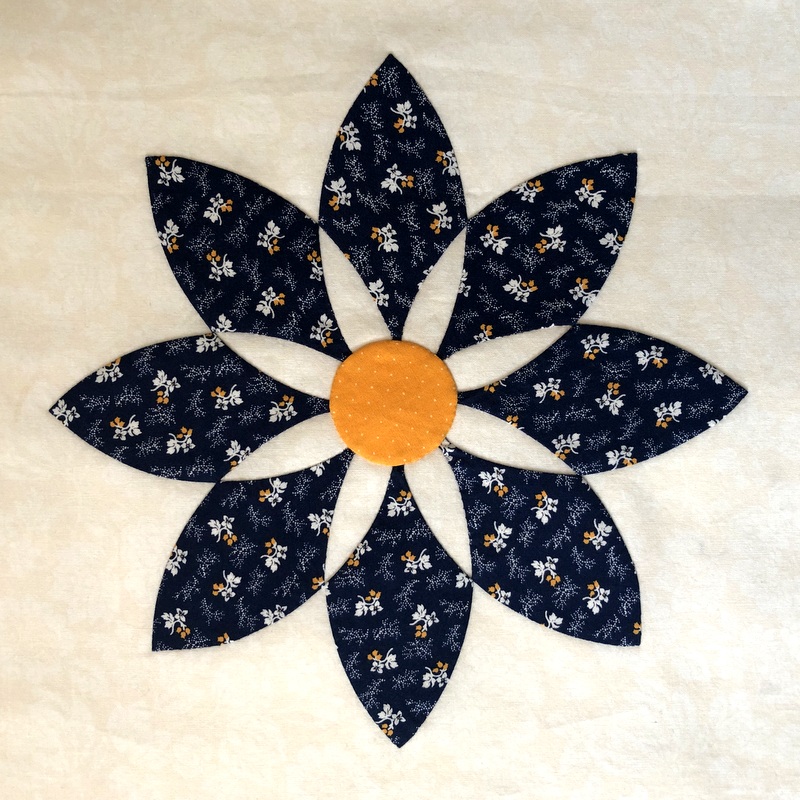 Both blocks turned out reasonably well but I wasn't satisfied. I wanted the inside tip of the petal to come to a point like some of the ones in Tammy's quilt. It's tricky because the curves of the inner point are convex rather than concave. Just a couple days ago I made a test petal — and nailed it!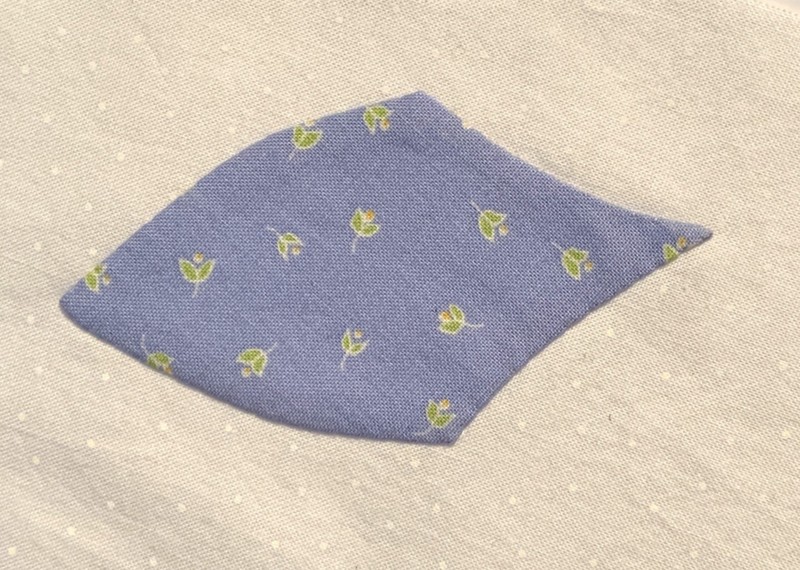 I sure couldn't have done that a few months ago.
Tammy has been wonderfully patient while I worked on this project in fits and starts. Now that Hazel's Diary Quilt is off being quilted, I am at last free to turn my attention back to Tammy's Dahlia and, with the help of a graphic artist, finish this project in the next few weeks. I am so looking forward to the day when I can forward the pattern to Tammy and she in turn can give it to her birth mother.
I'll be sure to show you the final product. If there is interest, I will post the pattern on my website as a free download.