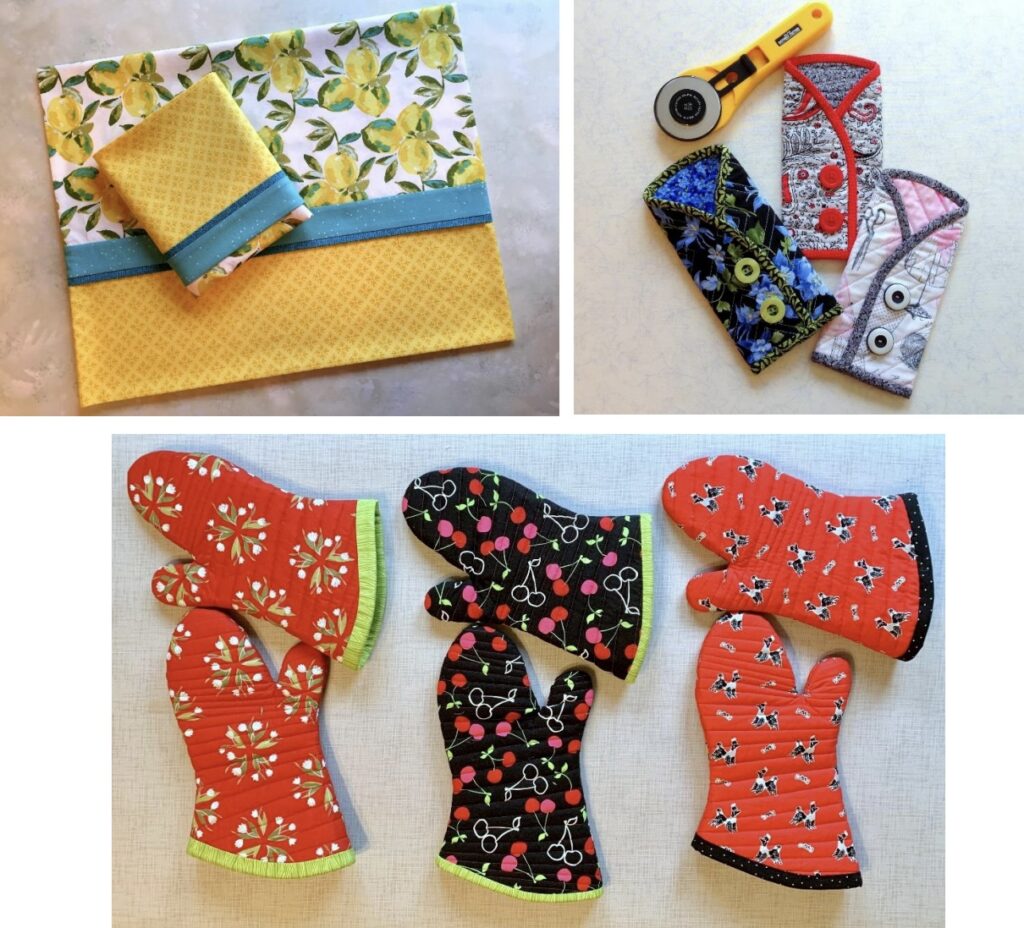 Tomorrow is a big day for First Light Designs. Ten years ago — on May 2, 2012 — my very first blog post was published. (You can read it here.) What better way to celebrate my 10th blogging anniversary than by having a giveaway?
I'm going to pick three winners at random and offer each winner her (or his) choice of three prizes:  a rotary cutter coat, a pair of standard or king pillowcases, or a pair of oven mitts — all made to order by moi. Examples are shown above but they are not the giveaway items. I'll find out fabric preferences and give each winner a choice of combinations curated from my (ahem) rather extensive stash.
To be entered in the giveaway, all you have to do is write a comment at the bottom of this post responding to the question, "What is your favorite color combo?" No need for you to subscribe to my blog or follow me on Instagram (though I would be delighted if you chose to do either. To subscribe, enter your email address above the SUBSCRIBE button on the top right side of the First Light Designs home page. To find me on Instagram, click here.)
One entry per person. I will mail anywhere in the world so international readers are welcome to enter.
Family members are invited to leave comments but are not eligible to win.
The giveaway will remain open through Wednesday, May 11. On Thursday, May 12, I'll use a random number generator to pick three winners who will be notified via email.
Good luck, everyone! And thank you for keeping me on my blogging toes for the last 10 years. Seven hundred posts later, I'm still going strong.
P.S. If you are not one of the lucky winners, you can make your own version of these items. All are available as free tutorials on my website:
8. Perfect Pillowcases (Oct. 23, 2013)
11. Rotary Cutter Coat (Oct. 10, 2014)
21, Oven Mitts that Fit: Prequel to the Tutorial (April 13, 2021)
21, Oven Mitt Tutorial from First Light Designs, Part 1 (April 18, 2021)
21, Oven Mitt Tutorial from First Light Designs, Part 2 (April 19, 2021)