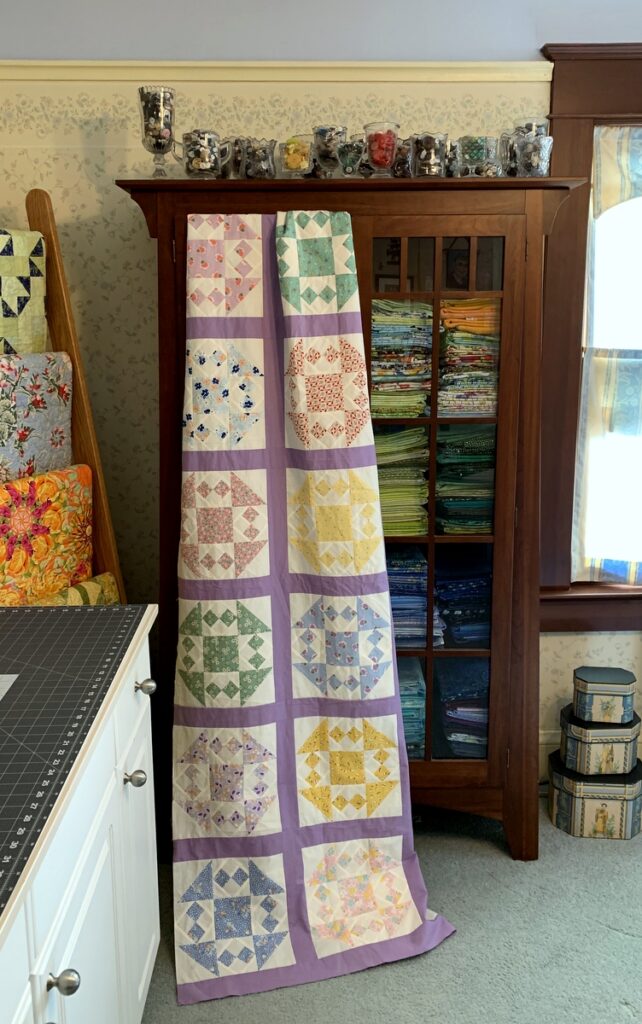 In my post the other day about this quilt top (by an unknown maker) that I bought recently at my guild's annual auction, I lamented that I would never be able to match the solid lavender sashing fabric that was missing from the sides of the quilt top. I was wrong but you'll never guess the reason why.
The same day that I posted the photo of the quilt top and explained how I acquired it, I heard from the quiltmaker herself — and it turned out to be Vivienne Moore, who also happens to be a good friend of mine! Vivienne follows my blog and immediately recognized the quilt top. It turns out that she is also good friends with two of my Metropolitan Patchwork Society guildmates who organized the auction. Viv was cleaning out her sewing room earlier this year so she donated a few bags of fabric and tops for the auction. She lives 50 miles away so I would never have predicted she would be the maker.
But wait, there's more. Vivienne was pretty sure she had a piece of that lavender sashing fabric in her stash. And she did! Yesterday's mail brought a remnant of the fabric large enough to cut sashing strips for the sides. A perfect match, of course. I'll have to work around a few fade lines to piece the sashing strips but that's easily done.
Vivienne told me she made the quilt top over 20 years ago. She remembers that the lavender fabric was from a line of solids produced about 30 years ago by one of the manufacturers of 1930s reproduction fabrics.  The solids were pink, green, yellow, blue and lavender, and were supposed to be authentic to the time period.
Viv isn't sure why she didn't finish the quilt but thinks it may be that her interest in pastels and '30s reproduction fabrics had waned by the time she neared the end of piecing it. In addition, she was doing all of her quilting by hand at that point and probably didn't want to invest the time to finish the quilt in that manner.
"I still can't quite believe that this quilt ended up in your hands," she told me, "but I'm so happy it did!"
There's yet another coincidence. The photo I posted the other day was taken in my living room and in the background you can see a small quilt draped over the chair: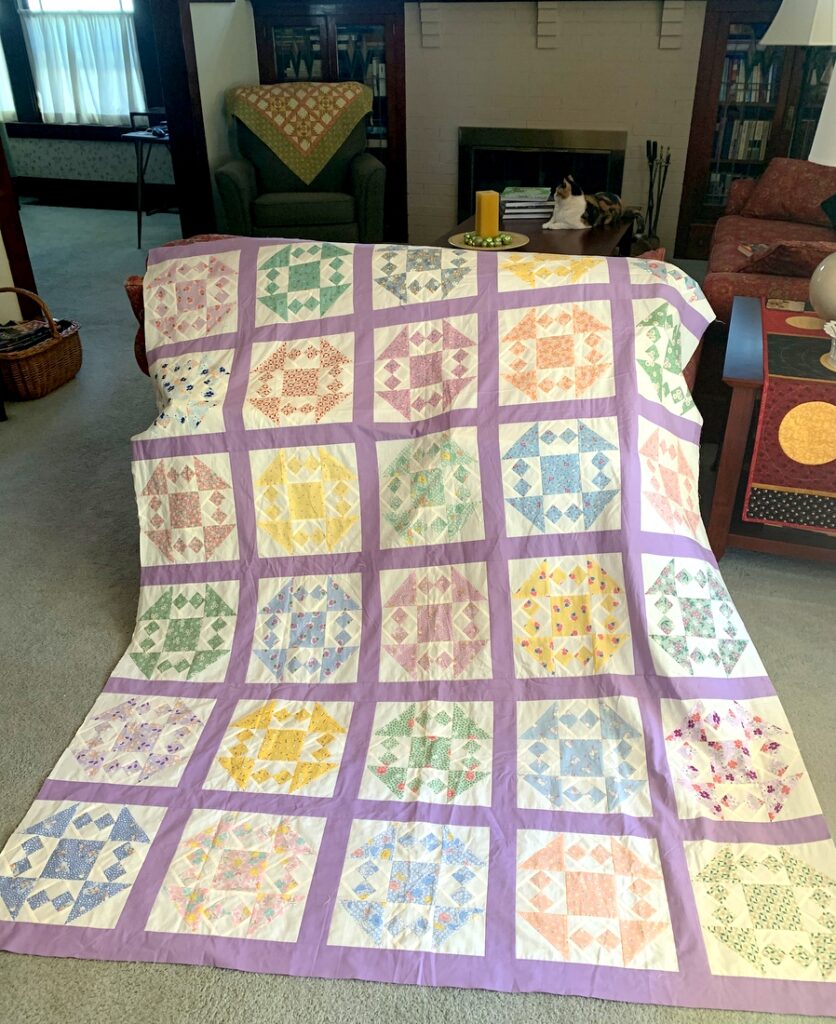 That too was made by Vivienne Moore! It's a miniature Feathered Star measuring 33″ square. Vivienne gave it to me as a gift in 2011. At the time we were both in the same small quilt group, the Quisters (short for Quilt Sisters). It was our group's custom to give each other birthday gifts, usually something quilty or crafty that we had made. I had no idea I was taking a photo last week of two quilts made by the same person.
Here's a close-up of the Feathered Star quilt, showcasing more of Vivienne's exquisite work: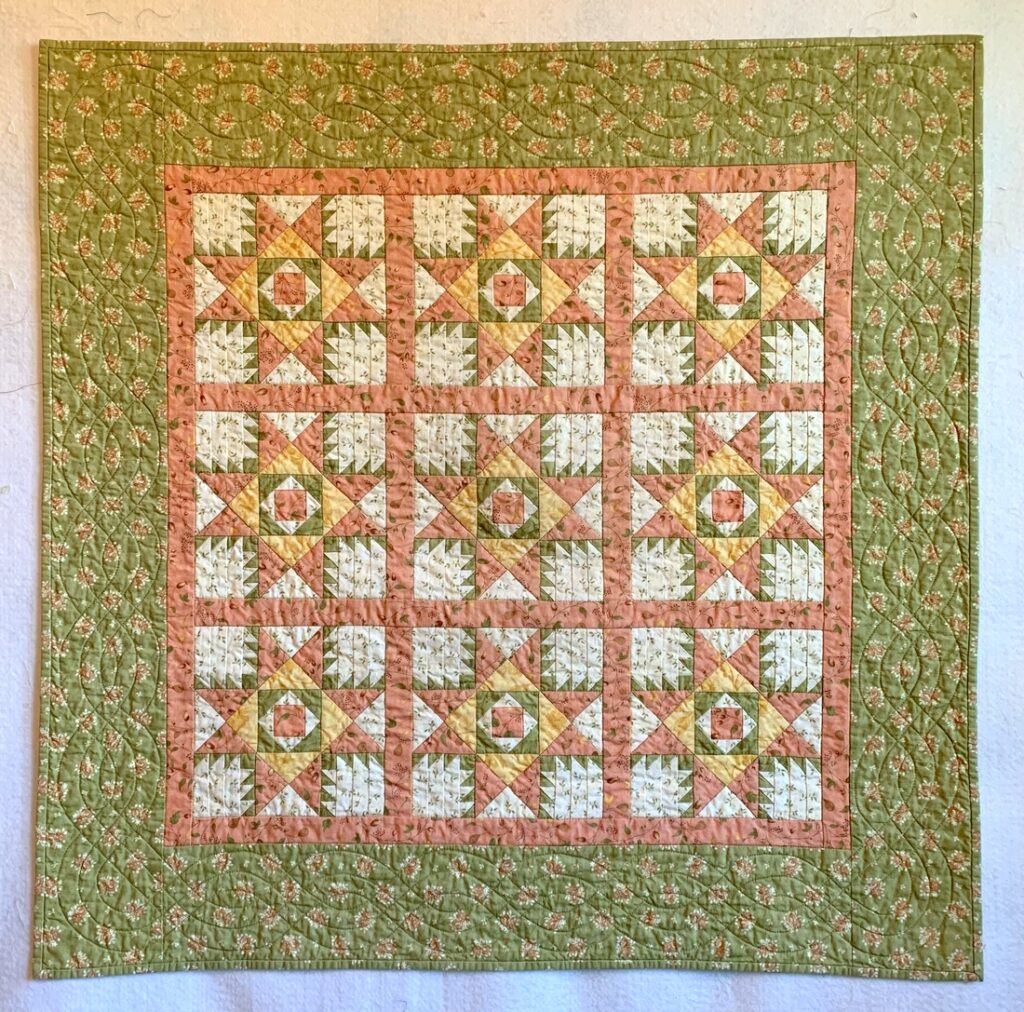 Each star block is only 6½" square. And those little green feathers? A mere one-half inch each.
As far as the auction quilt goes, the search is on to find a suitable '30s reproduction print for an outer border so I can finish the top and get it quilted. With a wide border added to the quilt, it will easily fit a double or queen-size bed.
It tickles me to know that when this quilt is complete, my friend's name will be on the label along with mine.