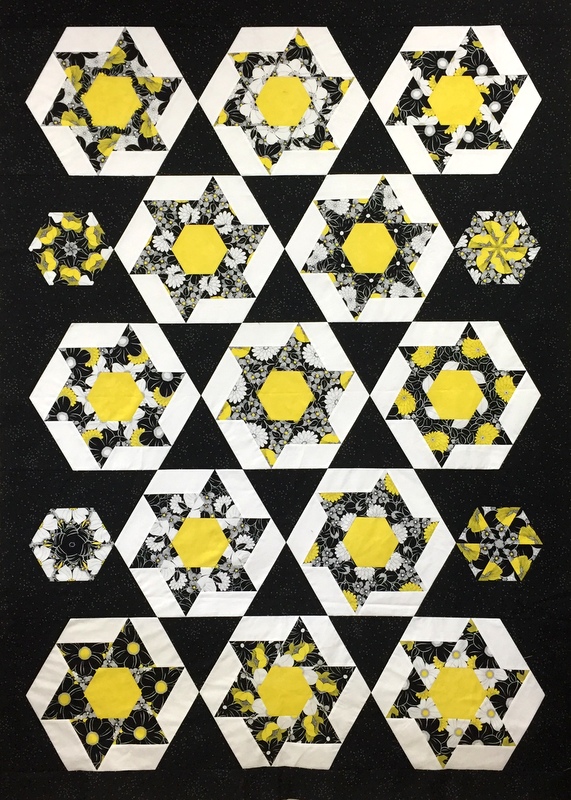 Regular readers will recognize the block — it's Heather Peterson's Spinners block from her book On the Run Again (Anka's Treasures, 2014). I've gotten a lot of mileage out of this block. In the last few months it's shown up in a wall hanging/table runner, a king size bed runner, and one side of a Junior Billie Bag. I even taught Spinners at a quilt retreat in June.
Heather's original design calls for six different fabrics in the triangles surrounding the center hexagon. I used six identical triangles in each Spinners block to get a kaleidoscope effect of sorts, coming up with the name "kaleido-spinner" to describe the effect.
You probably noticed something different in the quilt top pictured above: the four small kaleidoscope blocks in the second and fourth rows. I was originally going to put half-kaleido-spinner blocks there. But then I was perusing Heather's blog, Trends and Traditions, several days ago and saw something very clever she had done.
Heather has a brand new booklet, Starstruck, coming out that features chevron fabrics in hexagon blocks; when sewn together in hexagons made of six 60° triangles, the chevron fabrics form stars. Some of the quilts featured in Heather's book have half-size hexagons in the places where half-blocks would normally go. When I saw those quilts, I knew the concept would work very well in my quilt. So thank you, Heather, for your wonderful block design as well as the inspiration for the setting of this quilt!
Making the half-size kaleidoscope blocks fit properly turned out to be quite a challenge. The full-size kaleido-spinner blocks in my quilt finish at 15½" x 13½". That means the half-size kaleidoscope blocks finish at 7¾" x 6¾" . On top of that, I opted to finish all of the setting triangles on the sides of the blocks with Y-seams to extend the width. I added 3″ strips at the top and bottom to float the blocks the same amount. The quilt top now measures about 53″ x 73″.
I hope you can tell from the photo that the black background isn't a solid. It's a tiny random white-on-black dot by Cotton + Steel called "Sprinkle" that reinforces the feeling that those kaleido blocks are spinning in a night sky. (Hmmm. Perhaps there's a quilt name in that image. I'll have to work on that.)
Now, a confession. I didn't notice until I was cropping the photo above that I had reversed the two large blocks in the fourth row. I can't believe I didn't see that when I was sewing the rows together. Am I going to fix it? Yes, I am. I worked very hard when laying out the blocks to achieve a good balance of color and value. It feels "off" to me now. My obsessive-compulsive self will be much happier when that change has been made.
There's one more thing I need to do to this quilt top before I can declare it truly done. That will be the subject of my next post.
P.S. Heather Peterson did not ask me to promote her new book. I just felt it was important to acknowledge her designs (block and setting) in the creation of my latest quilt top.