Winterwood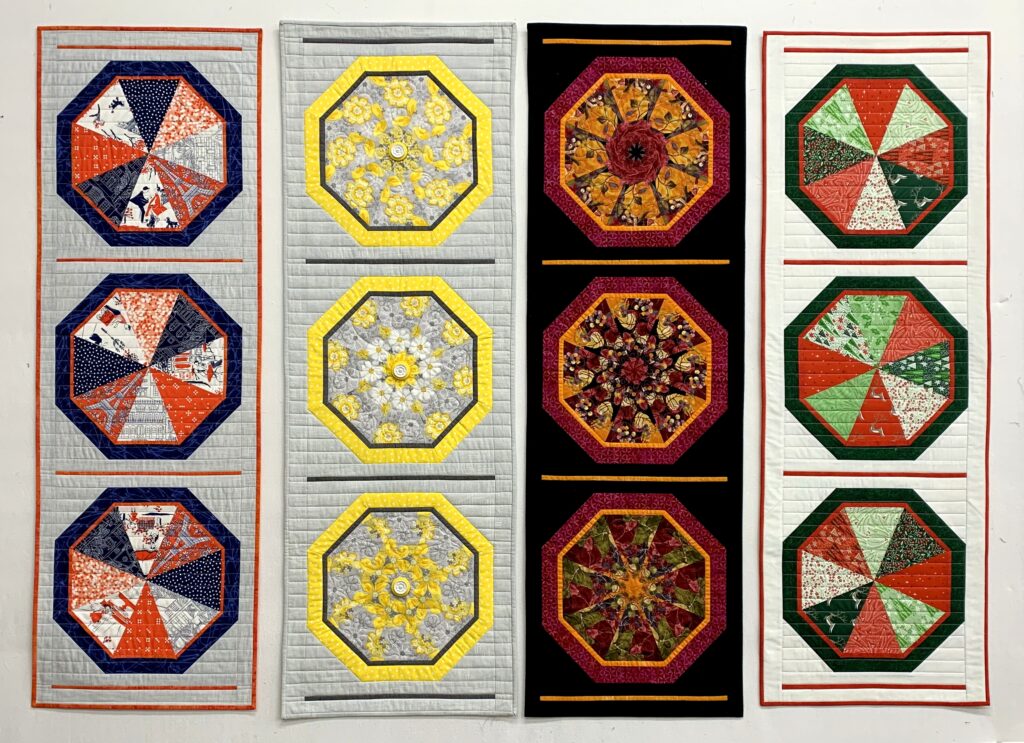 At last! I've completed the fourth and final table runner/wall hanging in my seasonal kaleidoscope series based on my pattern Season to Taste. Winterwood is the one on the far right representing — predictably — winter. You should be able to tell that the first three represent spring, summer, and fall. Each quilt measures about 18″ x 55″.
The fabrics in my winter version are evocative of the holidays without being overtly Christmas-y. That said, I plan to make a second winter version that has no red and green in it at all. For details and close-ups of all four versions, as well as a confession as to which is my favorite, click here.
Hip Hop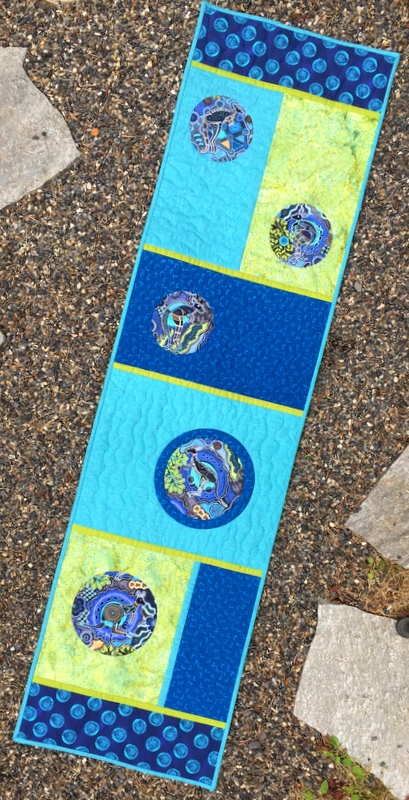 This table runner/wall hanging was made using my own Full Moon Rising pattern. If you look carefully, you'll see a kangaroo in each circle — and you'll understand the name.
The fourth circle from the top has an extra ring around it because the kangaroo wasn't quite big enough to fill the space.
I quilted this myself with a combination of free-motion quilting in the blocks with circles and straight line quilting in the end pieces. It measures 16″ x 59″.
For a closer look at the kangaroos and the other fabrics I used, check out my first post dated Feb. 1, 2018 and this one dated April 19 describing the quilting.
Mini Mod Tiles Table Runner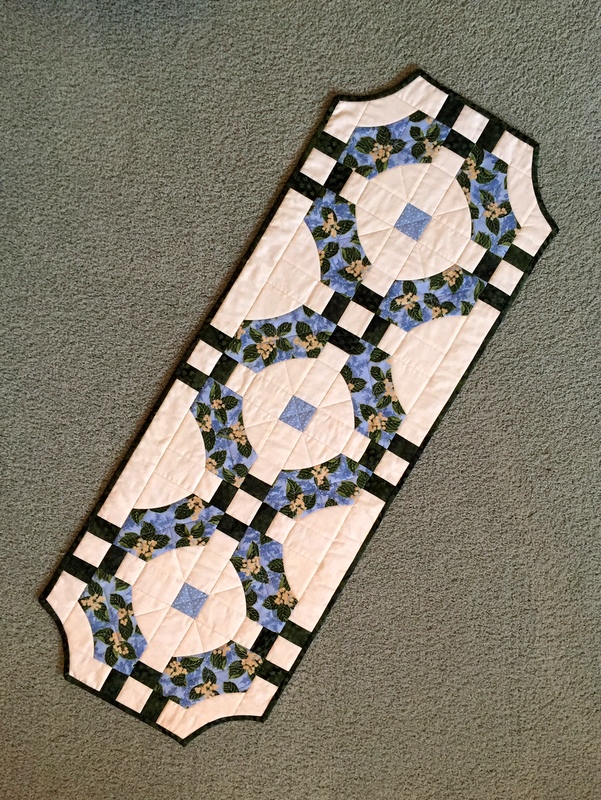 Using the free Mini Mod Tiles pattern from Sew Kind of Wonderful, I made this wintry table runner, cutting the outer corners to match the interior curves. Binding the runner in the high contrast dark green batik really highlights the curves. It measures 13″ x 38½". This post gives the background on the making of the runner, begun at a quilt retreat in June and completed in November 2017.
WanderLust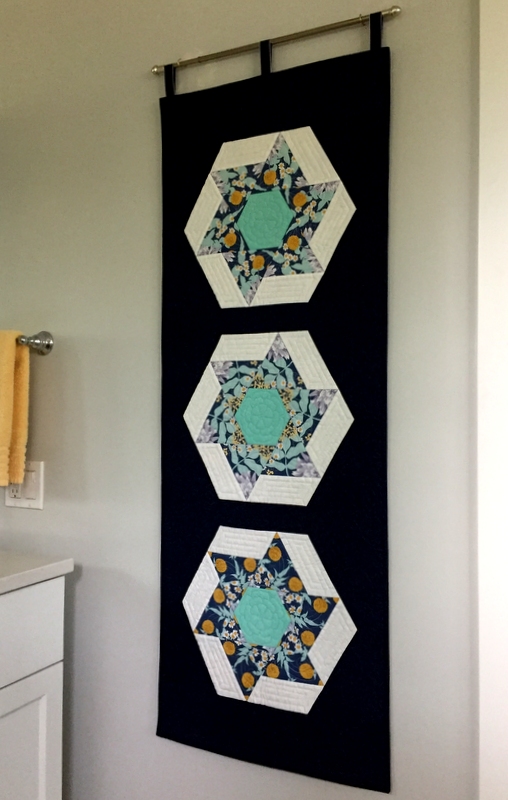 This wall hanging is one of three projects I made in 2016 incorporating the block design Spinners by Heather Peterson of Anka's Treasures. The floral fabric repeats in the spinning blocks are from the Joel Dewberry line of fabric named Wander, hence the name.
WanderLust finishes at 20″ x 53″ (not counting the grosgrain ribbon ties). This is the second quilt named  WanderLust that I made this year. The first version, incorporating other fabrics in the triangles along with the floral, is a king-size bed runner pictured in the Quilts section of my Gallery.
This one was beautifully quilted by Debbie Scroggy of All Quilted LLC, using a combination of digitized and free motion quilting motifs. You can see close-ups of her quilting (and also see the king-size bed runner mentioned above) here.
Diane's Table Runner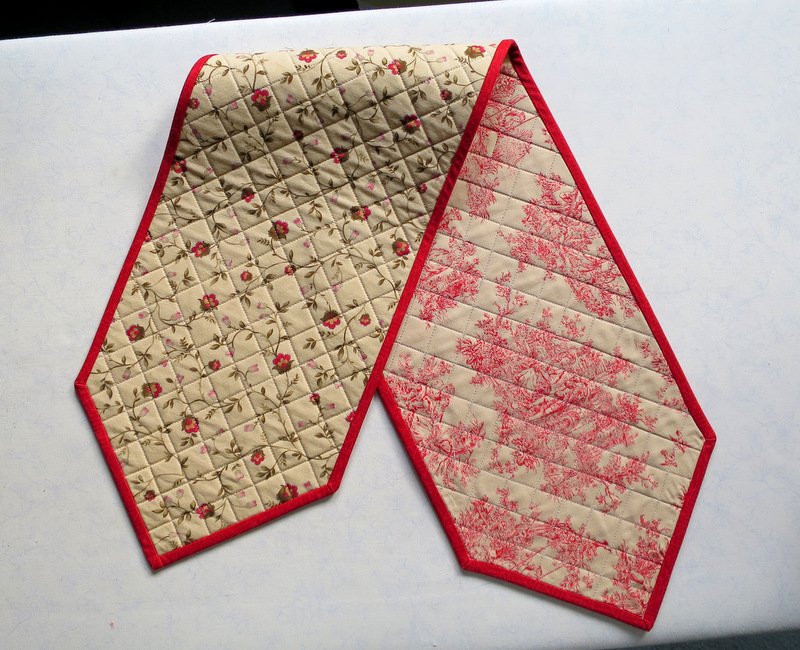 This 9″ x 41″ reversible runner was made to cover a "seam" created when two small chests were placed back to back to make a larger unit. Here is the runner in situ in my sister's living room in Atlanta: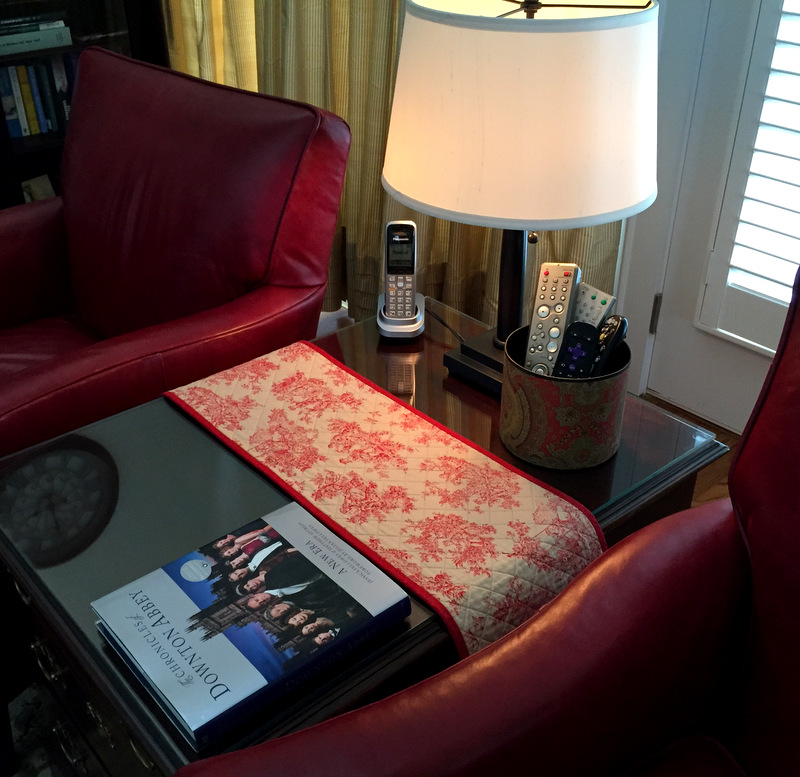 To read the full story, click on this link.
Sun Flowers
Sun Flowers, a wall hanging based on my Season to Taste pattern, is #10 in my series of kaleidoscope quilts. It's also the third of four quilts I'm making to reflect the seasons of the year.

Sun Flowers (18½" x 55½") represents summer. The spring and fall versions are pictured directly below.
Under Paris Skies and Autumn Reflections


Same (original) design, two completely different looks. Under Paris Skies and Autumn Reflections illustrate my continuing fascination with the kaleidoscope block.
Directions for both versions (measuring about 18″ x 55″) are now available in my pattern, Season to Taste, available at the Pine Needle Quilt Shop. They represent #8 and #9 in my series of kaleidoscope quilts.
Full Circle

I call this wall hanging Full Circle because every single fabric – even the strips and binding – has circles in it. I didn't pick up on that until I was casting about for a name.
The pattern is Full Moon Rising, my first pattern, with a few minor changes. Most of the fabrics are from the Neutral Territory Line by Donna Becher for P&B Textiles.
• 16″ x 57″
• 2013
Mogambo Moons

Mogambo Moons is based on my Full Moon Rising II pattern. Although the pattern calls for different fabrics in the background blocks, I used the same Marcia Derse print for all of the blocks in this version. The moons are made of a gradated cotton sateen that travels from a pale yellow to a deep orange.
Instead of inserting set-in circles for my moons, I appliquéd them to the top after the blocks were joined together. The moons are finished-edge applique circles, backed with fusible interfacing.
• 16½" x 62″
• 2012
• Pattern: Full Moon Rising II
Into the Woods

This little quilt is based on Urban Tiles, designed by Jenny Pedigo of Sew Kind of Wonderful.  I left off the outer pieces of the block so that my quilt would be curved on the outside edges, and then I bound it in a dark fabric to really set off those curves.
• 17½" x 51″
• 2012
Purple Haze

The moons are made of dupioni silk.
• 16½" x 59″
• 2010
• Pattern: Full Moon Rising II
 Prairie Moons

After making Full Moon Rising first in batiks, I wanted to try it in fabrics that would give it an entirely different look. I chose small prints in deep red, gold, and black. The gold of the moons reminds me of waving wheat.  Although I think of the American West when I look at this quilt, some people have told me it looks Asian.
• 16″ x 57″
• 2010
 Full Moon Rising II

I love angles. Many of my quilts are set on point or feature strong diagonal lines. Full Moon Rising II, my second pattern, is a riff on the first (Full Moon Rising), using the same basic idea but replacing all of the squares and rectangles with angled blocks.
• 16½" x 60″
• 2010
 Full Moon Rising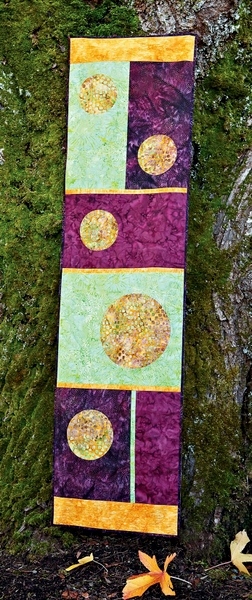 Is it a wall hanging? A table runner? A skinny quilt? Whatever you choose to call it, it's the piece that launched First Light Designs. I wanted to design something using a technique I had learned for making set-in circles without having to sew concave and convex seams.
I've been told the concept has been around since the turn of this century, if not earlier, but Dale Fleming's 2004 book Pieced Curves So Simple (C&T Publishing) is the earliest one I have found describing this method, which involves sewing around a freezer paper pattern. Although my method differs from Dale's in a few ways, I never would have thought of it myself, and I thank her, for Full Moon Rising has proved to be my best-selling pattern to date.
I also thank Geri Grasvik for encouraging me to publish a pattern of Full Moon Rising and bringing me into the cadre of teachers at her quilt shop, the Pine Needle, in Lake Oswego, Oregon.
• 16″ x 57″
• 2010