I was dazzled last week by the subway tile wainscoting and shower tile. The tilework is even more beautiful now that the grouting has been added. Take a look: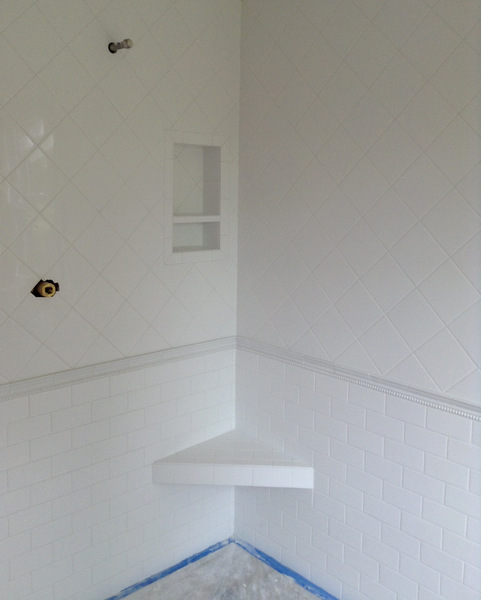 Here's a close-up of the product niche: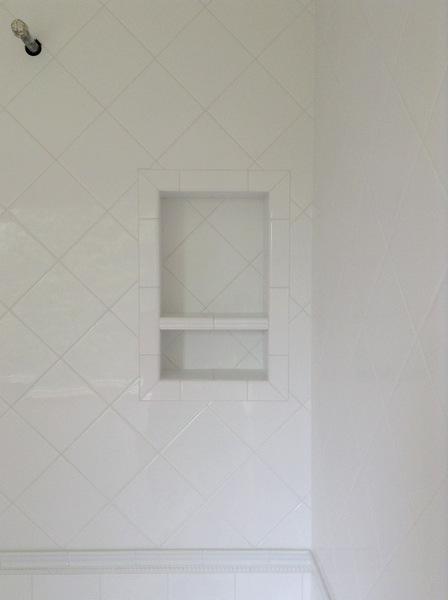 The photo above really shows off the skill of Erik, the "tile guy," in particular the way he aligned the tile at the back of the niche with the tile on the outer wall.
Here's a shot of the tile wainscoting: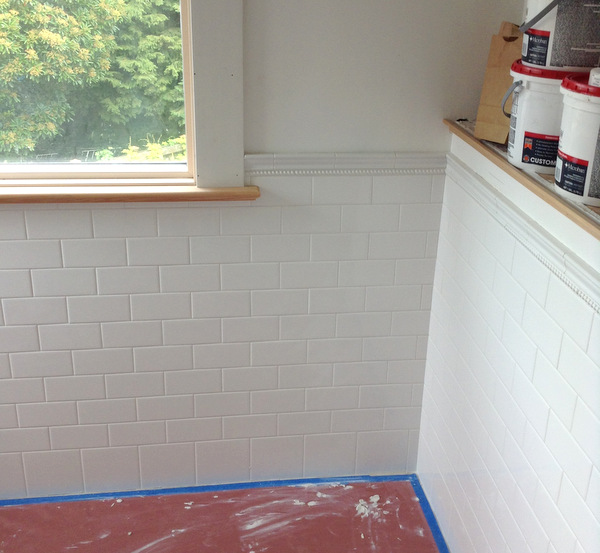 In this photo you can see the "droplet" trim above the top row of subway tile. I was going for a classic look that will stand the test of time.
Erik actually grouted the floor tiles first but I neglected to take a photo when it was done. The next morning he covered every inch of the floor with paper to protect it while he grouted the walls, so I don't have a photo to show you how wonderful it looks. All in good time.
Next came the painters, who covered all of the tilework as well as the windows and every other surface that is not going to be painted. An enormous amount of time goes into preparation for painting, and it looks like it will be midweek before all of the painting is done. I'm having the linen closet painted, too, and that required a lot of prep.
If you've been following the remodel, you can see how far we've come by clicking on the links below to the early weeks. New readers can start from the beginning if they wish:
March 16: Happy Birthday, House!
March 27: The Bathroom Remodel Begins
March 31: Bathroom Reno, Week 1
April 8: Bathroom Reno, Week 2
April 15: Bathroom Reno, Week 3
April 21: Bathroom Reno, Week 4
April 28: Bathroom Reno, Week 5
May 5: Bathroom Reno, Week 6
May 12: Bathroom Reno, Week 7
All of the wood trim will be white. To find out what color I chose for the walls, please stop by next week!