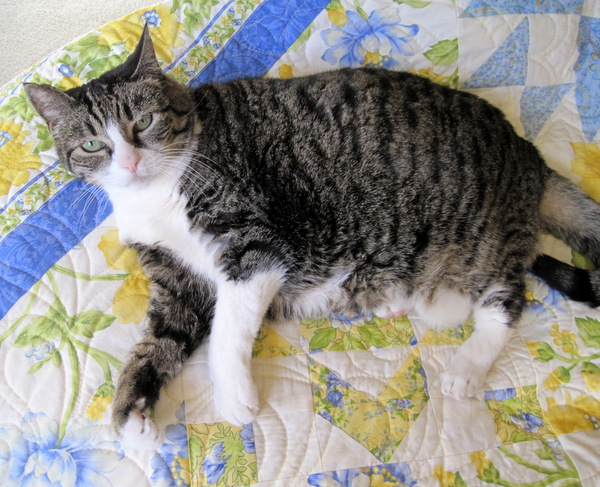 I had no idea, when I took this photo in September, that we would be saying goodbye to Elfie so soon. She was 18, and we had her for 16 years, the longest we've had any cat. We had her put to sleep last night after a very short illness. At least she didn't suffer long.
We got Elfie at the Oregon Humane Society when she was about two. She came with the name Monkey, which we promptly changed. All our cats are named after royalty — this is what happens when your husband is a retired history professor — so she was renamed Queen Elfgifu, Elfie for short. (In case you're not up on your 10th century English history, Queen Elfgifu was married to King Eadwig — and yes, we once had a cat named Eadwig.)
Elfie wasn't allowed on my quilts because she was a kneader. I was refolding quilts one day in September and when I turned around, there she was stretched out on the quilt pictured above, looking very content. I grabbed my camera and took a couple of photos before ushering her off the quilt.
She was the sweetest cat ever. The Portland White House won't be the same without her.